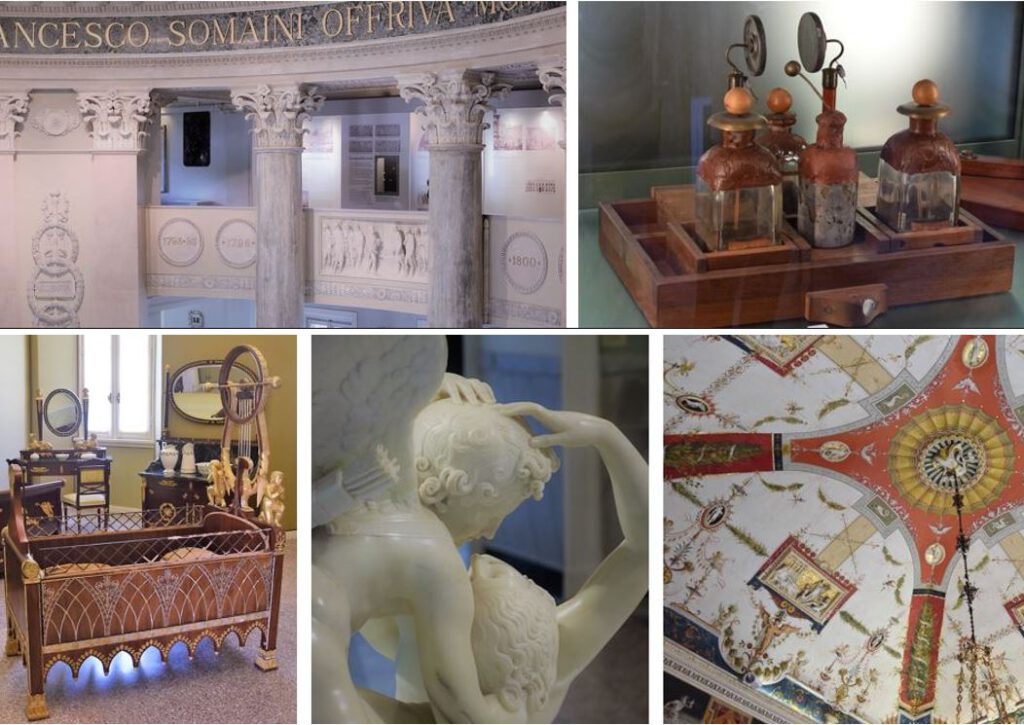 It's time for Regency Enthusiasts to do the Grand Tour to Italy!
However, why not leaving the beaten track to Rome and Florence, and enjoying your perfect history-holidays at Lake Como in Northern Italy instead?
The area offers many great sights with a Napoleonic or even Royal British connection.
Follow me to the Top 5 things to do!
1. Marvel at the beauty of the Villa Carlotta (Tremezzina)
Villa Carlotta is a beautiful Italian Country House furnished in the neoclassical style and with a wonderful botanical garden.
The house, completed in 1745, belonged to the aristocratic Clerici-family. It was sold to Giovanni Battista Sommariva, a banker and politician, in 1802 – and then, it's heydays really began.
Sommariva had risen from a barber's apprentice to a position of power in Napoleon Bonaparte's government in Northern Italy. In 1802, he was a candidate for vice president of the Republic of Italy, but failed. He retired to Villa Carlotta and, being immensely rich, dedicated his life to collecting art. He patronized the greatest artist of his day, and many became close friends. Sommariva's fame a collector was huge, and his private holdings were must-stop destinations for nobility and art lovers on their continental Grand Tour.
Many pieces of his collection are on display today. The works include, e.g. pieces by
– sculptor Antonio Canova (1757 – 1822), a friend of Sommariva
– painter Francesco Hayez (1791 – 1882), one of the leading artists of Romanticism in Italy
– Bertel Thorvaldsen (1770 – 1844), a sculptor medalist of international fame. He became a legend by creating the relief frieze "The Triumph of Alexander the Great", first designed in 1812 for Napoleon's planned visit to Rome. A plaster version of it is on display in the villa.

Address: Villa Carlotta, Via Regina, 2, 22016 Tremezzina (https://www.villacarlotta.it/)

2. Become an expert in early electricity (Como)
Everybody knows that Alessandro Volta (1745 – 1827) invented the electric battery, and that the unit of electrical potential, the volt, is named after him. Take your knowledge to the next level and discover Volta's life and his instruments in the Volta Temple by the lake-shore. The beautiful temple built in the neoclassical style hosts original instruments and reconstructions. It's a unique collection and a must see for Regency Enthusiasts interested in the history of science.
Address: Tempio Voltiano, Viale Guglielmo Marconi, 1, 22100 Como (https://www.visitcomo.eu/en/discover/museums/tempio_voltiano/index.html)

3. Enjoy a hidden Napoleonic gem (Bellagio)
The Villa di Melzi in Bellagio is known for its beautiful English gardens. It is less known that it also hosts a small but fine museum featuring items from the Napoleonic age. It reopened in March 2021 and is located in the former orangery.
The exhibits of the museum are based on the life of Francesco Melzi d'Eril (1753 – 1816). They include a beautiful silk court suit, a dress pistol, busts, drawings, and casts for Napoleonic medals.
Melzi d'Eril was a liberal politician who played an important role in the development of the Napoleonic Italian Republic (1802–1805). He also served as vice-president under president Napoleon.
In 1807 Napoleon conferred the title of Duke of Lodi to make Melzi d'Eril. It came with a rich prerogative of 200,000 lire per year. Melzi d'Eril used it well: He built the villa di Melzi from 1808. Read more about his career and his connection to Napoleon here.
Address: Villa di Melzi, Napoleonic Museum, Bellagio, Lungo Lario Manzoni, 22021 Bellagio (https://giardinidivillamelzi.it/en/home-eng/)
4. Discover the history of silk
Como was one of the centres of European silk production in the 18th century. Technical innovations occurred throughout the eighteenth century as weavers tried to speed up the process of loom preparation and weaving. At the turn of the 19th century, Como became Italy's largest silk producer. Discover all about the history of silk and silk making at the Como Silk Museum. It offers a large collection, many activities and various expositions.
Address: Museo della Seta Como , Via Castelnuovo 1, 22100 Como (https://www.museosetacomo.com/)

5. Sleep like a Queen – Villa d'Este (Cernobbio)
The ultimate 18th-century experience for Regency Enthusiasts is a stay in the Villa d'Este in Cernobbio: The villa was once owned by Queen Caroline (1768 –1821).
Caroline – who had the misfortune of being unhappily married to George, Prince of Wales – fled to Italy and bought the Nuova Villa d'Este in 1815. According to gossip columns, she led a very dissolute life there, her parties were veritable orgies, and she accumulated a mass of debts (read more here).
Today, the Villa d'Este is a luxury hotel. You better check your bank account before you book your stay. A coffee, a cocktail or a light lunch in the hotel's Bar Canova is still pricy but might be within reach. The bar is open to non-resident guests.
Address: Villa d'Este, Via Regina, 40, 22012 Cernobbio (https://www.villadeste.com/)

Enjoy your holidays!
Related articles
Article by Anna M. Thane, author of the novel
"Von tadellosem Ruf" (http://amzn.to/2TXvrez)