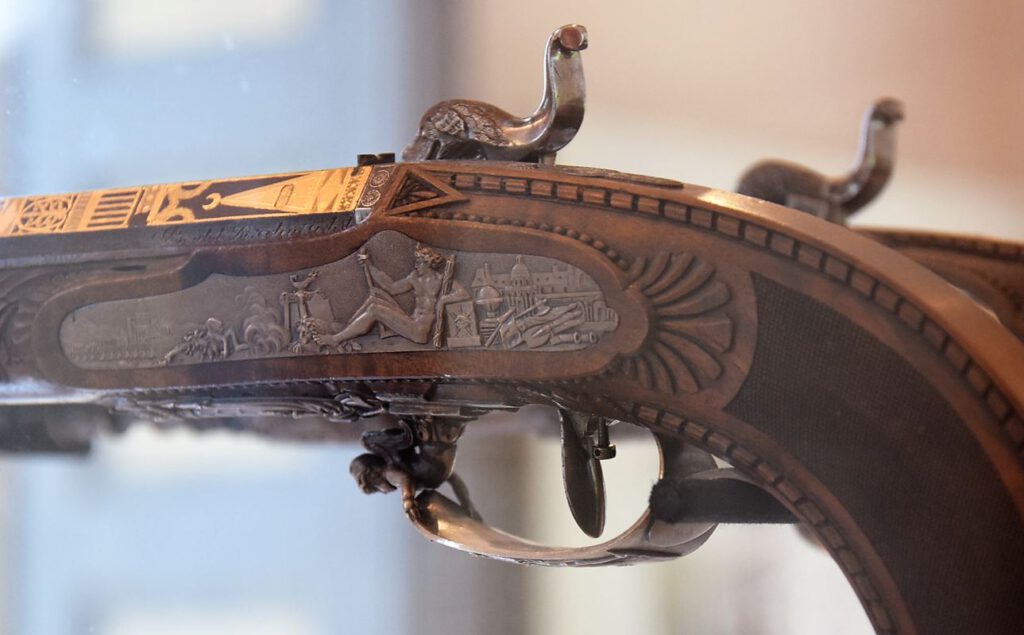 Imagine you are a statesman of a country allied to Napoleonic France. Napoleon is visiting, and you are having a warm and welcoming chat. Your chances are very high that he will present you with a beautiful, ornate, expensive dress pistol to honour your loyalty. Napoleon liked gifting his allies as well as his best military men with such superb arms, and they were true luxury gifts. They were made by one of the most sought-after arms makers of the age at a specialised workshop at Versailles: Nicolas-Noël Boutet. Have a look at a beautiful example here:
This is a pair of dress pistols Napoleon gave to Francesco Melzi d'Eril, who played an important role in the development of the Napoleonic Italian Republic (1802–1805).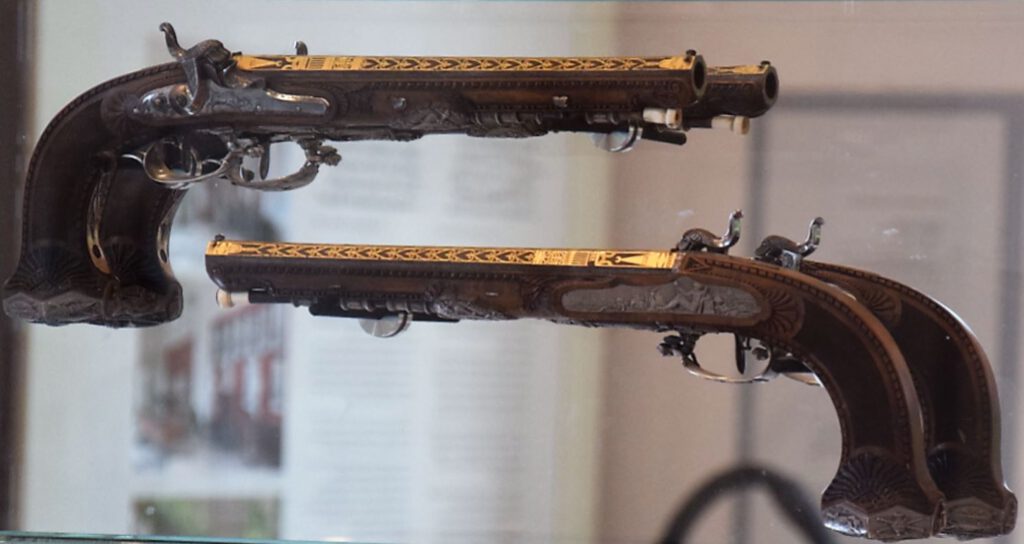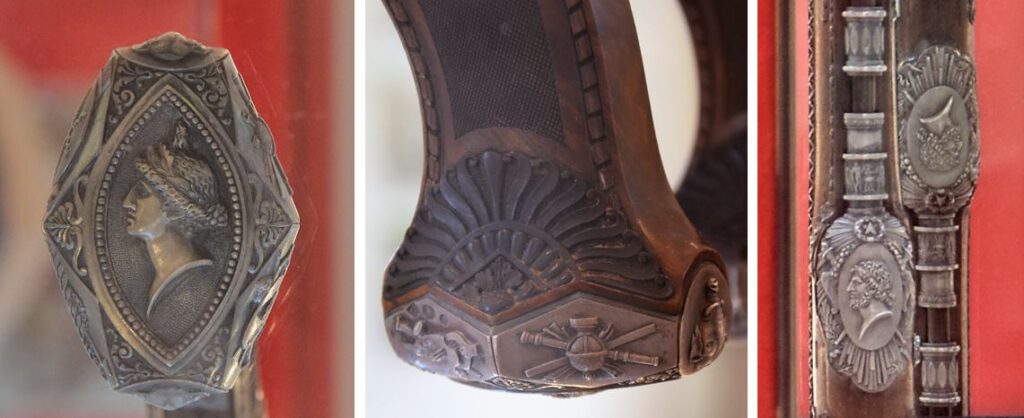 The dress pistols feature the Imperial Eagle, which means they were produced after or at the end of the year 1804. They were made of carved walnut, have a wrought-gold barrel, steel parts with engravings of animals and hunting scenes, and silver finishings depicting mythological animals.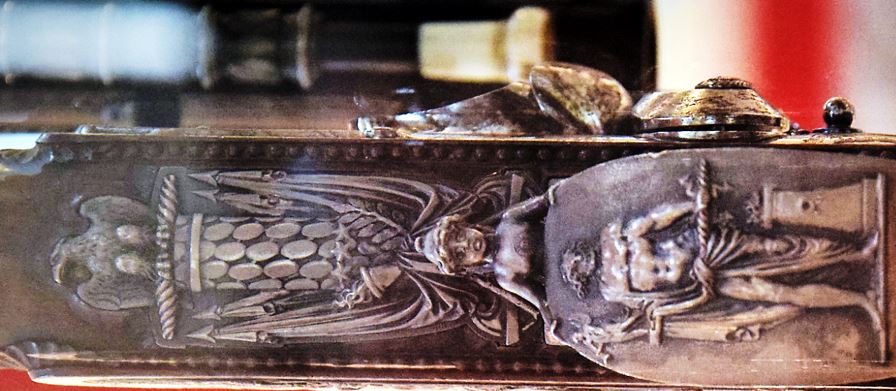 The name of Boutet, the maker, is engraved into the steel and into the wood.

Weapons like these were hardly ever fired because of their artistical value. They were, however, fully functional.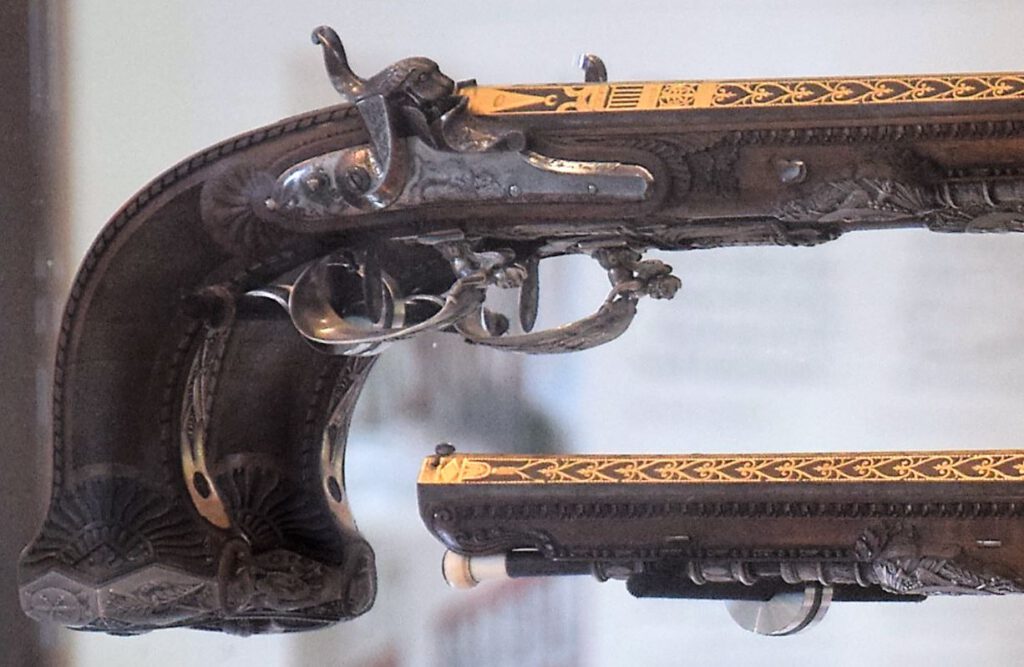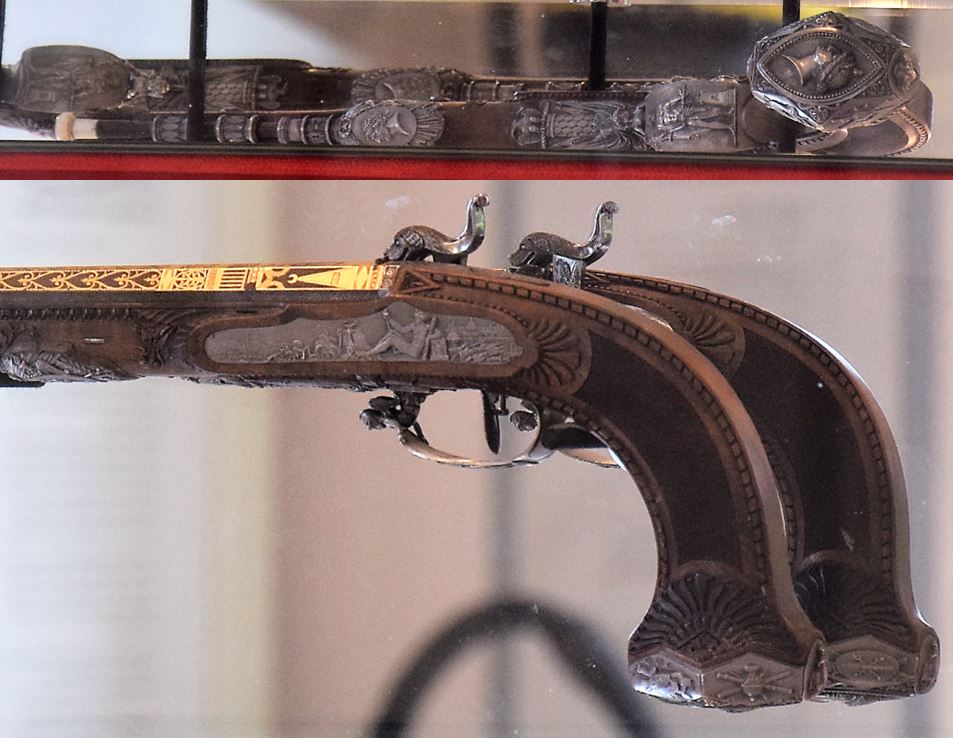 Napoleon and the art of honouring loyalty and bravery
In France, it was customary for the King to award weapons of honour for exceptional service. Awarding royal military honours was stopped with the abolition of the monarchy in 1792, but reinstated a couple of years later by Napoleon, then Commander-in-chief.
Napoleon first awarded arms of honour for individual acts of bravery during the Italian campaign of 1796-1797, and he decided to increase doing so in an order from 28 August 1797. The distribution of weapons of honour was made official by the Consulate in an order from 25. December. Napoleon regulated which ranks received what kind of arms: officers received pistols, grenadiers and the line infantry received rifles or sabres, and the cavalry troops received rifles, too. These weapons were ornated with gold and silver, and produced at the Versailles Arms Factory.
With the creation of the National Order of the Legion of Honour, the distribution of arms to soldiers was replaced by awarding the decoration of the Légion d'honneur.
"Do you think that you would be able to make men fight by reasoning? Never. That is good only for the scholar in his study. The soldier needs glory, distinctions, rewards."

Napoleon Bonaparte
Napoleon continued to gift allies and personal friends with splendid weapons from the Versailles Arms Factory. Such presents could be expensive even for luxury goods: King Charles IV of Spain, an ally of France and a dedicated huntsman, received a set of nine guns and a pair of pistols which cost 130,000 francs (which was the equivalent of 36,000 days of wages for a skilled tradesman in those days)
The genius behind the luxury gift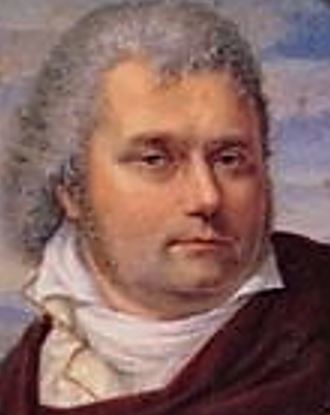 The artist who created the elaborated dress pistols was Nicolas-Noël Boutet (1761 – 1833). Trained as a gun smith by his father, he first worked as a royal gun-maker to Louis XVI. He became the artistic director of the arms factory at Versailles in 1792 and rose to head director in 1798. From 1800-1818, he ran the gun-making concession at Versailles. Boutet specialised in making decorative arms, including swords, sabres, and even pistols that actually were lighters for lighting candles. He was celebrated for creating highly ornated work even on small pistols. For these, he worked with leading goldsmiths such as Jean Mignard.
His workshops with about 800 workers adopted almost military work regulations: the rhythm of the working day was given by the drum and calls. Disorders were punishable by house arrest. In the year 1810, Captain Gaspard Gourgaud, an artillery officer and future first orderly officer of Napoleon, assisted him as a technical adviser and made several useful changes to the firearms. More than 600,000 weapons were produced under Boutet's directorship at Versailles. After the Second Bourbon Restoration, Boutet continued to work in his private workshop at 87 Rue de Richelieu in Paris.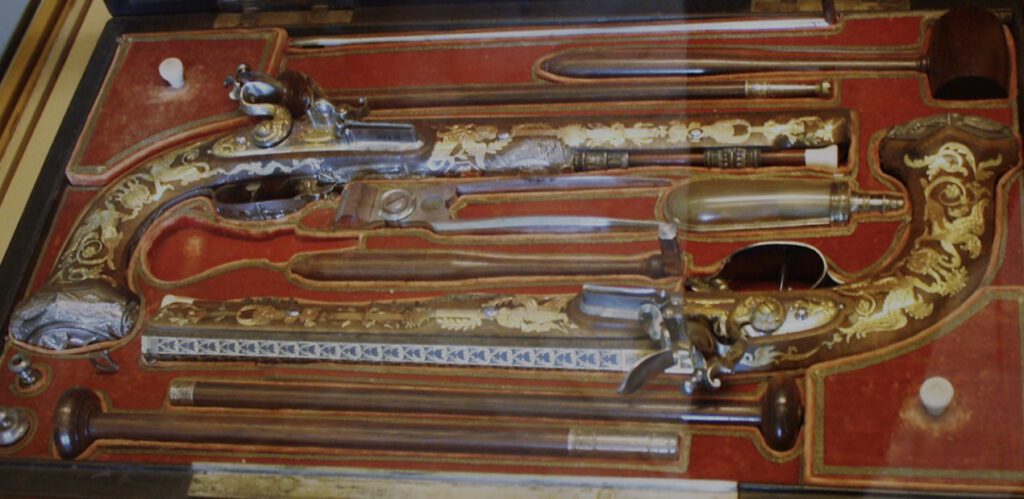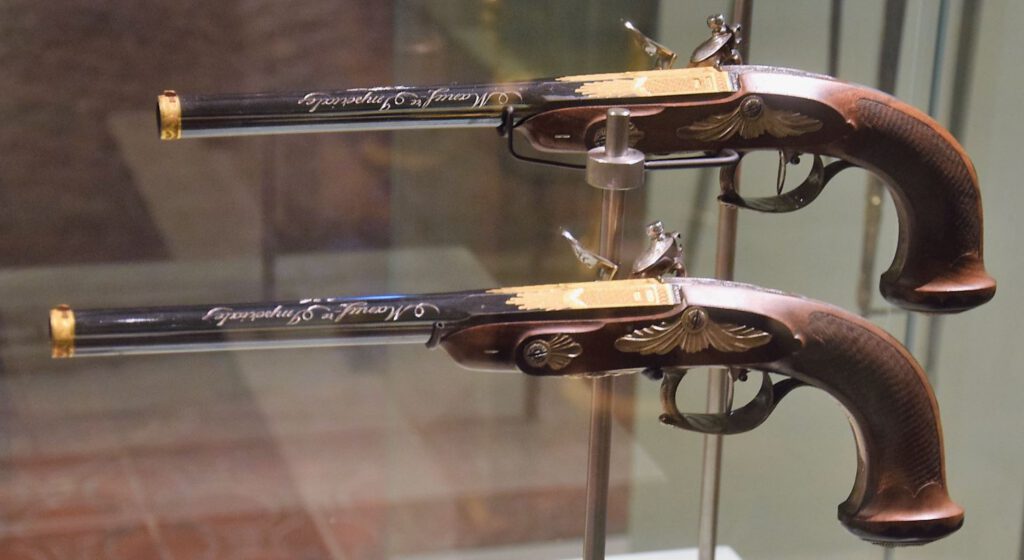 Even the British adored the work by Boutet
The gifts Napoleon made to military heroes and statesmen were also admired by the British. While usually not being present with them, they bought or took them from Napoleon's fallen allies that were defeated in the war or went into exile. The 1st Marquess Wellesley, Brother to Arthur Wellesley, presented George, The Prince of Wales, in May 1810 with a pair of flintlock rifled pistols. Its barrel was inlaid with gold ornaments. It is part of the Royal Collection Trust. You can view it here: https://www.rct.uk/collection/themes/publications/carlton-house/pair-of-pistols
George owned a second pistol made by Boutet: on 28 December 1814, Louis XVIII presented him with a cased pair of double-barrelled flintlock pistols. The ebony stock is inlaid with rose gold angels, a centurion's head, etc. Have a look at it here: https://www.rct.uk/collection/search#/2/collection/61141/cased-pair-of-double-barrelled-flintlock-pistols-and-equipment
Among several pieces made by Boutet, there also is a robe sword with a scabbard, and also a single barrel flintlock fowling piece in his collection. The robe sword had been given by Napoleon to the Spanish Prince of Peace, Don Manuel de Godoy. It was later purchased for Lord Wellesley at a sale of the effects of The Prince of Peace in Spain, following his exile. The fowling piece had belonged to Jerome Bonaparte, King of Westphalia. Lord Percy bought it in 1814 and presented it to the Prince Regent.
The Prince of Wales liked collecting arms. His armoury was located in five rooms on the attic floor of Carlton House. And while the collection featured beautiful pistols from renowned contemporary British makers such as Durs Egg, Joseph Manton and Griffin & Tow, these arms didn't match the high level of embellishment of Boutet's.

Related articles
Sources
Villa di Melzi, Napoleonic Museum, Bellagio / Como, Italy
Royal Collection Trust
Musée d'Art et d'Industrie Saint-Étienne: "Boutet et la Manufacture de Versailles", 2012
Eymeric Job: "Sabre of Honour awarded to Jean-Baptiste Bessières by Napoleon Bonaparte for his role on 19 Brumaire", www. Napoleon.org
Rock Island Auction Company
Bavarian National Museum, Munich, Germany
Chateau de Fontainebleau, Fontainebleau, France
www.wikipedia.com
www.peoplepill.com
www.barnebys.de
Article by Anna M. Thane, author of the novel
"Von tadellosem Ruf" (http://amzn.to/2TXvrez)