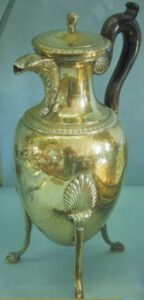 "Nobody, I fancy, can be fonder of Coffee than I am."
– Count Rumford (inventor, soldier, statesman, spy, womanizer, and philanthropist)-
Today, we are used to enjoy coffee everywhere, and the caffeinated drink "to go" is an added delight to walking in the streets or riding on a train. In the late 18th century, there were, of course, coffee houses in the cities. But would you have been able to take coffee with you on a trip or on a campaign?
Thanks to Sir Benjamin Thompson, Count Rumford (1753 – 1814), coffee could be prepared to be preserved for a considerable time, and you would have been able to reheat it, or to enjoy it cold wherever you wanted. Find out here how one of the most eccentric and dazzling persons of the 18th century prepared his beloved coffee as a "to go" version. Continue reading →