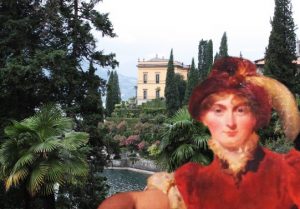 Caroline of Brunswick (1768 –1821) had the misfortune of being unhappily married to George, Prince of Wales. The Prince refused to communicate with her, and permitted her to see her daughter only once a week. Being freezed out of Carlton House, Caroline set off for a long trip throughout Europe in 1814.
What seems to be a reasonable thing to do today was the beginning of a long lists of scandals in the eyes of her contemporaries. Her husband, trying to find reasons to divorce her, sent agents to spy on her, and her every movement was reported back to England.
Here is a list of the main scandals Caroline was accused of:
Judge for yourself if Caroline behaved outrageously or was a liberal-minded woman with a huge zest for life – or both.
Scandalous comportment
Caroline bought the Nuova Villa d'Este (Cernobbio, Lake Como) in 1815 and accumulated a mass of debts while staying there. According to gossip columns, she led a very dissolute life and her parties were veritable orgies.
She went to a masquerade in a monk's costume. The authorities were shocked by this sacrilege, and the parish priest of Cernobbio advised the local families in a sermon against allowing their daughters' going near the house of the English princess.
Caroline had a donkey brought to the table at an entertainment, caressed it and crowned it with roses.
Upon visiting the Court of Empress Marie Louise in Parma, Caroline toppled backwards in her chair, so that she and and the chair fell down. Caroline laughed heartily at the mishap. The Empress, however, was not amused.
When Caroline arrived in Naples in 1814, Joachim Murat, King of Naples and Napoleon's brother-in-law, met her outside the city and accompanied her to her residence. Additionally, he stationed a royal guard at her residence for protection and as sign of honour. They were so often seen driving around together in Murat's carriage that they were believed to have an affair.
At the Villa Caprile, Caroline performed recitals from French plays in a little open-air theatre for her guests. Her performance was 'enough to make you laugh', noted one of them.
In 1816, Caroline bought the Sicilian title 'Baronia della Franchina' and granted both the title and the lands to her camberlain / alleged lover Pergami. He also received nine properties around Lake Como from her.
Scandalous company
When Caroline moved to Italy, she employed Bartolomeo Pergami (1784-1842), a dark-haired and dark-eyed ex-soldier, as her chamberlain. He was 16 years her junior. They shared adjoined bedrooms and ate their meals together. Lord Byron, also travelling in Italy, was quick to inform his London publisher: 'I know for sure they are lovers.'
She surrounded herself with a suite including 'Turks, Arabs, Negroes' (and) 'there was nothing more singular than this assembly of sinister figures', as an obviously xenophobic police report stated.
Scandalous taste
Caroline dyed her hair black, and favoured short, diaphanous dresses.
At Genoa, she drove through the streets in a phaeton with a child dressed as a cupid leading two tiny horses who pulled the shell-shaped carriage. Caroline was dressed in a body-revealing pink gauze bodice, a short white skirt and a pink-feathered headdress.
She was seen wearing pantaloons on several occasions at the Villa Caprile. Reputedly, Pergami encouraged her to wear pantaloons, stating she looked beautiful and he liked her much better so.
Caroline held a ball Joachim Murat, King of Naples. On this occasion, she dressed most improperly, displaying much naked skin.
Whatever the list of – alleged – scandals may proof, it clearly shows that Caroline, a woman of the 18th century, was ahead of her time: She travelled as far as Jerusalem, was a liberal-minded cosmopolitan and courageous enough to live her own life. She was also prone to cross the line of allowable behaviour, and capable of acts easily misconstrued by others.
Caroline was wildly popular with the British populace, who sympathized with her. When she returned to England in 1820, she even became a figurehead for the growing Radical movement that demanded political reform and opposed the unpopular king – her husband. George's attempted to divorce his wife by introducing the Pans and Penalties Bill to Parliament failed.
Related posts:
Writer's Travel Guide: The British Tourist and Napoleonic Milan
Gossip Guide to the Kingdom of Naples: Inside the Palace of Caserta
Writer's Travel Guide: The British and the Grand Tour to the Kingdom of Naples and Sicily (Part 1)
Writer's Travel Guide: The British and the Grand Tour to the Kingdom of Naples and Sicily (Part 2)
Sources
Fraser, Flora: The Unruly Queen: The Life of Queen Caroline; Bloomsbury Publishing Plc, 2012
Robins, Jane: The Trial of Queen Caroline: The Scandalous Affair that Nearly Ended a Monarchy, Free Press, 2006
Kaygill, T.: The Trial of Her Majesty, Queen Caroline, Consort of George IV, for an adulterous Intercourse with Bartholomeo Bergami, London, 1820
Lehmann, H. Eugene: Lives of England's Reigning and Consort Queens; Authorhouse, 2011
Fay, Elizabeth: Historicizing Romantic Sexuality, Framing Romantic Dress: Mary Robinson, Princess Caroline and the Sex; University of Massachusetts Boston, 2006
Article by Anna M. Thane, author of the novel
"Von tadellosem Ruf" (http://amzn.to/2TXvrez)