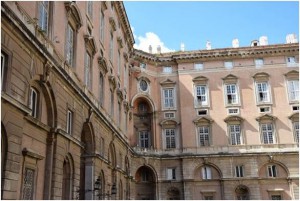 Find in this gossip guide for the 18th century:
Palace, Pomp and Politics
The British Ambassador as Tomb Raider
Love & the Palace
– Shocking: Emma and Nelson!

A King from France & the English Princess
Welcome, dear Regency Enthusiast, to a virtual tour of the Palace of Caserta. The palace is a grand building, and the heart of the government of the Kingdom of Naples and Sicily (learn more the kingdom as a travel destination for British travellers in the 18th century here and here). In quick succession, the palace is also the home of 3 royal couples, their British friends and visitors – and their scandals:
Ferdinand IV of Naples and Maria Carolina (1768 – 1808)
Joseph Bonaparte and Marie-Julie Clary-Bonaparte (1806 – 1808)
Joachim Murat and Caroline Bonaparte (1808 -1815)
Palace, Pomp and Politics
The Bourbon king Charles III creates the palace in 1752 to rival Versailles. But there is more to it than showing-off: The palace serves as administrative centre in a location protected from sea attack. For additional protection, troop barracks are housed within the palace. War council meetings, comprising Queen Maria Carolina, King Ferdinand IV, the British ambassador Sir William Hamilton, Prime Minister Sir John Acton, and naval hero Horatio Nelson are hold at the Palace of Caserta.
Join the virtual tour through some of the palace's most splendid rooms.
You can click on the photos to enlarge them.
The Palace of Caserta has 5 floors and 1,200 rooms. More than 40 of them are completely decorated with frescoes. It is the largest palace erected during the 18th century.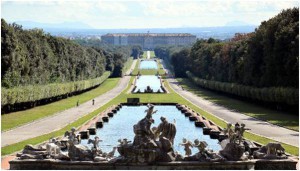 The park is the pride of the palace. Its botanical garden – also called the "The English Garden" – is created in the 1780ies.
Sir Joseph Banks recommends the head gardener to the king and provided a list with suitable plants.
The British Ambassador as Tomb Raider
Though serious politics is the main agenda at the palace, not everybody is always fully devoted to state matters. British Ambassador Sir William Hamilton is a collector of antique vases and runs a network of private informers to keep him up to date about new discoveries from antiquity. In 1766, while Hamilton is in attendance to the king at the Palace of Caserta, thrilling news reach him: An ancient burial site has been discovered nearby. Hamilton steels away from duty to take part in the illegal excavation. However, the excursion is discovered and halted. The police arrests Hamilton's informer. Hamilton himself is protected by his diplomatic status.
Love & the Palace
The Palace of Caserta has witnessed many affairs and society scandals.
Queen Maria Carolina and Ferdinand IV have not married for love. They are an ill-suited couple. Ferdinand knows how to enjoy himself, and keeps several mistresses. Maria Carolina is said to have an affair with her advisor, Sir John Acton.
Eight weeks after Maria Carolina's death in 1814, Ferdinand marries his mistress Lucia Migliaccio e Borgia.
Shocking: Emma and Nelson!
Horatio Nelson stays at the palace in 1798 by invitation of the king and queen. Emma Hamilton, wife of Sir William Hamilton, is constantly at Nelson's side. They enjoy sweet hours in the English Garden of the Palace of Caserta.
Emma and Horatio Nelson had first met in 1793 in Naples. When Nelson returns to Naples in 1798, he is marked by war: He has lost an arm and suffers from coughing spells. He stays with the Hamiltons, and Emma nurses him back to health. She also arranges a party with 1,800 guests to celebrate his 40th birthday. Nelson and Emma soon become lovers. Emma gives birth to Nelson's daughter in 1801. The affair scandalizes the English society and makes Emma famous.
Nelson is made of Duke of Bronte as a reward for his support of the Neapolitan monarchy. At a ball held at his honour, Emma wears a dress that has Nelson's name and new title stitched onto the hem.
A King from France & the English Princess
Joachim Murat, Napoleon's brother-in-law, is King of Naples from 1808 to 1815. Murat is tall and masculine, with handsome features and black curly hair that tumbles over his shoulders. As he prefers to dress in a flamboyant style, his nickname is "The Dandy King".
He is also famous for his courage and his strong passions. It is rumoured that Caroline, the Princess of Wales (wife of 'Prinny'), becomes his lover when she visits Naples in 1814. Is it gossip or truth? Fact is that, when Caroline first arrived at Naples, Murat meets her outside the city and accompanies her to her residence. Additionally, he stations a royal guard at her residence for protection and as sign of honour. Moreover, Murat and Caroline are often seen driving around together in Murat's carriage.
The Scandalous Princess of Wales
Allegedly, Caroline causes many scandals in Naples. At a ball she gives for Murat, she dresses most improperly, displaying much naked skin. Additionally, gossip has it that her courtier Bartolomeo Bergami shares her bed.
Prince George sends spies to Naples to collect evidence of Caroline's adultery. Travellers to Naples in 1814 might find themselves as witnesses at Caroline's trial for adultery in 1820.
Joachim Murat's Palace
Today, some rooms of the palace of Caserta still look like Murat must have known them. Here are some photos of the splendour of the palace during Murat's reign.
Watch a video of the Palace here:
(Video: Reggia di Caserta – © Visit EU World Heritage, at:
https://visitworldheritage.com/en/eu/caserta-royal-palace-and-park-italy/73cf1988-9d13-4658-99f5-2f23a706bc00)
Thank you for taking part at Regency Explorer's virtual tour of the Palace of Caserta.
If you would like to know more about the Kingdom of Naples as a destination for British travellers in the 18th century, please continue here:
Sources
Huish, Robert (Esq): Memoirs of Her Late Majesty Caroline, Queen of Great Britain: Embracing … the most memorable scenes of her eventful life, interspersed with original letters and other documents hitherto unpublished; London, 1821.
The Important and Eventful Trial of Her Majesty, Queen Caroline, Consort of George IV, for an alleged adulterous intercourse with Bartolomo Bergami; London, 1820.
Lancaster, Jordan: In the Shadow of Vesuvius: A Cultural History of Naples; Tauris Parke Paperbacks, 2009.
Pocock, Tom: "In Nelson's Footprints"; in: White, Colin: The Nelson Companion; The History Press, 2005.
Robins, Jane: The Trial of Queen Caroline: The Scandalous Affair that Nearly Ended a Monarchy; Free Press, 2006.
Alessandrini, Stefano: Looting and passion of Greek vases from Etruria and Magna Graecia: The birth of great collections; in: Charney, Noah (Editor): Art Crime: Terrorists, Tomb Raiders, Forgers and Thieves; Palgrave Macmillian, 2016.
Lady Campbell Bury, Charlotte: The Murdered Queen! Or, Caroline of Brunswick: A Diary of the Court of George IV; London, 1838.
http://www.nostraitalia.it/en/i-giardini-della-reggia-di-caserta/
Article by Anna M. Thane, author of the novel
"Von tadellosem Ruf" (http://amzn.to/2TXvrez)