Going to a ball set in Regency England is a great thing. There is however one minor problem: you can't go there wearing jeans. So a ball gown it must be. But what if you can't sew, can't spent a lot of money or hyperventile at the sight of a sewing pattern (like I do)? Here is your solution: Don't sew, but assemble your ball gown.
You need:
Your cupboard: Browse it for anything that can be turned into a ball gown. You will be surprised at how much you can use.
Ribbons for decorating presents. There are always some leftovers from last year's Christmas
Your toolbox for creative odds and ends OR a shop for creative supply
A fleamarket
Before you rush into action, think for a minute what matters in ball gown fashion in 1820:
The gowns have a high waist
A train is the dernier crie (the longer, the better)
You always have to wear gloves at a ball
Shoes for a ball were made of satin or silk
A head-dress of feathers is a sign of wealth and taste
As you will use modern clothes and some odds and ends, there is only a small chance your ball gown will win the "Most Historically Correct Regency Costume Award". But it will be correct enough. Plus: you won't have to spend a lot of money on it.Plus: you won't have to sew (not much, at least).
This was my starter kit for assenbling a ball gown:
A long cotton beach dress
A gold-coloured scarf from I-don't-now-when, never worn (for good reasons)
A layered blouse with lace sleeves (summer sale)
Christmas ribbons and fake decorative gems
Black lace (found at sale in the textile department. Big hit!)
A discared business shirt
A fake diamond necklace (fleat market)
Three large white feathers (shop for creative supply)
Cheap cotton slippers (supermarket)
Gloves (shop for fancy dress costume)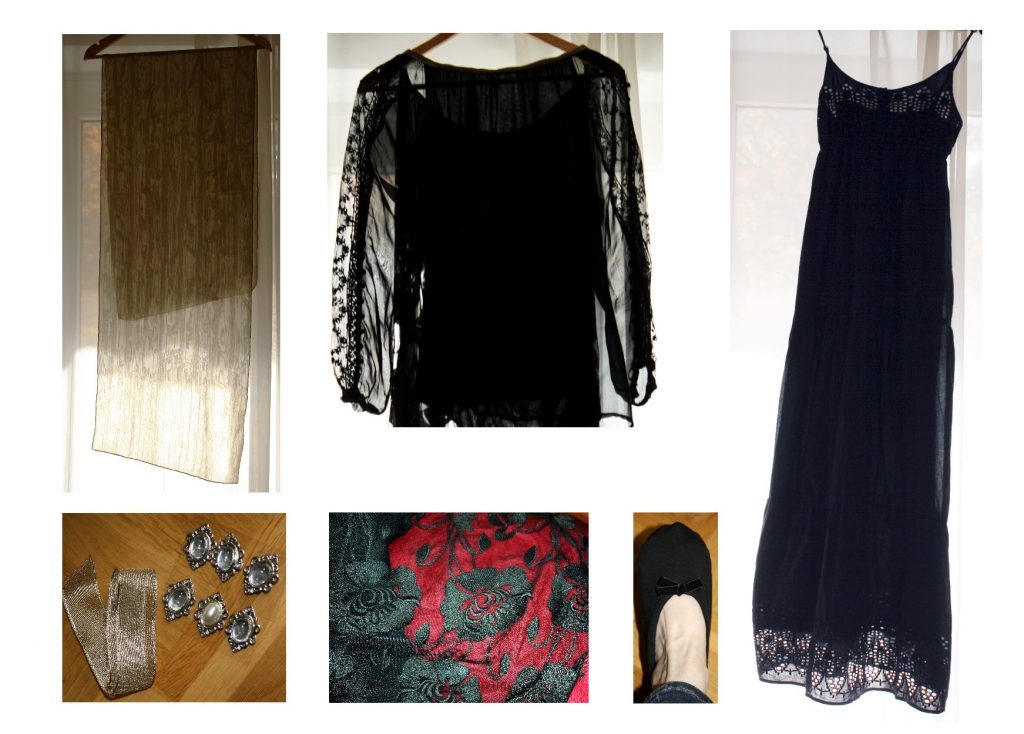 Each single piece does not seem to fit well for a ball gown. But used wisely, it won't turn out too badly.
There is one thing I have to admit here: my best friend kindly agreed to turn the black lace into a train, to sew the train to the blouse and to prepare the golden ribbons. This was a huge relief. She also made the cute reticule from the leftover lace and a discarded businesse shirt of her husband.
But please note it was I who turned the dowdy slippers into ball shoes (at the risk of my live but without loosing much blood;-) ).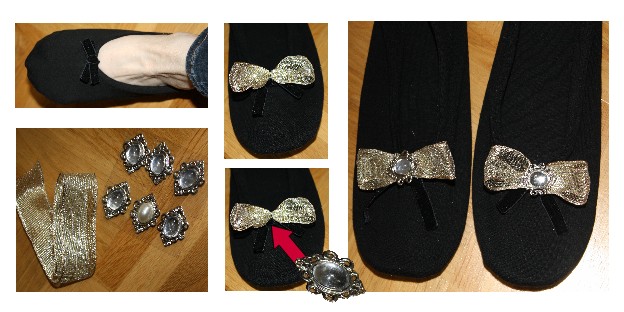 Voilà, this is my ball gown for 1820: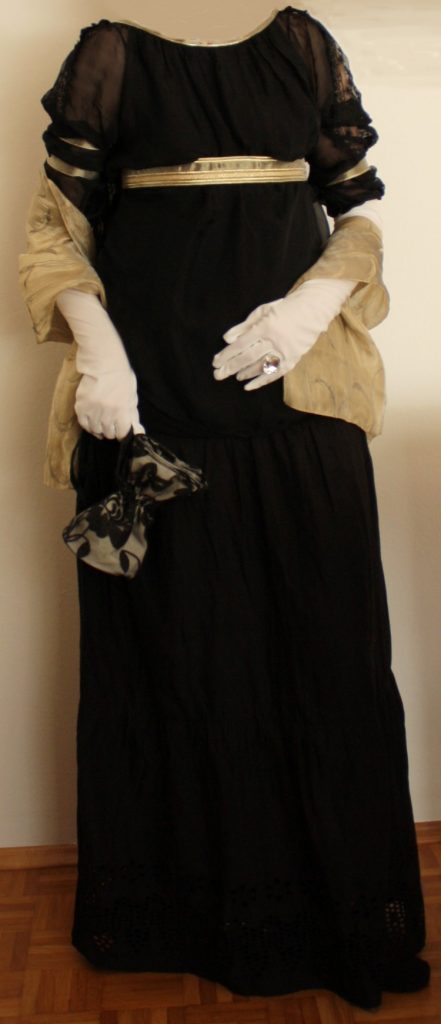 Enjoy assembling your own ball gown!