How to use a dance card in the Romantic Age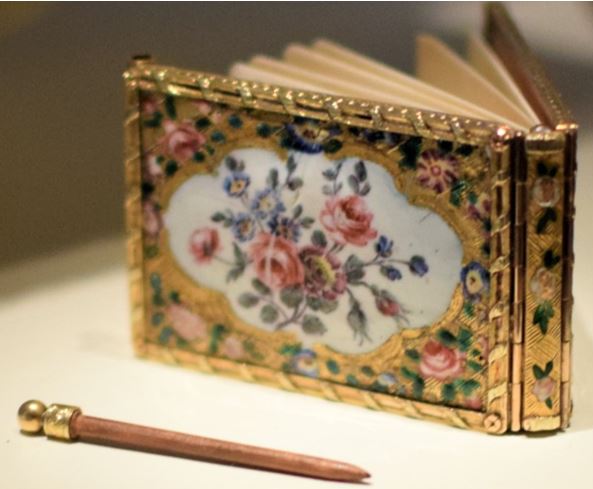 For a young lady few things would be more satisfying than being a sought-after dancing partner at a glamourous ball. But if she was in constant demand, how would she keep track of the partners engaging her for the waltz or the cotillion later in the evening? And how would a gentleman secure a dance with her?
Keeping track of the gentlemen who had promised a dance in the course of the evening was done – on the Continent – with the assistance of a so called 'carnet de bal' (a dance card). A gentleman would ask a lady to write down his name on the card a for a specific dance. These small and often precious carnets de bal were very popular in France and Austria throughout the 18th century.
In Britain, the dance card became fashionable at around the turn of the 18th century. The carnet de bal initially was often less elaborate than the Continental model.
Instead of a collection of delicate ivory sheets, a dance card could be, e.g., a hand-held fan. The name of the dancing partner would be scribbled on the back of the leaf with a very small pencil. From around 1820, the carnet de bal was designed as a small notebook or a set of cards in a pretty silver box.
An object of beauty
Enjoy here some photos of dance cards before you read on.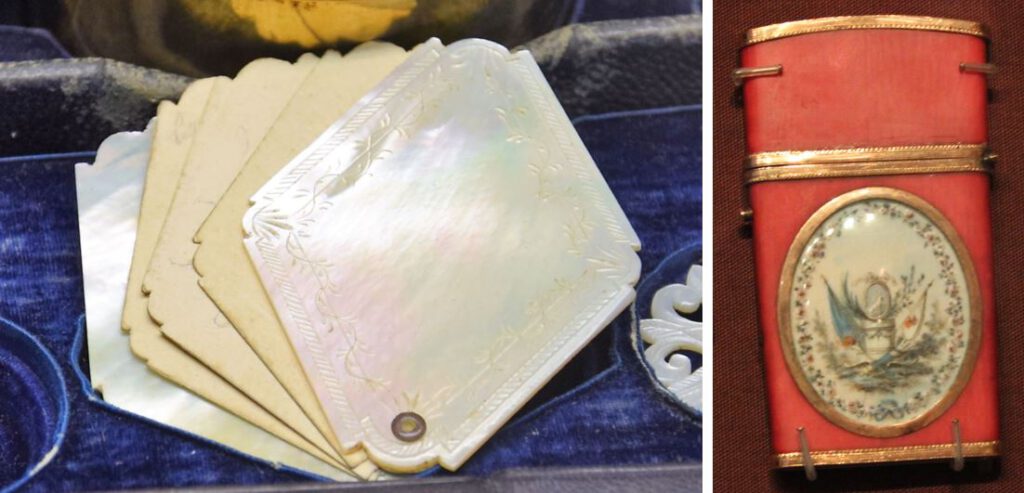 Dance cards were often made of thinly cut ivory or expensive paper, and then joined together by a pivot. They were carried in a case made of silver, ivory, mother-of-pearl, leather or silk. These cases, often colourful, ornate and elaborate, would serve as a souvenir of the ball, just as the cards would. Dance cards and their cases thus were often provided by the host of an event, and the dances of the ball might already have been inscribed.
How to use a dance card
Let's imagine you were a time-traveller to London in the year 1820, and you would attend a ball. How would you use your dance card properly?
Dance cards are a strictly female accessory!
As a time-traveller in a male role, you do not need your own dance card. You will, however, engage your dancing partners via the ones of the ladies. They will inscribe your name on their cards. It is then your challenge to remember which dance you have promised to which lady. But don't worry too much: If you should get it wrong, the ladies are not supposed to confront you.
A hint for the beginner:
The little pencils belonging to the dance cards tends to go missing, even if they are attached to the case by a more or less clever mechanism. Be prepared to carry your own pencil in your inner jacket pocket.
Use your own pencil well: when it changes from hand to hand, this may be an intimate moment of contact and flirtation.
Generally, your handling of a dance card can set the tone:
Do you want to proof your charm by complimenting the lady on her beautiful case?
Are you a dominant person that takes the card in his own hands to write the name across it?
Are you meticulous and spell your name to make sure the lady gets it right?
Etiquette for ladies
As a time-traveller in a female role, there are rules to be observed:
Don't ask a gentleman to sign his name on your dance card! You will be chosen as an eligible dance partner.
Carry your dance cards in a case with you in a reticule. Keep the cards and the pencil together. It's inelegant to hunt inside the reticule for the small pencil.
If a gentleman asks you to dance, you have to accept – unless your dance card is already full. It would be extremely impolite to refuse a dancing partner and later be seen not dancing.
Once you have a gentleman's name written on your dance card, you are bound to your promise. If you absolutely do not want to dance with that gentleman, your only alternative is to pretend tiredness and sit the dance out with him.
If a gentleman does not keep his promised dance, don't confront him. Lift your chin and keep smiling.
An object to cement gender roles
As time-travellers from the 21st century, we might feel that the dance card is not quite as glamourous as is its design. On the surface, it was a tool for a lady to keep track of her engagements. But from the rules above we see that it was not the lady who was profiting most by it. By using a dance card, a woman was made available to be chosen by a man. Her role was passive, she had no choice. The man had the active part: He could choose his dancing partners, he could exclude ladies that didn't seem suitable, and if he missed a promised dance, he was not to be blamed. And if he didn't dance all night, nobody would give it a thought. Whereas a lady whose dance card was not full at the end of evening seemed to be sadly lacking in desirability.
Related articles
Sources
NYU; Dept. of Media, Culture, and Communication: Dance card, at: http://cultureandcommunication.org/deadmedia/index.php/Dance_Card
Erica Travis Frazier: "Pencil Me In: The Fashion and Function of Dance Cards", Fashion Institute of Technology, State University of New York ProQuest Dissertations Publishing;  2020 https://www.proquest.com/openview/9128f65ea45b7905ade54dee887b3e5b/1?pq-origsite=gscholar&cbl=18750&diss=y
Rose Heichelbech: A Charming Collection of Dance Cards, at: https://dustyoldthing.com/dance-cards-history/
A small collection of antique silver and objects of vertu; silver dance card holder, at: https://www.silvercollection.it/pagina200.html
The Fan Museum, 12 Crooms Hill, London SE10 8ER, UK
Bayerisches Nationalmuseum, Prinzregentenstraße 3, 80538 Munich / Germany
Château des Chamerolles, Gallerand, 45170 Chilleurs-aux-Bois, Frankreich
Kenwood House, Hampstead Ln, London NW3 7JR
Article by Anna M. Thane, author of the novel
"Von tadellosem Ruf" (http://amzn.to/2TXvrez)