Have you ever wondered
how dark it was in an 18th century country house after sunset?
what you can see in a room lit only by candles?
how it feels to enter a room illuminated by several crystal chandeliers?
You could arrange an experiment at your home by lighting some candles at night. But this wouldn't quite reproduce the lighting conditions of a country house, as there are less gildings, reflecting mirrors and chandeliers in the average apartment of our times.
I thus set out to experience a historic house after nightfall. My central question: What are the lighting conditions and how can a Historical Novel Writer depict them properly in a novel?
Let me take you to the Château de Vaux-le-Vicomte, a grand chateau in France. We will wander its rooms and enjoy its park adorned with thousands of torches.
5 reasons why darkness is troublesome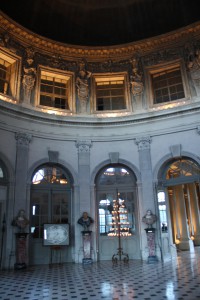 1. When daylight fades, the rooms become immersed in shades of blue. The servants light candles and close the shutters. Every work that needs to be done in proper light had better be finished. Candles are expensive. Often, one candle has to be shared by several persons.
Let there be light!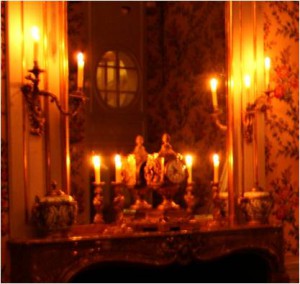 This photo illustrates the effect of a mirror reflecting candlelight: The candles in front of the mirror are multiplied and their light sparkles in the gilded frame.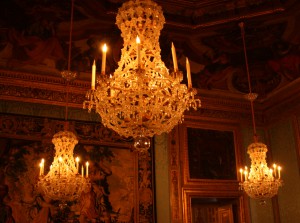 The most impressive way to light a room is by crystal chandeliers. The candlelight is reflected and refracted by thousands of crystal pieces. As it takes many chandeliers and candles to create the festive effect you see on the photo, brightness was only for the rich. Upon entering a room ablaze with the light of crystal chandeliers, one looks inevitably up towards the light, at the same time taking in the grandeur of the chandelier and the ornate ceiling.
Park and Garden after dark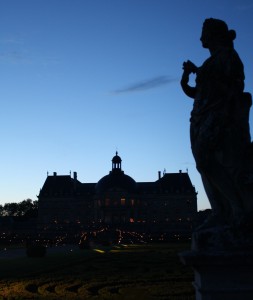 Let's leave the house and enjoy the park adorned with torches.
When the sun has set, the blue hour begins. In a Regency Novel, the hero takes the heroine for a romantic walk in the park.
In reality, myriads of midges emerge from the sh rubberies.
The blue hour soon turns into a darkness even torchlight can't penetrate.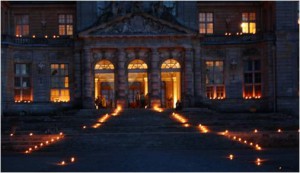 The view of a grand house set in festive light is amazing. It is suited to make your heroine fall head over heels in love with the owner of this grandeur.
Lessons learned
Visiting a historic house in the evening is a unique experience. It allows you to experience the lighting conditions of the late 18th century. Based on this, you can create authentic scenes after dark both inside and outside.
Discover more Adventures for Regency-Enthusiasts here.
Notes
The Château de Vaux-le-Vicomte is located 55 km southeast of Paris. It offers visits by candlelight every Saturday evening from May to October.
Address: Château de Vaux-le-Vicomte, 77950 Maincy, France; http://www.vaux-le-vicomte.com/en/
Article by Anna M. Thane, author of the novel
"Von tadellosem Ruf" (http://amzn.to/2TXvrez)