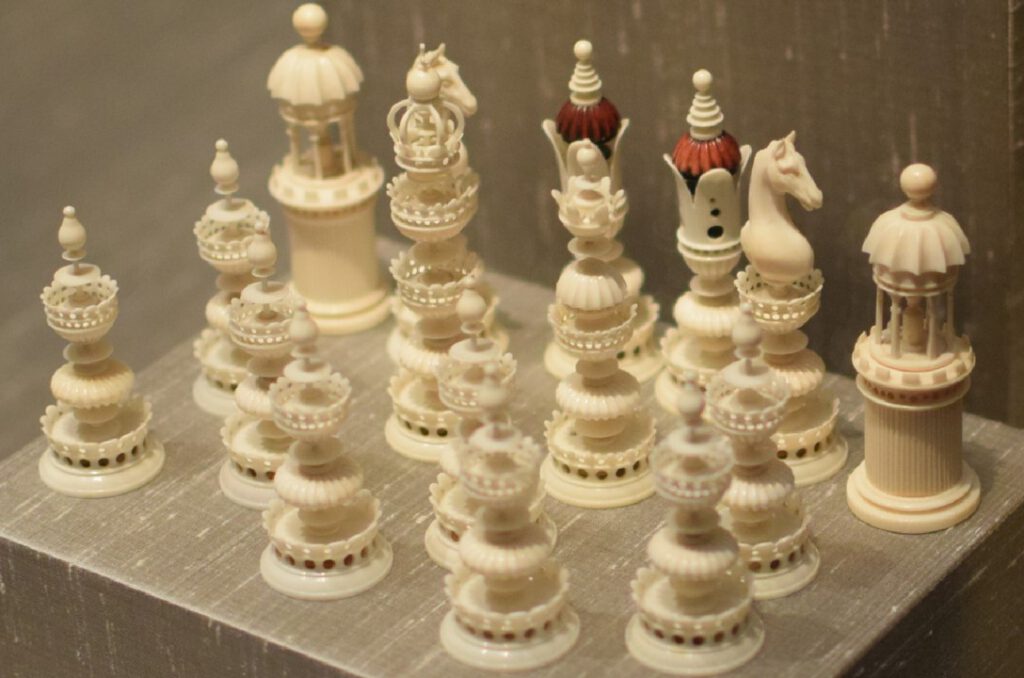 Good news for the time travelling Chess Enthusiast to Georgian England: The game is played by men and women alike. Napoleon, e.g., played chess in his youth, at college, and indeed all this life. The second half of the 18th century even saw the game becoming increasingly popular, with some coffee houses offering their rooms as locations for chess lessons with famous players. Also, the first chess club was founded. Find out here where you can play a decent game of chess or improve your skills from the 1770s – 1820.
Two Coffee Houses are your safe haven in the 1750s-1770s
The interest in chess is fueled by developments in Paris, where the aristocracy and the intelligentsia enjoy playing the Game of Kings in the Café de la Régence from the first half of the 18th century. The Café is The Chess Mecca of the time; you can find the strongest players here. One of them is François-André Danican Philidor (1726 – 1795), actually a musician and composer by profession. Luckily for the budding chess popularity in Britain, he visits London several times from 1747–1754, in the 1770s, and finally even lives there as he has to flee from the French Revolution.
In London, he tests his skills against the strongest British chess player, Sir. Abraham Janssen, in 1747. They play at the Old Slaughter's Coffee House, and Philidor wins. This is the beginning of Philidor's career as the most beloved chess master of Georgian England. In the 1770s, you will find Philidor playing chess and offering lessons at the Salopian coffee house, Charing Cross, and at Parsloe's Coffee House in St. James Street. His contemporaries are intrigued.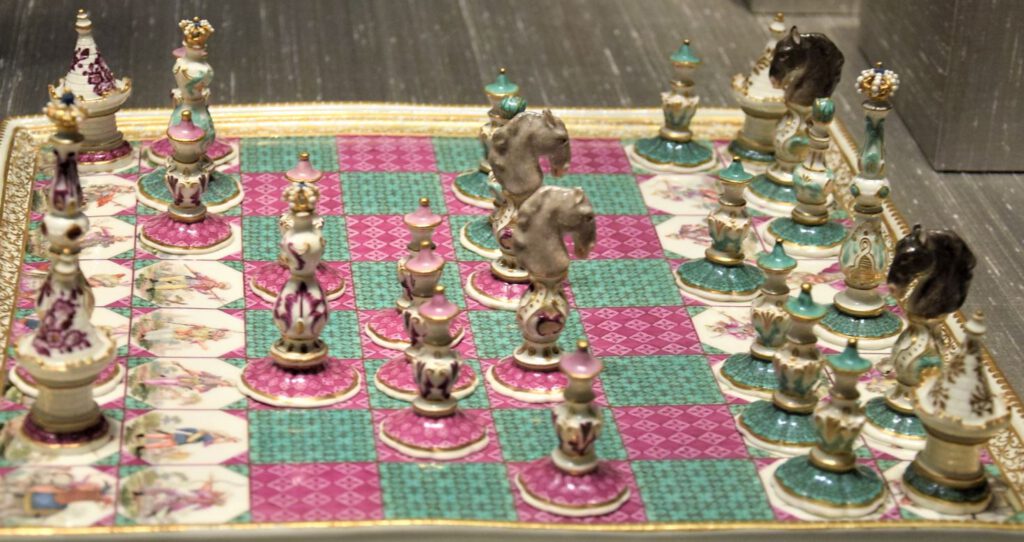 Play chess with the High Society in 1774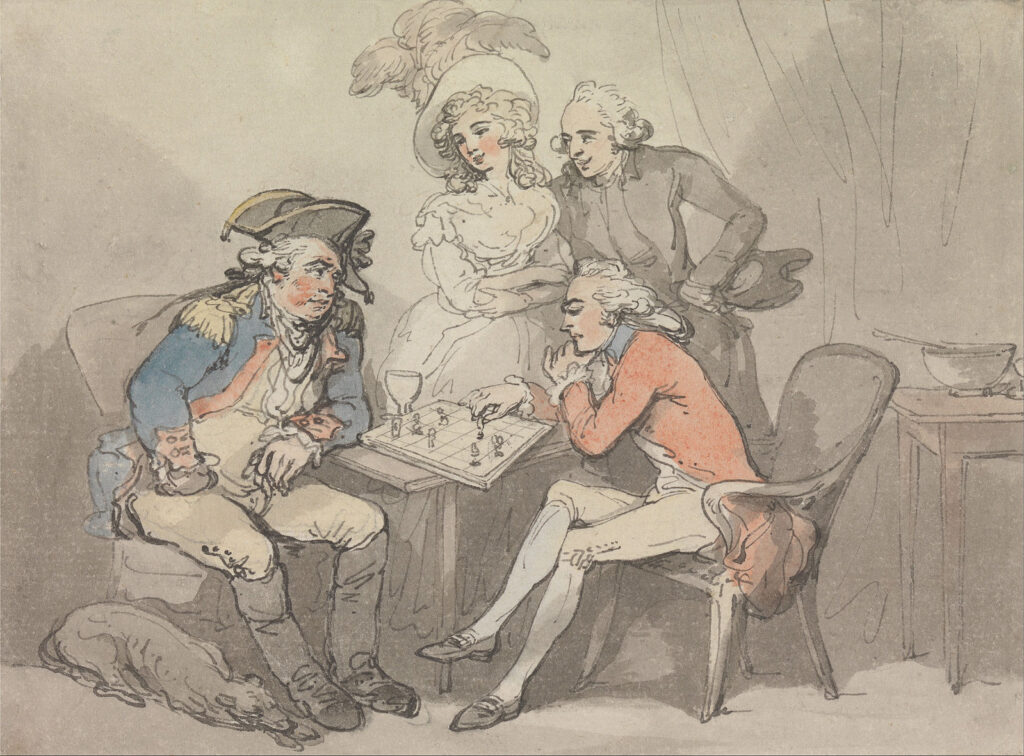 In 1774, Philidor encourages chess enthusiasts to form the Chess Club at Parsloe's. The club is exclusive and highly fashionable: Membership is limited to 100 players of rank, influence and chess skills. At Parsloe's Chess Club you meet, e.g., Charles James Fox, the Marquis of Rockingham, Count Bruehl, Lord Harrowby and General John Burgoyne. The club members convince Philidor to be their teacher, and he obtains remuneration as a chess master every year for a regular season from February to June. A chess lesson at the club with Philidor cost 5 shillings (60 cents) each.
The Chess Club at Parsloe's becomes the centre of British chess and it attracts its customers with spectacular events: Every year, Philidor enchants his audience by playing three blindfold chess games simultaneously. Read the high praise of The Morning Post:
"The celebrated Mr. Philidor, whose unrivalled excellence at the game of Chess has long been distinguished, invited the members of the Chess-club, and the amateurs in general of that arduous amusement, to be present on Saturday last at a spectacle of the most curious kind, as it was to display a very wonderful faculty of the human mind, which faculty, however, is perhaps exclusively at present his own. "

(The Morning Post, 28 May 1782)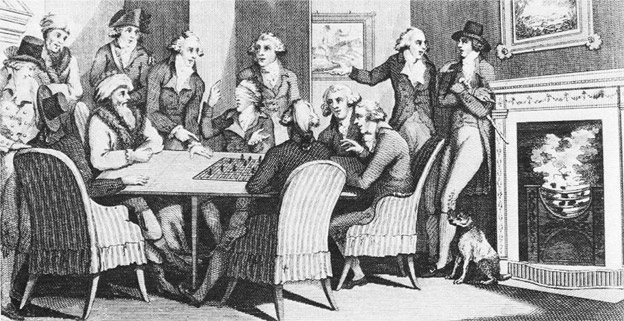 Philidor's presence is the major attraction, and his death in 1792 is a heavy blow for the club. A substitute is found in an amateur player named Verdoni, an Italian who had played Chess at the Café de la Régence, and fled from France to London in the wake of the Revolution. After Philidor's death, Verdoni is said to be the strongest player in the world. Though he is the immediate successor of Philidor upon the English chess-throne, he cannot prevent that the club gradually declines in importance. This, however, is at all not the end of the popularity of chess.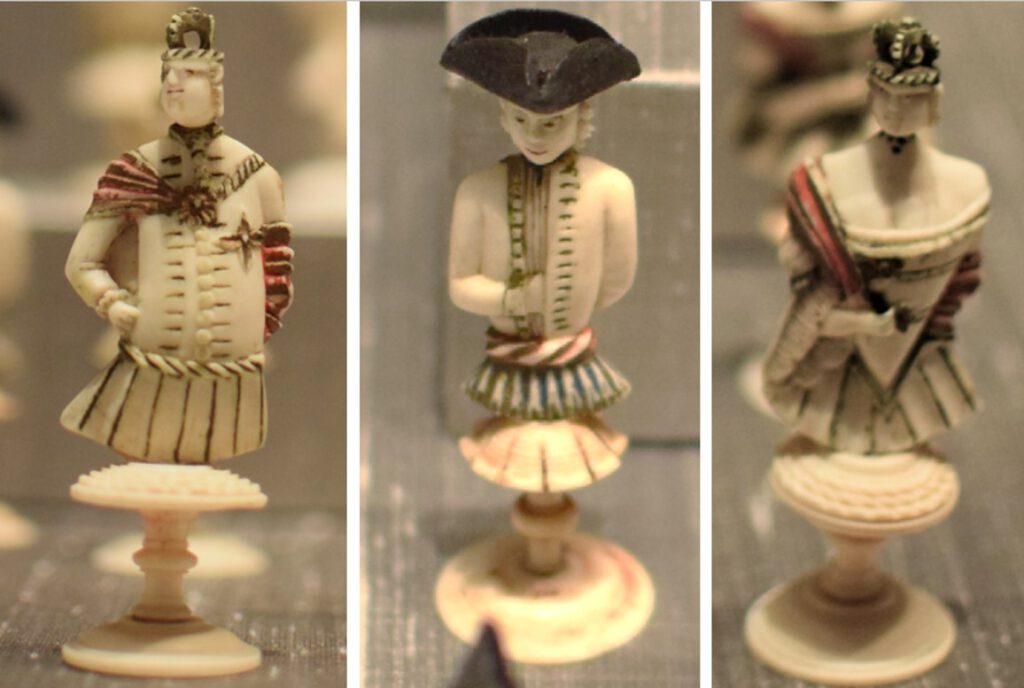 Learn and play chess in The City after 1800
At the turn of the 19th century, the upper-middle class embraces chess. This is because Verdoni passes on his knowledge to several men that become crucial for the further development of chess in Britain:
One of them is Jacob Henry Sarratt (born in France in 1772), originally a schoolmaster. In 1804 Sarratt is considered to be London's strongest player, and he becomes the house professional at the Salopian at Charing Cross. Should you be a novice to chess, turn to him: Sarratt calls himself Professor of Chess and teaches chess at the price of a guinea per game.
Once you are fit, you might be able to join a new, less elite, chess club: On April 6, 1807, the London Chess club is formed at Tom's Coffee House in Cornhill; Sarratt is one of its most active members. The club is mainly frequented by merchants and members of the Stock Exchange. Membership dues is 3 guineas per year, and one guinea per entrance.
Improve your chess-skills at Oxford in 1810
Another of Sarratt's pupils creates the first Chess club outside of London in 1810: William Tuckwell, a young surgeon who had recently moved to Oxford. His Brasen Nose Chess Club doesn't have a special venue. The members meet at each other's rooms, and most of these are located around the Old Quad at Brasenose College.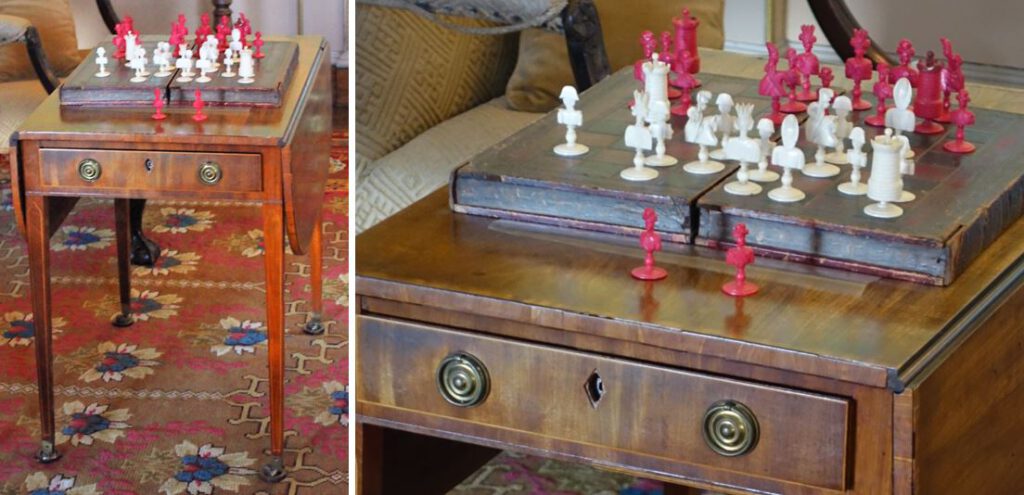 Bad news for lady players: The Brasen Nose Chess Club is for men only. They are well off to wealthy, in their mid-20s; and mainly postgraduates studying at Brasenose College. They meet every Thursday at 7.00 pm and play chess until midnight. There is a break for supper at 9.00 pm. For this, a barrel of oysters is a must-have, but hot dishes are not allowed.
Even as a man, you might find it not too easy to join them: applicants for membership have to put themselves up for ballot. One black ball against you, and gone are your chances for chess and oysters.
Find chess – nearly – everywhere from 1813
In the second decade of the 19th century, you will have many occasions to play chess: in 1812, a chess club is formed in Hereford. Ipswich and Manchester follow in 1813.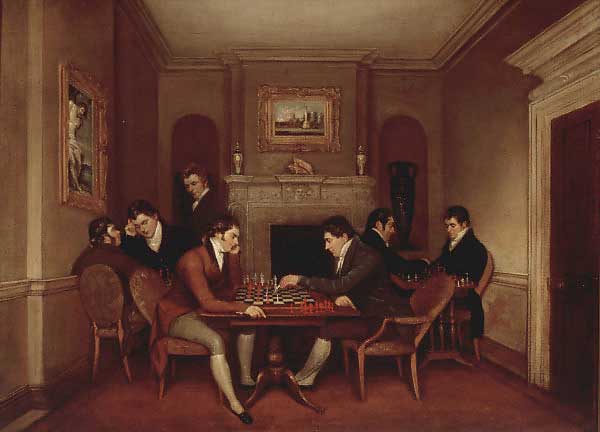 On July 9, 1813, the Liverpool Mercury publishes the first newspaper chess column.
Additionally, the number of publications on chess is rising. The focus often is on practical learning:
1817, Oriental Chess, by William Lewis (1787-1870), is the first problems books printed in England
Also in 1817, John Cazenove, the president of the London Chess Club, publishes "A selection of curious and entertaining games at chess: that have been actually played"
What are your options as a female time traveller?
Ladies would play at home or at gatherings with neighbours or friends. This can be quite cosy, as this sketch form 1803 by Caroline Watson (1760-1814) shows: A couple plays chess at a table in the foreground (right side), while a larger party enjoys a game of cards.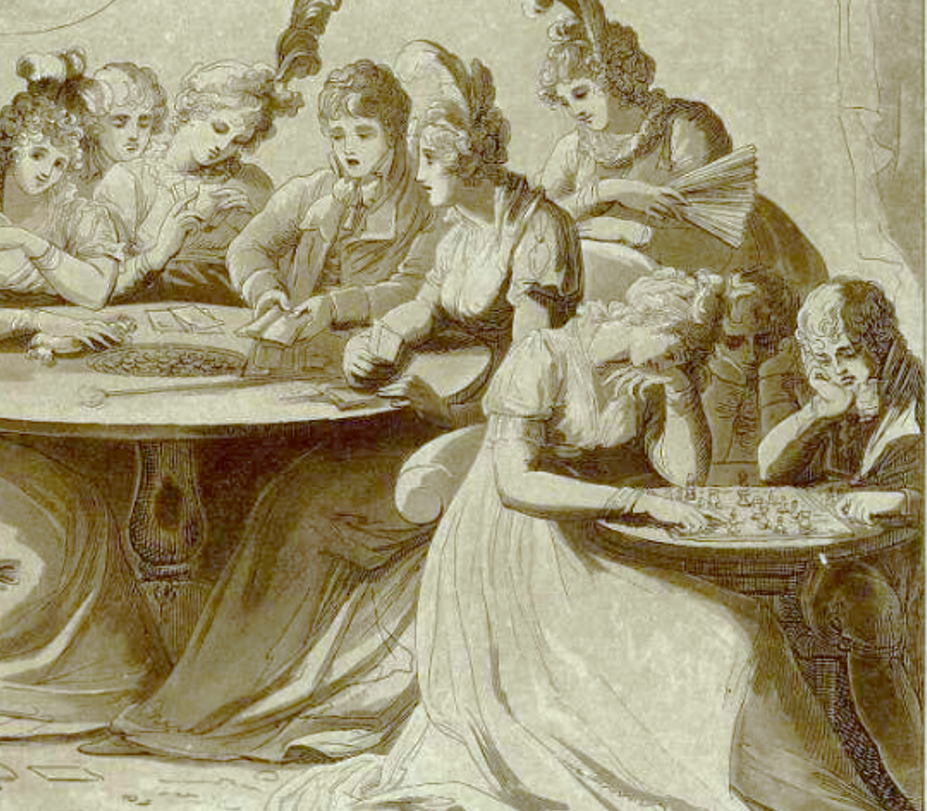 Besides playing at home, women also might try their luck at playing against the famous chess automaton called "The Turk". As you know, "The Turk" was a pseudo clock-work machine which supposedly could play chess so well that it beat most of its opponents. In fact, a human chess master was directing all the moves. The automaton toured Europe and also came to London in 1783 and again in 1818/1819.
In 1818/19, it is on display at No. 4, Spring Gardens. The admission price is two shillings, six pence for adults; children pay one shilling, six pence. Monday through Saturday, at 1 o'clock, 3 o'clock and at 8 o'clock, the audience is challenged to play against the so-called machine.
We know of one woman who accepted the challenge: a Miss Hook played – and lost, but little wonder: the machine was directed either by William Lewis or Peter Unger Williams, both pupils of J. H. Sarratt and first-rate players.
Though little is known about female chess players, they actually became the topic of paintings. Enjoy this one: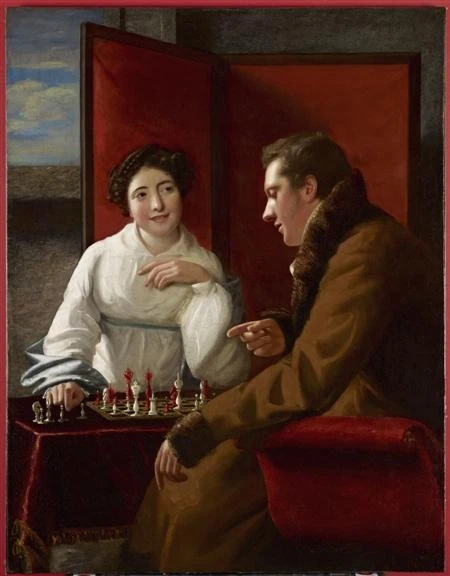 Enter your chess challenge
Round off your 18th-century Chess Experience by finishing the game depicted in the painting by James Northcote ("Chess players", around 1800).
Black has a clear advantage. In how many moves can it win? If you'd like to play with white: Can you still turn the game around?
If you care to play online at www.lichess.org/editor, you can enter this code: FEN "4r3/pp4p1/1bp5/6Pp/PP1N2kn/1rPR4/8/3R2K1 w – – 0 1")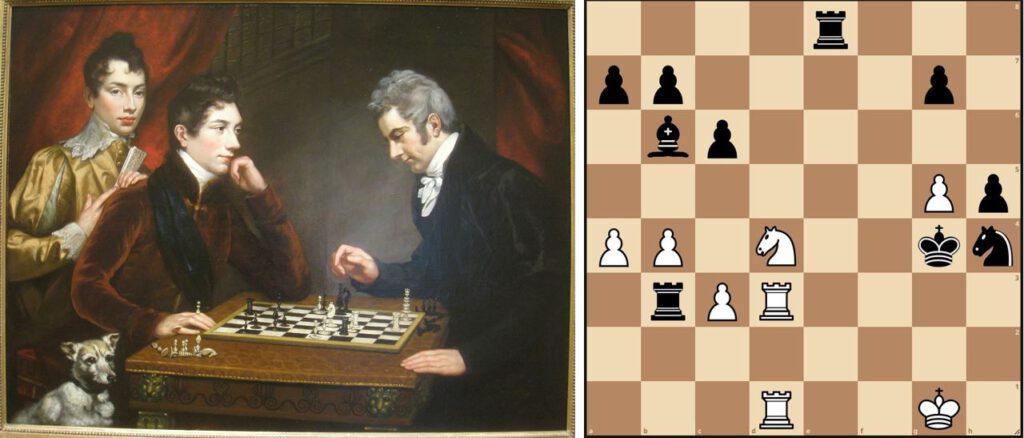 Related articles
Sources
Sources: Adrian Harvey: "Social participation in the game of chess: a crecreation for everyone" in Caissa, 1/2016 (https://www.euroschach.de/media/products/harvey-social-participation-leseprobe.pdf)
Richard T: The Streatham & Brixton Chess Blog; "Gentlemen only: Brasen Nose Chess Club 1810-11, part 2 of 6" and "Oysters at nine: Brasen Nose Chess Club 1810-11, part 4 of 6." – http://streathambrixtonchess.blogspot.com/
Bill Wall: "19th Century Chess" https://archive.org/details/19thCenturyChess
Kathryn Kane: "Regency Bicentennial: The Turk Returns to London", 13 April 2018 The Regency Redingote
Bryan Smith: "Philidor Would Approve", Apr 26, 2012, https://www.chess.com/
Batgirl: "Parsloe's Coffee-House" by Murray, Sep 10, 2013, https://www.chess.com
Rodama1789: "Philidor – continued"; Tuesday, 10 March 2015, Rodama: a blog of 18th-century & Revolutionary France
Chess History on the Web, Excerpt from The Café de la Régence, by a Chess-player, Fraser's Magazine, Vol. XXII, July to December, 1840, Part 2/7; http://mark_weeks.tripod.com/chw01h01/gwf-2202.htm
John Upham: Remembering Jacob Sarratt (?-?-1772 06-xi-1819), November 6, 2020, British Chess News, https://britishchessnews.com/2020/11/06/remembering-jacob-henry-sarratt-1772-06-xi-1819/
Sarah "SBC": Feb-04-09, comment at: Hook vs The Turk (Automaton), Odds game (1820) (unorthodox), London, England; https://www.chessgames.com/perl/chessgame?gid=1508727
wikipedia.com
Article by Anna M. Thane, author of the novel
"Von tadellosem Ruf" (http://amzn.to/2TXvrez)