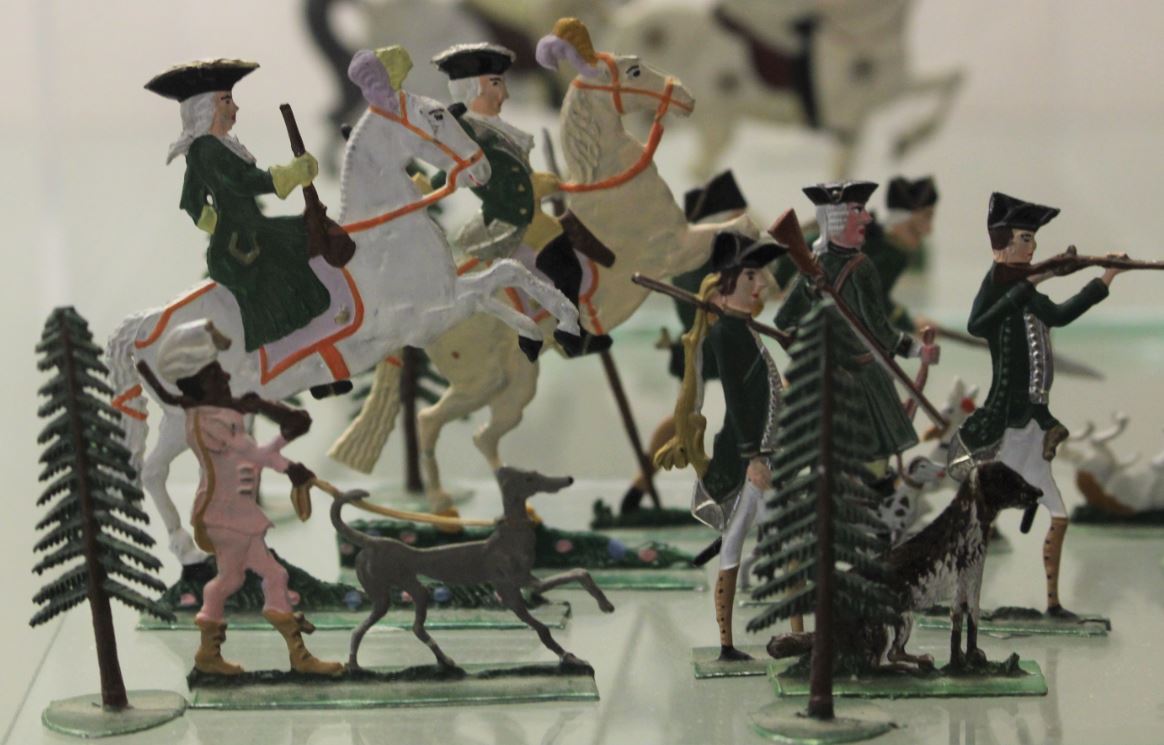 Miniature figures or miniature soldiers in general have been around as talismans or devotional objects for many centuries. However, the 'modern' toy soldier – a product explicitly marketed to children to play with – was created in the 18th century in Prussia. The first tin toys were flat, two-dimensional figures. They started as a by-product of the tin-ware production.
Tin was in high demand by the military as it was inexpensive, lightweight, and durable. Tin was also used for household goods as funnels, basins, pastry moulds, lanterns, snuff boxes, and needle cases, etc.
The craze for tin toys starts in the school room
In the early years of tin toy production, the educational aspect of the toys had priority when designing the figures. In the late 18th century Johann Heinrich Pestalozzi had developed the idea of "learning by head, hand and heart". The flat figurines came in handy as tools for learning, as they were durable and could easily be transported. Besides, tin figures were much cheaper than books. Tin toys for teaching included animals such as monkeys, tigers, etc. as well as historical persons and events.
As a matter of fact, tin workshops produced more educational themes than military themes in this period. They also produced doll house equipment for girls and varying figures to depict all the themes we know today from Playmobil.
Nevertheless, children enjoyed playing with tin toy soldiers very much. They were able to play any historical battle as if they were present at it. By staging the battles, they indirectly learned history, too.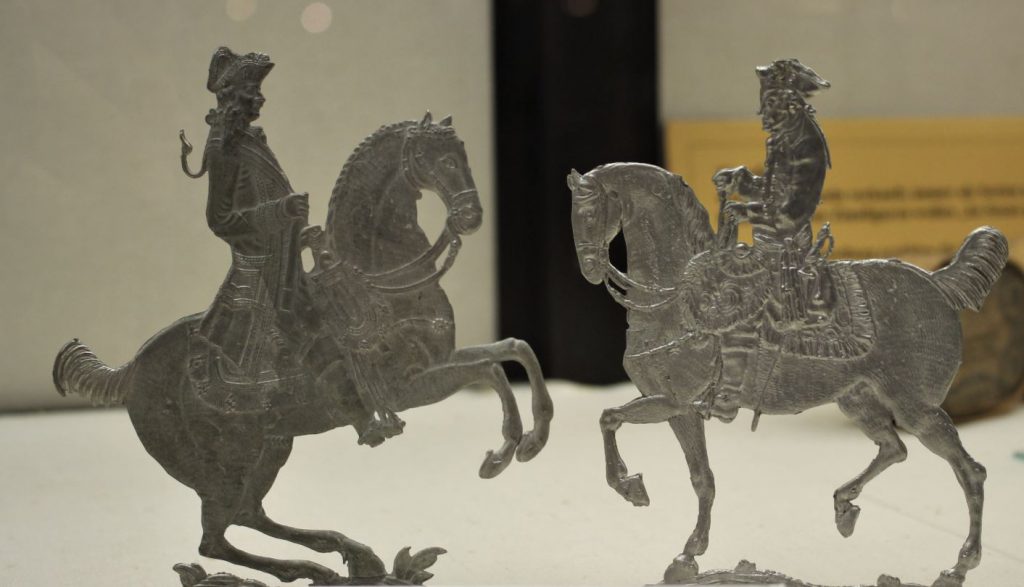 At first, the most popular theme for the toy soldiers was Frederick the Great and his army. The Prussian king was among the first to have organised the army in modern lines, including new units such as mobile artillery, and standardised uniforms. This allowed the tin toy makers to produce whole sets of soldiers and to make them collectable as well. Boys enjoyed re-enacting Frederick the Great's battles of the Seven Years' war. With the beginning of the Napoleonic Wars, these battles, too, inspired the tin soldier production.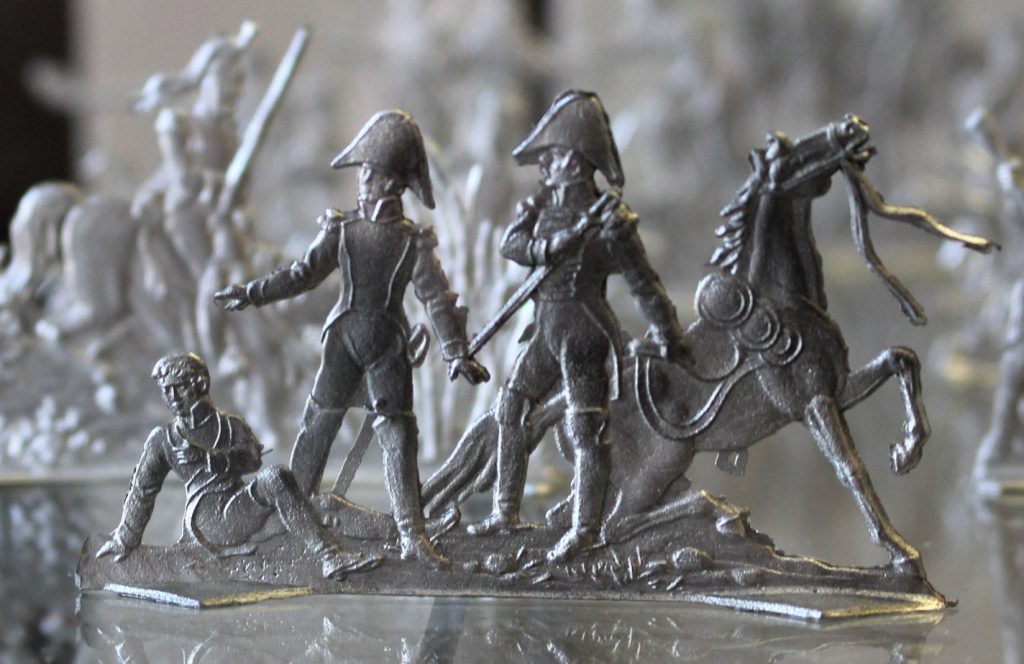 Form the second half of the 19th century, tin soldiers became the most important product of the tin toy workshops. These toys were also used to promote young boys' interest in the army, and playing with tin soldiers developed a decided patriotic undertone.
France and Germany compete as centres of the tin soldier production
The German town of Nuremberg was the first centre of the 'modern' flat tin toy production. The workshops exported the toys to many European countries, including Britain and Russia. After the Napoleonic Wars, Fuerth/Germany took over as most important production location. Competition arose soon in Paris/France. Maison Lucotte, founded in 1785, started making round and solid tin soldiers like miniature statuettes from around 1838. The company is today known as C.B.G Mignot.
In 1821, a pound of soldier figurines was sold for 24 Kronen, a pound of animal figurines cost 48 Kronen.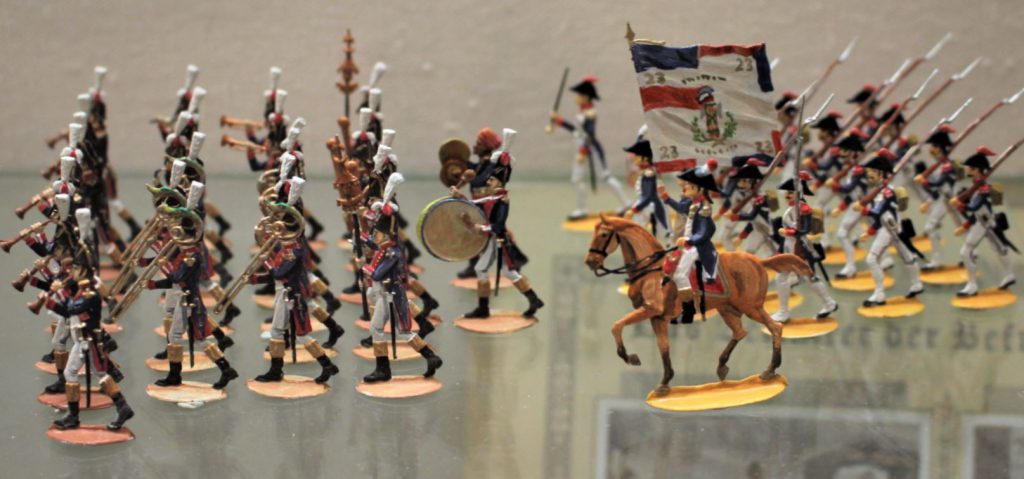 The big names of the early business:
Johann Gottfried and Johann Georg Hilpert (located in Nuremberg/Germany, active from 1760 to 1838) are credited with being the first company to mass-produce tin soldiers. They established an assembly-line in their workshop in 1775. Female painters each applied a single colour on each figurine as it was passed around the workshop.
Schweizer, a Bavarian tin workshop, was founded in 1740 in Dießen. It was run by Adam Schweizer and his son-in-law Joseph Rathgeber. Tin soldiers by Schweizer were mass produced from 1796, featuring mainly the Bavarian infantry and dragoons. 600 people working in small workshops in the aera were employed by Schweizer, producing all kinds of tin ware. Schweizer & Rathgeber was active until 1879.
Kuhn, located in Nuremberg and active from 1770 – 1810.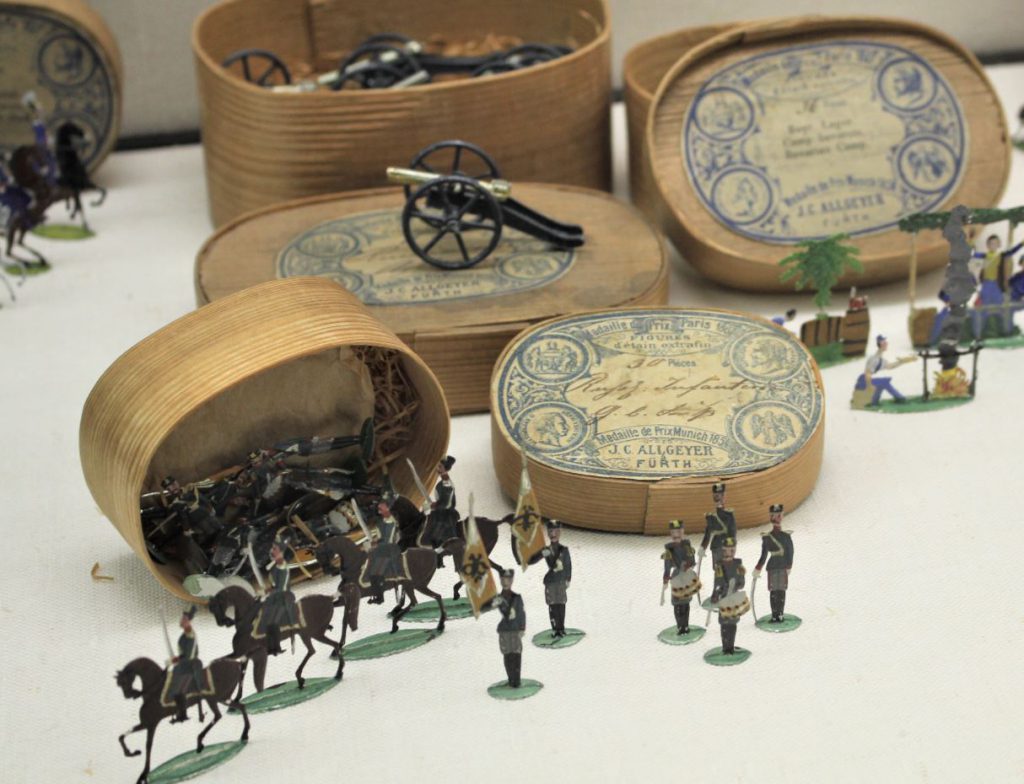 How to make tin soldiers in the late 18th century
The making of tin soldiers starts with a design that was engraved in two blocks of slate, one with the front design, one with the back design of the figure. The slate blocks were put together but had small channels and air vents to allow the molten metal to be poured in and drained off.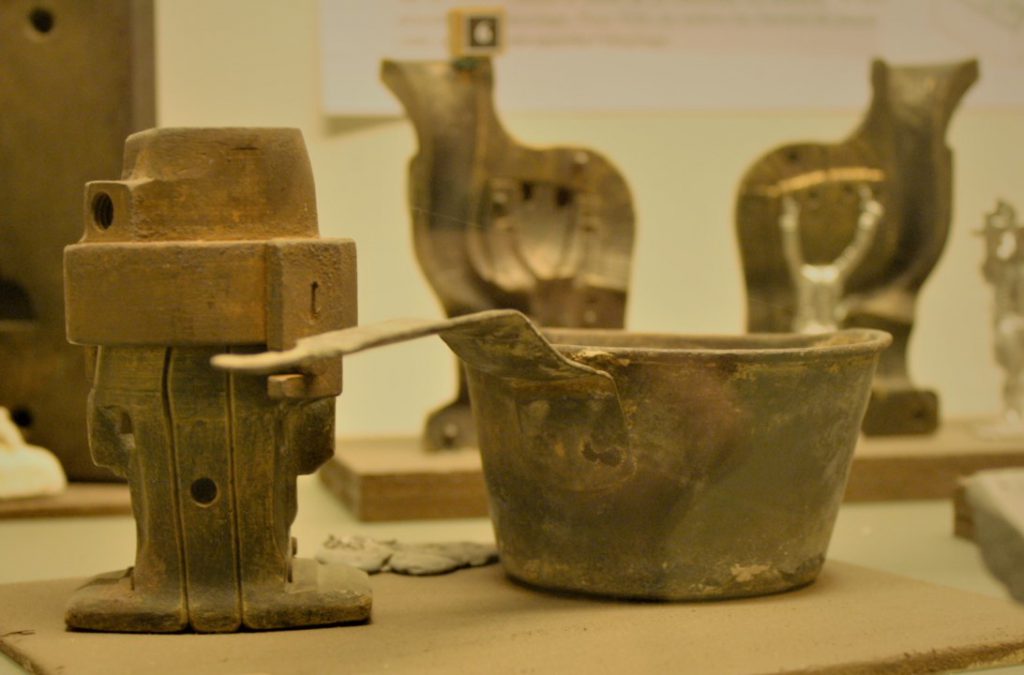 As tin is a very soft material, lead was added to give the two-dimensional tin figures stability. Thus, the created children's toys actually were slightly poisonous. Working with tin wasn't healthy either. Tin can affect the body when breathed in, e.g. cause coughing, vomiting, diarrhoea, headache, fatigue and tremors. It can also damage the liver and kidneys. Using lead in tin toys was forbidden as late as in the mid-20th century. It is, of course, still so today.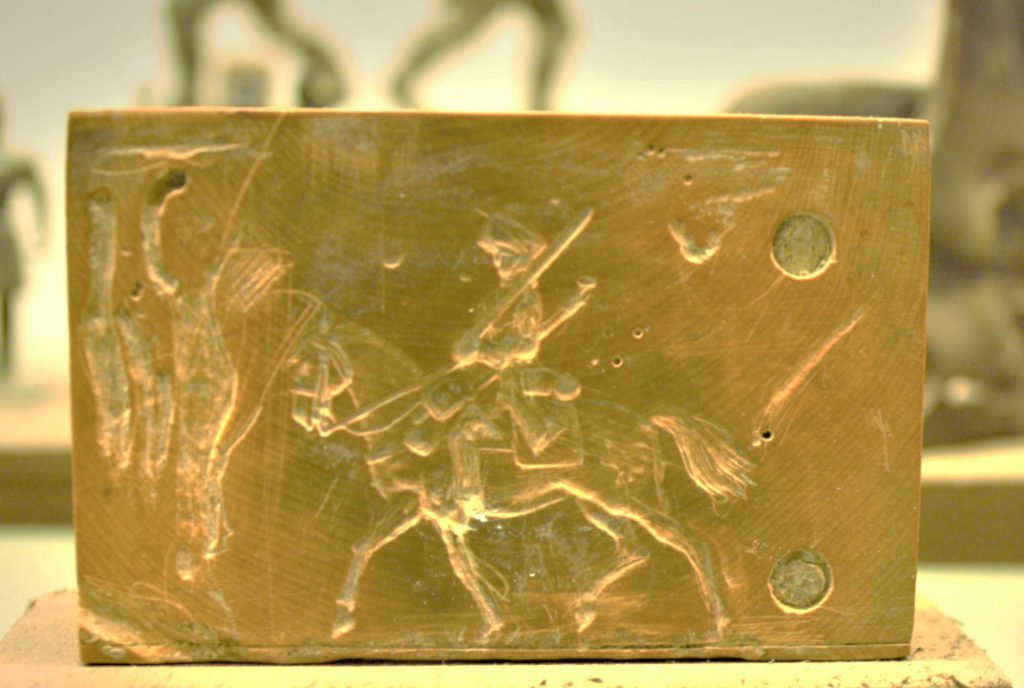 Colouring the figures was not considered important. Paint was only used to emphasis aspects, e.g. a saddle or a uniform, while horses were often not colourised at all. The colouring was usually done by women.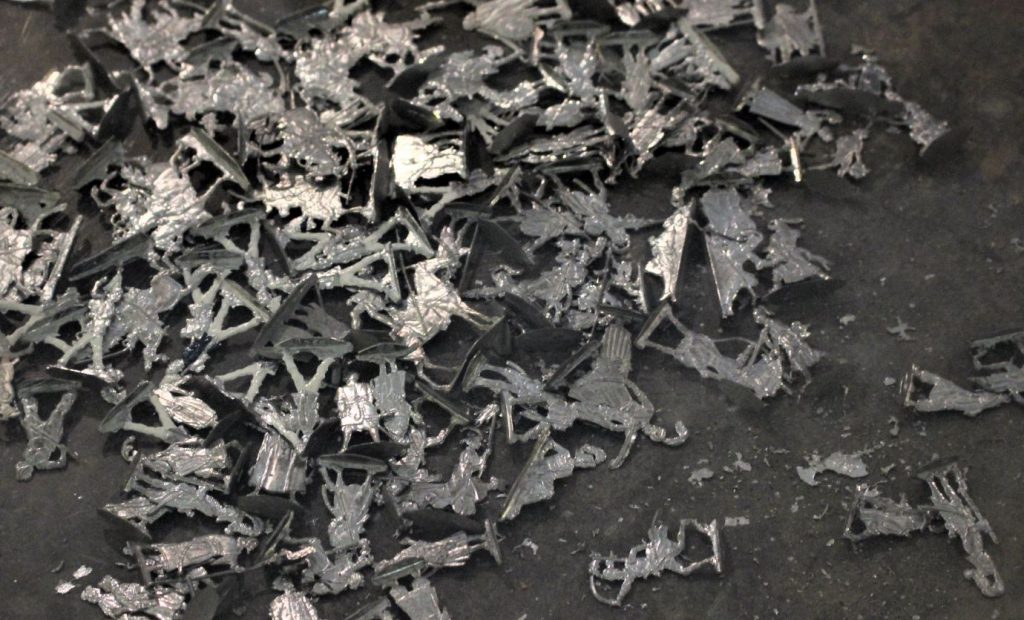 Tin toy gallery
Here are more photos of tin toys with historical themes for you – enjoy!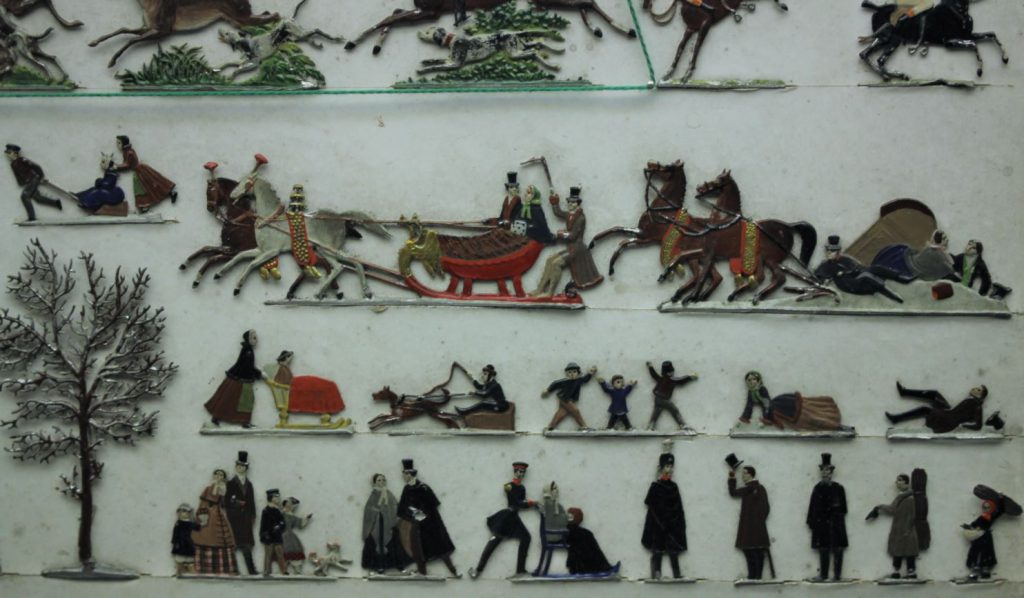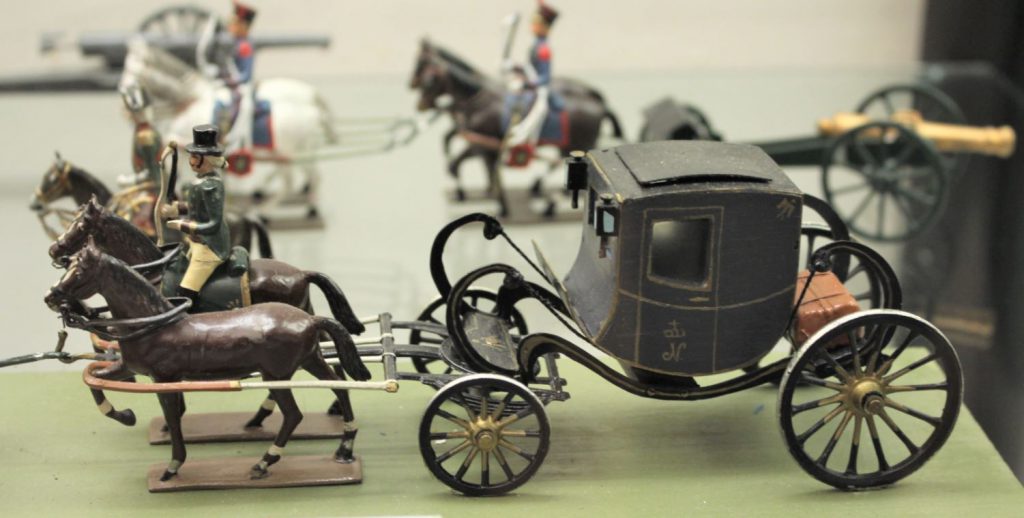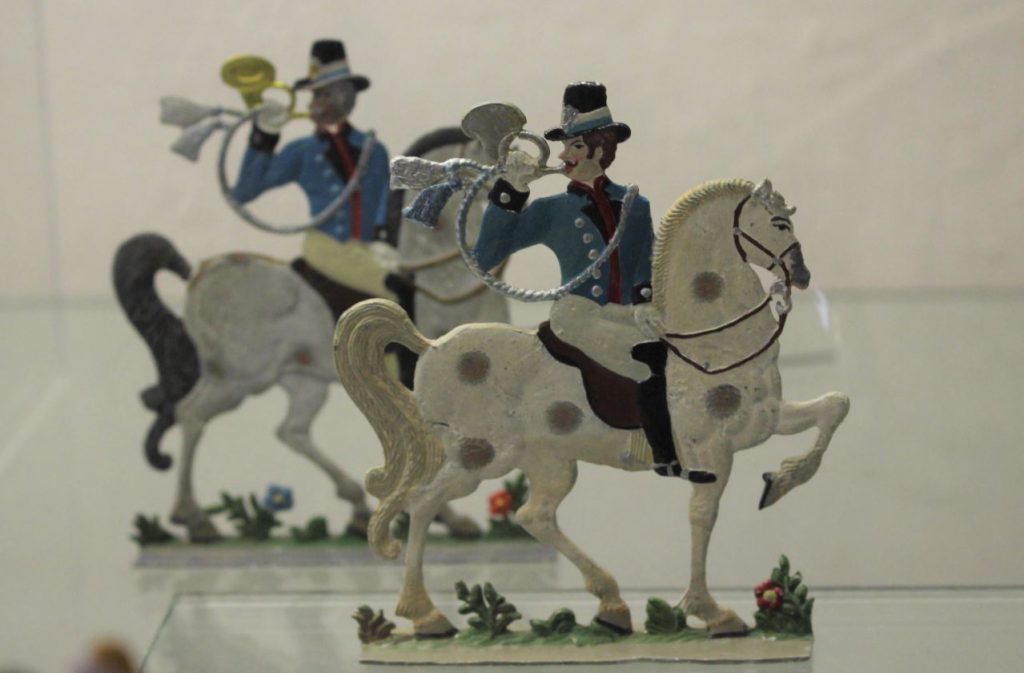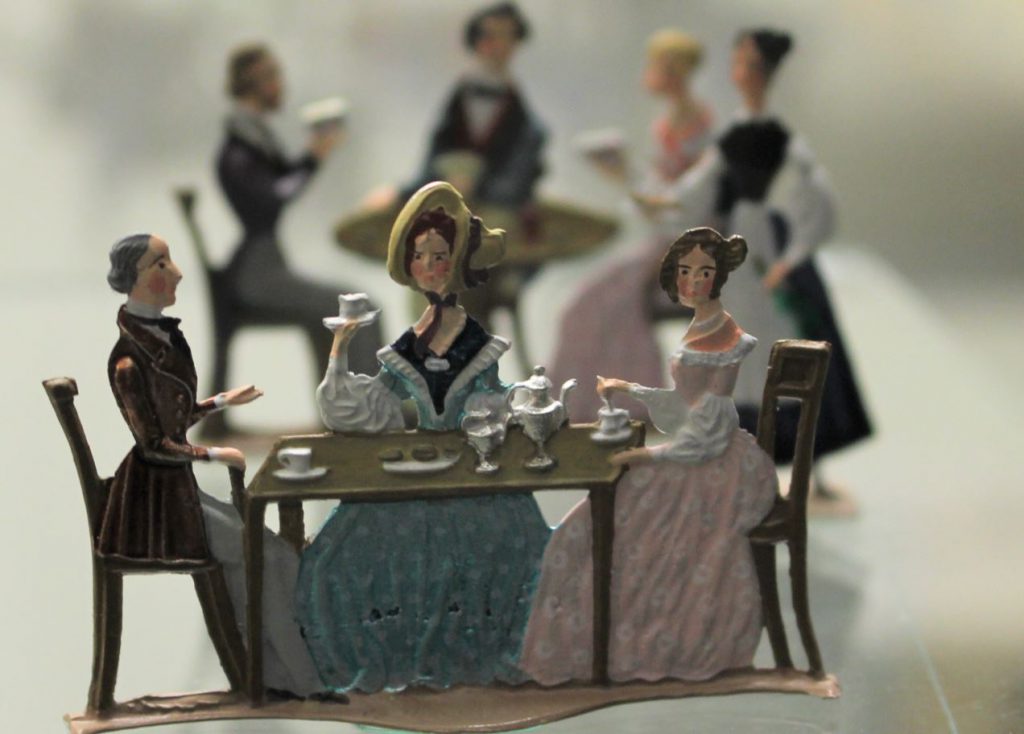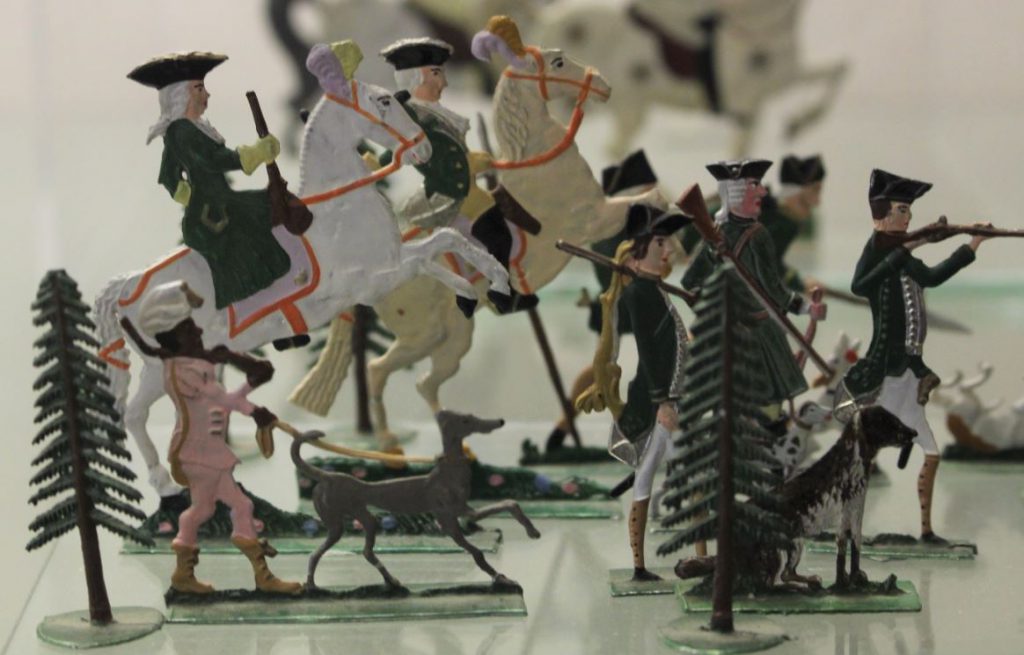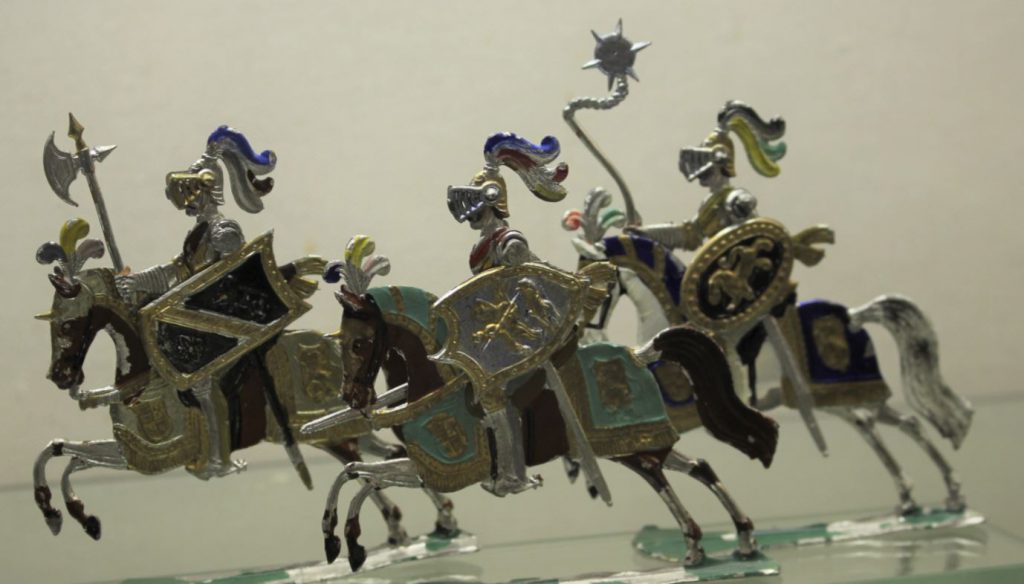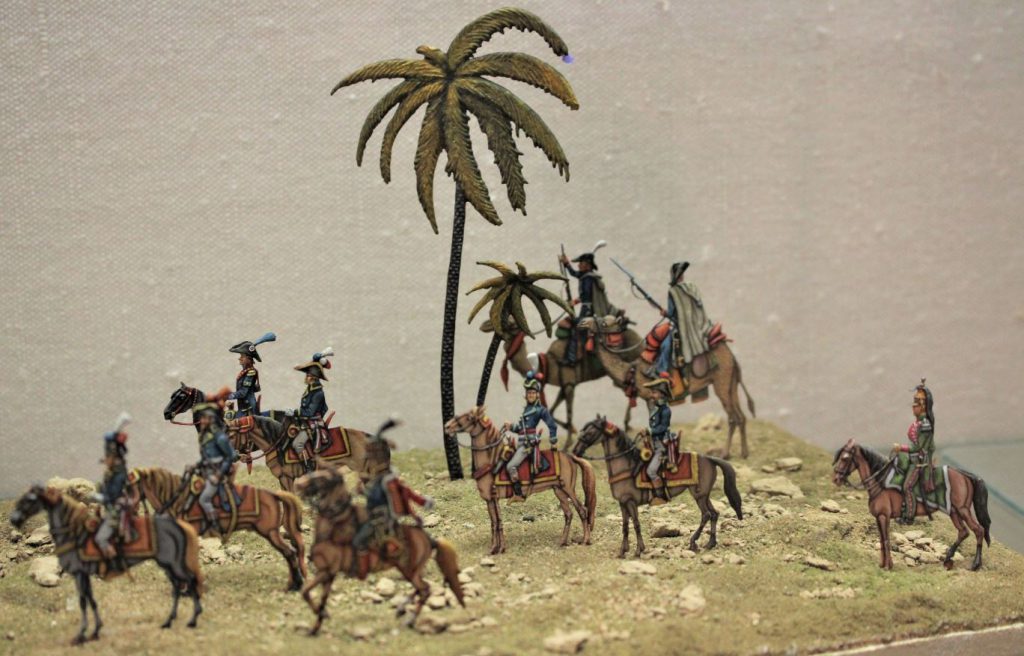 Sources
Deutsches Zinnfigurenmuseum, Festungsberg 27, 95326 Kulmbach, Germany
Ed Crews: Meet the Tinmen; CW Journal : Autumn 2013:
Herbert Kisielewski: Kleine Figuren aus Zinn. Einst klassisches Knabenspielzeug heute begehrtes Sammelobjekt und Männerspielzeug; Universität Wien, 2014
Luigi Toiati: The History of Toy Soldiers; Pen & Sword, 2019
Related articles
Article by Anna M. Thane, author of the novel
"Von tadellosem Ruf" (http://amzn.to/2TXvrez)