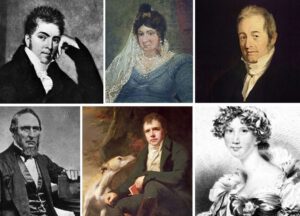 If you were a time traveller in 1821 longing for a good read, what would be your options?
Check out my list of popular fiction and non-fiction releases. I have added links to online versions of each book, so you can actually read like its 1821!
Bonus feature: Suggestions for further reading on each topic from today's experts on the 18th century.
James Fenimore Cooper: "The Spy: a Tale of the Neutral Ground".
It is 1780, a period of conflicts and espionage between military and guerrilla forces in America. Main character Harvey Birch comes under suspicion for being a British spy. Also around: the mysterious Mr. Harper, actually George Washington in disguise… . Mr. Cooper's second novel is based on a true story of the Revolutionary War.
Read it online here: https://archive.org/details/spy01unkngoog
Are you interested in the Revolutionary War? Here are suggestions for further reading:
Washington's Revolutionary War Generals (Campaigns and Commanders) by Stephen R. Taaffe
A History of the Royal Navy : The American Revolutionary War by Martin Robson
A War of Ideas: British Attitudes to the Wars Against Revolutionary France, 1792-1802 (Routledge Revivals) by Emma Vincent Macleod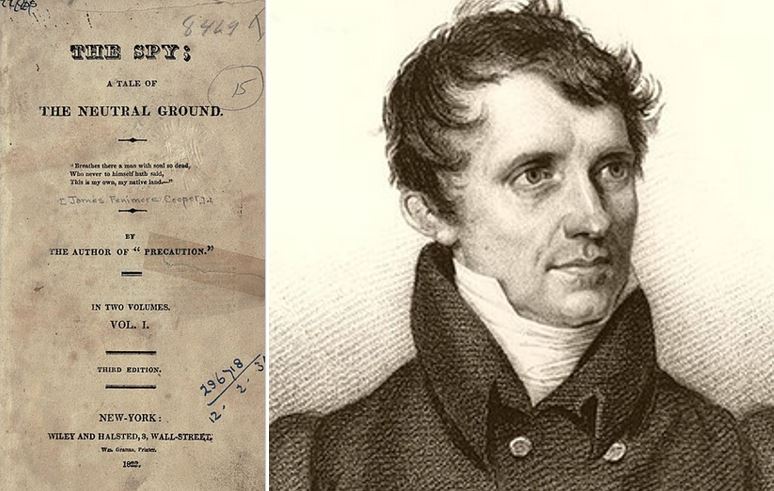 Anna Maria Porter's "The village of Mariendorpt"
The historical romance takes you to the year 1631. Rupert and Meeta have to fight for their happiness during the Protestant War in Germany and the siege of Magdeburg. It's the 14. novel by the prolific writer, and it was turned into a stage drama in 1838. The critics are mixed: "(It is) full of the most touching passages, but, as a whole, it drags. Her knowledge of military details appears to me marvellous", writes fellow author Sarah Harriet Burney in a letter.
Read it online here: https://archive.org/stream/villagemariendo00portgoog?ref=ol
Are you interested in female authors of the the 18th century? Here is a suggestion for further reading:
Material Enlightenment: Women Writers and the Science of Mind, 1770-1830 (Studies in the Eighteenth Century) by Joanna Wharton
Women Writers and the Nation's Past 1790-1860: Empathetic Histories by Mary Spongberg
Questioning Nature: British Women's Scientific Writing and Literary Originality, 1750-1830 by Melissa Bailes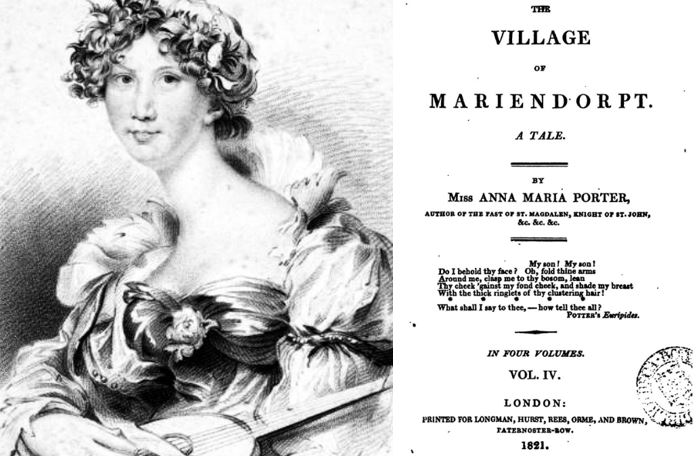 Pierce Egan, "Life in London"
The journalist and sportswriter has an instantaneous and unprecedented success with the adventures of Jerry Hawthorn, Esq., and his elegant friend, Corinthian Tom, and Bob Logic, the Oxonian. "Life in London" was even adapted for the stage.
Read it online here: https://archive.org/details/lifeinlondonorda00eganuoft
Are you interested in life in London in the 18th century? Here are suggestions for further reading:
Fame and Fortune: Sir John Hill and London Life in the 1750s by Clare Brant, George Rousseau
London in Fragments: A Mudlark's Treasures by Ted Sandling, Iain Sinclair
London Voices, 1820-1840: Vocal Performers, Practices, Histories by Roger Parker and Susan Rutherford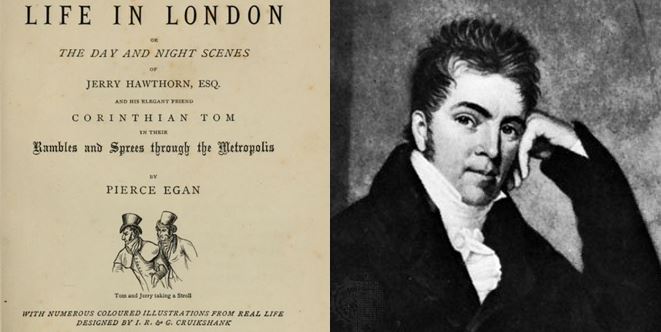 Anonymous, "Kenilworth. A Romance"
Walter Scott is back on the book market with his latest historical novel – as usually published anonymously. The first edition – 10,00 pieces at a price of £1 11s 6d each – was sold out after two month. The story is set in 1575, featuring the elaborate reception of Queen Elizabeth at Kenilworth Castle by the Earl of Leicester. The Earl is courting the Queen's favour, and only by keeping his marriage to Amy Robsart secret can he hope to rise to the height of power that he desires. But his plans are doomed, and so is poor Amy…
The master of historical fiction allows himself some irregularities, such as featuring William Shakespeare as a prominent adult at court, though Shakespeare was just about 9 years old in 1575. Additionally character Queen Elizabeth quotes from Shakespeare's work Troilus and Cressida, which was only written around 1602.
Read it online here: https://archive.org/details/kenilwortharoma00unkngoog/page/n4/mode/2up
Are you interested in Scotland and it's literature? Here is a suggestion for further reading:
Art and Identity in Scotland: A Cultural History from the Jacobite Rising of 1745 to Walter Scott (Cambridge Social and Cultural Histories) by Viccy Coltman
The Scottish Enlightenment and Literary Culture (Studies in Eighteenth-Century Scotland) by Ronnie Young and Ralph McLean
Association and Enlightenment: Scottish Clubs and Societies, 1700-1830 (Studies in Eighteenth-Century Scotland) by Mark C. Wallace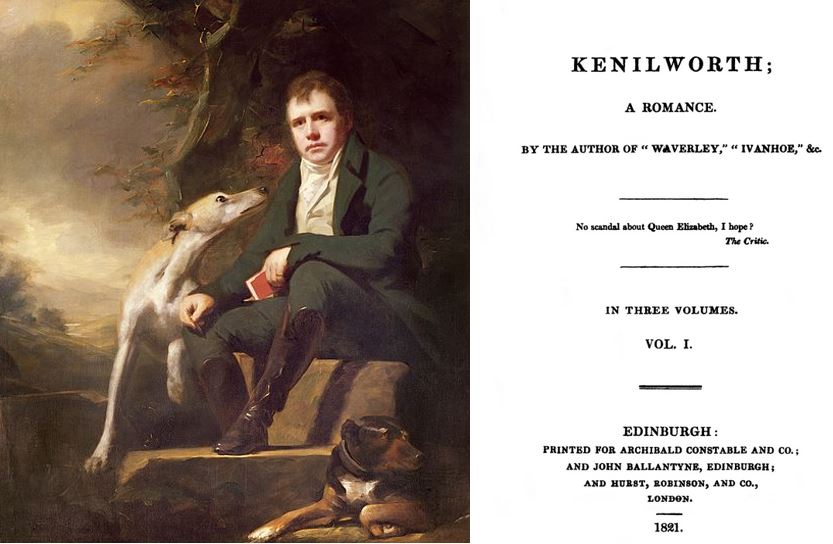 Ann of Swansea, "Lovers and Friends; or, Modern Attachments"
Anna Hatton, the sister of the actors Sarah Siddons and John Philip Kemble, became a well-known writer after an often hard and dangerous life. Between 1810 and 1831 she wrote fourteen novels featuring gothic themes under the pseudonym "Ann of Swansea".
A quote from the 3. Volume of "Lovers and Friends": "I hold a mirror up for men to see how bad they are how good they ought to be."
Read it online here: https://chawtonhouse.org/wp-content/uploads/2012/06/Lovers-and-Friends-or-Modern-Attachments.pdf
Are you interested in women's lives in the 18th century? Here is a suggestion for further reading:
Trailblazing Women of the Georgian Era: The Eighteenth-Century Struggle for Female Success in a Man's World by Mike Rendell
Exploring the Lives of Women, 1558-1837 by Louise Duckling, Sara Read, Felicity Roberts, Carolyn D. Williams
British Women and the Intellectual World in the Long Eighteenth Century by Teresa Barnard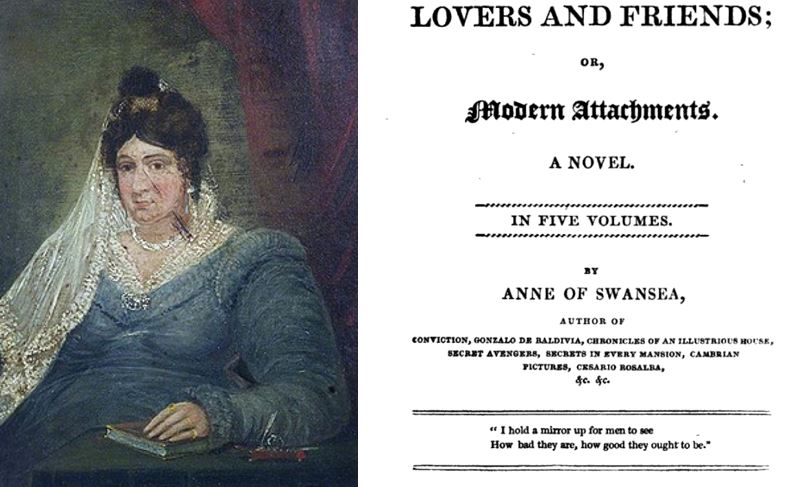 John Galt: "Annals of the Parish: or, The chronicle of Dalmailing; during the ministry of the Rev. Micah Balwhidder, written by himself".
While the title is rather unpromising, the novel is a humorous account of a typical parish minister in Scotland featuring smugglers, the press-gangs, the rise of the local economy, the opening of a new dance school, the day of the country fair, and much more. Main character Micah Balwhidder is flawed with human failings including conceit and vanity, but he also has a genuine interest in economy and progress.
Read it online here: https://books.google.de/books?id=e1VIBAAAQBAJ&printsec=frontcover&hl=de&source=gbs_ge_summary_r&cad=0#v=onepage&q&f=false
Are you interested in church and clergymen in the 18th century? Here is a suggestion for further reading:
Church and State in Modern Britain 1700-1850 by Richard Brown
Church and University in the Scottish Enlightenment: The Moderate Literati of Edinburgh (Edinburgh Classic Editions) by Richard B. Sher
The Swing Riots and Rural Parish Relations: The 'Moral Economy' of the English Poor in Early Nineteenth-Century England, by Peter Jones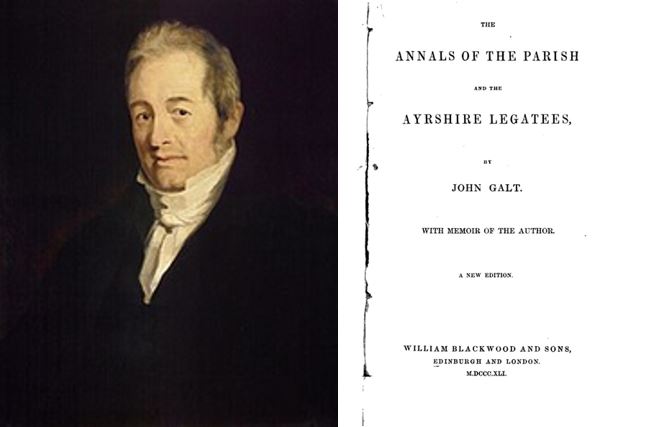 Percy Bysshe Shelley, "Adonais: An Elegy on the Death of John Keats, Author of Endymion, Hyperion, etc."
The book is to become one of Shelley's best and best-known works. In the form of the classical pastoral elegy, Shelley mourns Keats's death and accuses the harsh and negative reviews of Keats's poetry, specifically those of the Quarterly Review, as a course of the poet's death. It was believed that Keats suffered a rupture in his lungs because he was so angered by the harsh reviews.
Read it online here: https://www.bartleby.com/41/522.html
Are you interested in the romantic poets? Here are suggestion for further reading:
Romantic Paganism: The Politics of Ecstasy in the Shelley Circle by Suzanne L. Barnett
Shelley's Romantic Nonviolence: Aesthetics and Politics in an Age of Revolution by Matthew C. Borushko
Poetry and the Idea of Progress, 1760-90 by John Regan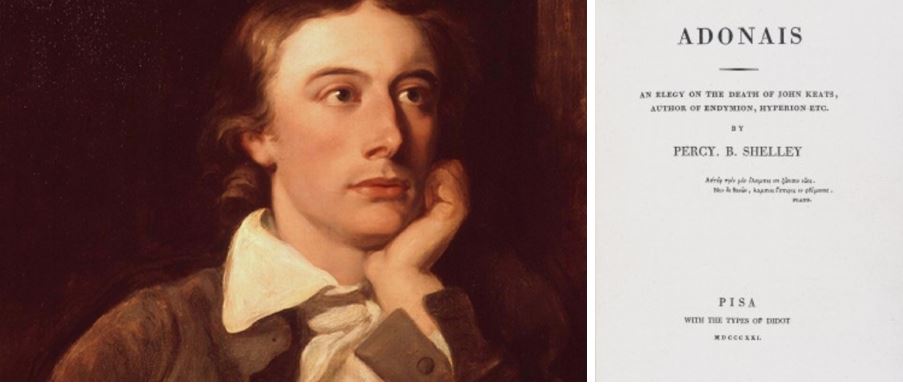 Owen Chase,"Narrative of the Most Extraordinary and Distressing Shipwreck of the Whale-Ship Essex"
Owen Chase thrills the readers with his true story: He was one of the few survivors of the accident that befell the whale ship Essex. The ship was struck and sunk by a sperm whale in 1820. His account would inspire Herman Melville to write "Moby-Dick".
Listen to it online here: https://archive.org/details/shipwreckoftheessex_1601_librivox/shipwreckessex_01_chase_128kb.mp3
Are you interested in exploration and travel writing? Here is a suggestion for further reading:
In the Wake of Cook: Exploration, Science and Empire, 1780-1801, Volume 3: (Routledge Library Editions: The British Empire) by David Mackay
Exploration of the South Seas in the Eighteenth Century: Rediscovered Accounts, Volume I and II by Sandhya Patel
Travels into Print: Exploration, Writing, and Publishing with John Murray, 1773 – 1859 by Innes M. Keighren, Charles W. J. Withers, Bill Bell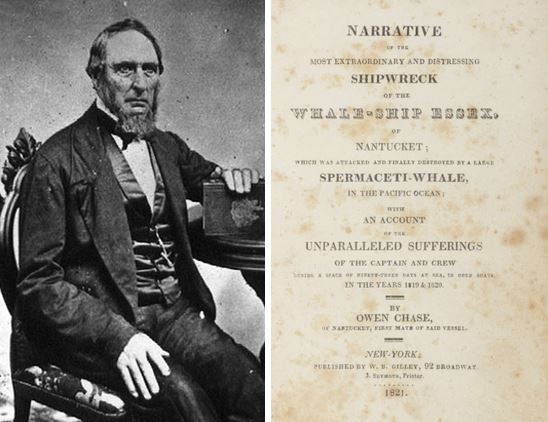 Thomas De Quincey, "Confessions of an English Opium-Eater"
The shocking autobiographical account was first published anonymously in The London Magazine. It is about a laudanum addiction and its effect on the author's life. It went through many editions, and was translated into several languages. Since there was little systematic study of narcotics at that time, the account dominated the scientific and public views of the effects of opium for several generations. De Quincey was, however, criticised for giving too much attention to the pleasure of opium and not enough to the harsh negatives of addiction.
Read it online here: https://archive.org/details/confessionsofeng00dequrich/page/n5/mode/2up
Here is a suggestion for further reading:
Guilty Thing: A Life of Thomas De Quincey by Frances Wilson
Recipes and Everyday Knowledge: Medicine, Science, and the Household in Early Modern England by Ellaine Leong
Medicine in Modern Britain 1780-1950 by Deborah Brunton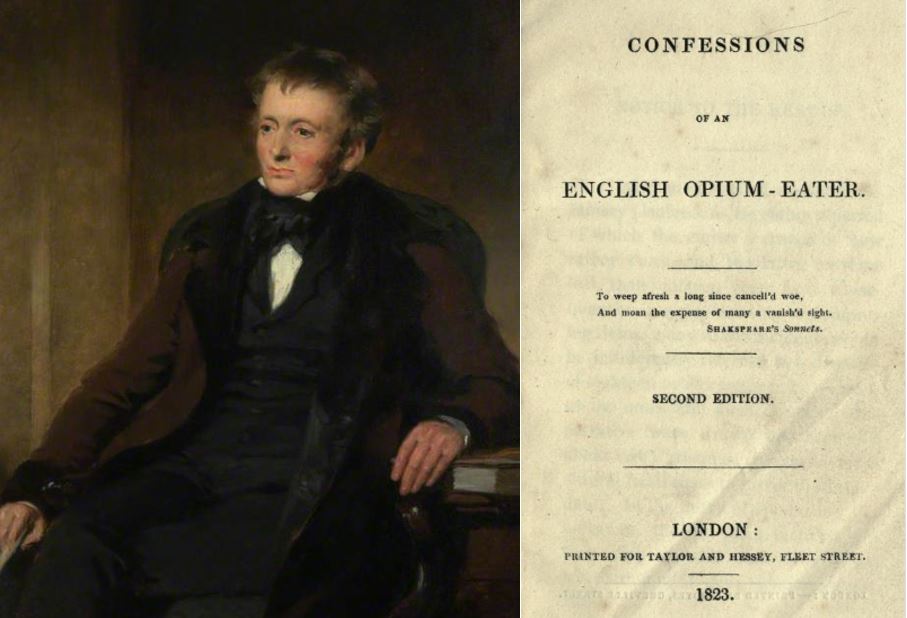 Johann Wolfgang von Goethe, "Wilhelm Meister's Journeyman Years, or the Renunciants"
The German writer publishes his fourth novel. It opens with "Flight into Egypt," in which Wilhelm and Felix encounter a family in the course of their travels; the father of the family identifies himself as "Saint Joseph". The work was greeted by mixed reviews.
Read an English translation online here: https://archive.org/details/wilhelmmeisters17goetgoog
Are you interested in Goethe? Here are recent books about him for further reading:
Goethe: Life as a Work of Art by Rüdiger Safranski and David Dollenmayer
Goethes Spätwerk / On Late Goethe by Kai Sina and David E. Wellbery
Goethe's Path to Creativity: A Psycho-Biography of the Eminent Politician, Scientist and Poet by Rainer Matthias Holm-Hadulla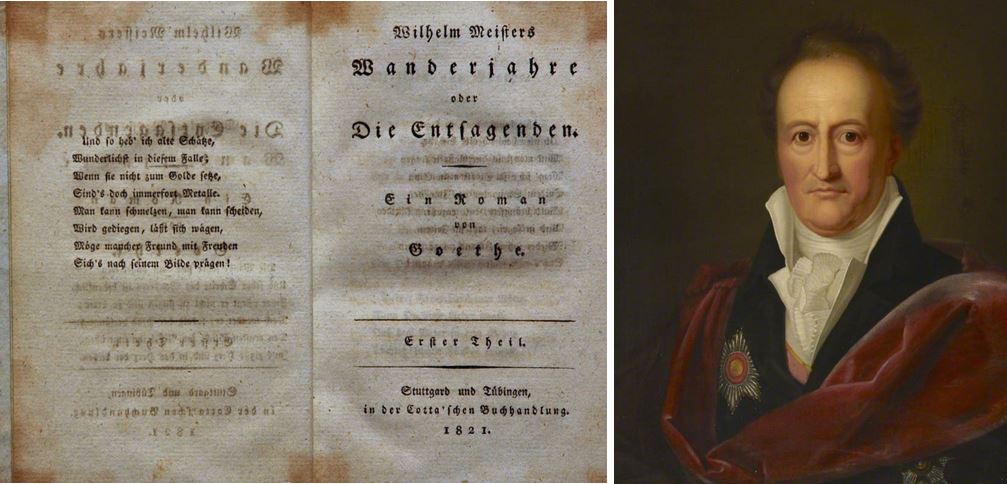 Related articles
Article by Anna M. Thane, author of the novel
"Von tadellosem Ruf" (http://amzn.to/2TXvrez)