In this post:
From bleak prospects to new chances
Exclusive to the bold and daring?
Poets and painters lead the way
Alarm! A radical at Lynmouth
Lynton and Lynmouth as settings of a novel – plot bunnies included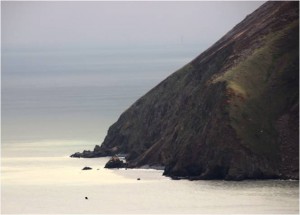 Reverend John Skinner shuddered as he looked at the narrow path ahead. The passage, just four feet or a meagre 1.2 m wide, was cut on the side of a cliff that descended steeply towards the sea. He dismounted his horse and continued his dangerous journey on foot, leading the animal behind him.
The Reverend enjoyed discovering the wilderness of Exmoor. In 1801 he reached Lynton and Lynmouth, two tiny villages on the North Devon coast. 'To travelers not accustomed to a mountainous country, the approach to this place would have deemed impassable', he noted in his journal. John Skinner was among the first who made their way to Lynton and Lynmouth to admire the view and dramatic scenery. More were to follow. And this was all because of the French.