I bet you hadn't expected to read about Birmingham here. London, Bath, Brighton and Gretna Green are the typical locations of a Regency Novel. Besides these, you might find Harrogate and Newmarket, but certainly not Birmingham. But, dear Regency Enthusiast, Birmingham has great potential as a location of your novel. Find out why the town used to attract even the wealthy and aristocratic.
Birmingham in the Georgian and Regency period
Birmingham is located in the West Midlands. Nothing more but a medium-sized market town in medieval times, Birmingham grew rapidly in the Age of Enlightenment. Even before the industrial Revolution kicked off in the 1820ies, the town became an important place for manufacturing. In 1791, Birmingham was famous as the first manufacturing town in the world. In 1800, Birmingham had 80,000 inhabitants. Many of them were skilled workers making their living in hundreds of small workshops.
Birmingham was especially famous for its metal goods. James Watt and Matthew Boulton, entrepreneurs and inventors, established the Soho Manufactory, the largest, purpose-built manufactory in Europe, in Handsworth, near Birmingham. It produced everything from coins and silver tea vases to steam engines. And it was a fashionable place to visit: James Watt and Matthew Boulton gave tours of Soho to the most important ladies and gentlemen.
Birmingham was the world leader in the button trade. The Prince of Wales preferred to wear buttons made in Birmingham. No wonder, as the buttons were very pretty.
Buttons were made of metal or pearl. Brass buttons were for military uniforms, plain metal ones for everyday wear. Cut steel or pearl buttons were for the fashionable and rich. Around 1800, Matthew Boulton produced cut steel buttons, crammed with polished tiny steel studs. In candlelight, the buttons would sparkle like diamonds. They were for men only and worn at court.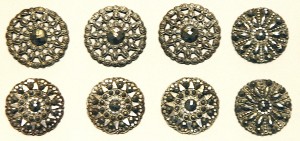 A dark chapter of Birmingham is its involvement in the slave trade. Slaves worked in Lloyd's Slitting Mill or as servants in households. Brass workers were indirectly involved in the slave trade, as they produced so called "manilas", brass rings, used as a trading currency in the slave trade in Africa.
For domestic supply, Birmingham produced pocket pistols, sporting guns and guns for the army. Guns were also exported, mainly to Africa. 150,000 guns a year (worth of export: £200,000) were shipped, mainly for use in the slave trade. Most of the guns were simple and cheaply made muskets. The so called Chief's Quality Gun was slightly better made. These guns were given to African rulers in exchange for goods and slaves. Gun makers for the African market were Robert Wheeler of Snowhill, and Samuel Galton.
Make Birmingham a location of your novel
Birmingham is great to use as a location in your novel, if you seek an alternative to fashionable, but omnipresent London. To include aspects of economical change in the Regency era Birmingham is perfect. Here are more facts about the town:
Where to stay
The fashionable place to stay was The Royal Hotel on Temple Row, with a spacious saloon, a grand staircase and a tastefully decorated assembly room with cut-glass chandeliers and lusters, mirrors and an organ. Admiral Nelson stayed at the hotel in 1802, and Prince William, the younger brother of King George III.,  did so in 1805.
Mid range hotels were The Hen and Chickens, The Swan and The Castle; they offered access to the London stage coach.
Eat and meet
The most popular coffee house was John Freeth' Coffee House in Bell Street. The landlord performed his poems and ballads every evening. He was famous for his wit and humour. The coffee house was the preferred haunt of a local political society, the Jacobean Group. They favoured radical ideas and liked to draw customers into their discussion.
Persons who wanted to avoid the lively landlord and the freethinking Jacobean Group took refreshments at the Minerva Tavern in Peck Lane.
In coffee houses, entrepreneurs and tradesmen met for business deals.
There were no female customers in coffee houses, only female servants or family members.
Entertainment
"The Season" of Birmingham was in winter, with up to nine dancing and card assemblies and about four music concerts. As they were all by subscription, people of all classes would mix. The Royal Hotel and the theatre had an assembly room for dancing.
Birmingham had its own Vauxhall Garden for events, masquerades and concerts, like the one in London.
The theatre in New Street included a coffee house and, for alcoholic drinks, The Shakespeare Rooms.
Shopping & Banking
Cloth for frock coats could be bought at Shovell and Smith, Woollen Drapers in the Bull Ring. Thomas Bate in New Street sold the cloth and also made the frock coats.
Sarah Bedford's cut glass manufactory in New Street had splendid and sparkling showrooms.
Henry Clay discovered how to laminate and varnish pulp paper to make it strong enough to be used for furniture and carriage doors. His warehouse was in New Street.
Edward Tomason in Church Street was famous for his medals and silver tokens. There were twelve show rooms to explore. They also featured his new inventions, e.g. the telescopic toasting fork.
Samuel Galton and Thomas Ketland were among the largest gun makers. John Waters of Snowshill made flintlock shooting guns, John Knock of London and Birmingham provided pocket pistols.
Taylor's and Lloyds were Birmingham's first bank, with premises at 7 Dale End.
Crime
Birmingham was a hotbed of coin forgery. Forging silver and gold coins and banknotes was punished by death. One of the biggest forgers was William Booth of Handsworth. He was hanged in 1812. Another famed forger was Richard Barber.
Sources
http://mappingbirmingham.blogspot.de/
"Birmingham, its people, its history" by the Birmingham Museum and Art Gallery