In this post:
Golden Age vs. Golden Cage

The Spy with the Saucepan?

An English Adventure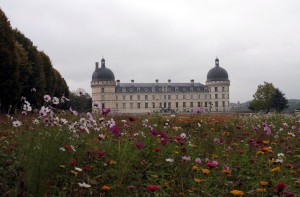 The Château de Valençay is located in Valençay, a village in the Loire Valley, France. It is kept in the style of the early 19th century, its heyday. The Château is one of the best furnished palaces of the Loire Valley, well worth a visit. Don't stop at marvelling at the splendour of the rooms, though. Go on and have a look at the kitchens: They were for several years the territory of the famous Marie-Antonin Carême, the first celebrity chef, making Château de Valençay a genuine destination for gourmets.
Here are some photos of upstairs and downstairs (click to enlarge) :
Golden Age vs. Golden Cage
Antonin Carême (1784 – 1833) cooked at Château de Valençay for foreign dignitaries from many countries. The Château's owner, the diplomat and gourmet Charles Maurice de Talleyrand, entertained here at the explicit wish of Napoleon. But not all guests came voluntarily to the Château: The Spanish royal family had no choice but to stay from 1808 to 1814, while Napoleon's elder brother ruled Spain.
If King Ferdinand VII of Spain was not happy at Château de Valençay, Antonin certainly was. Talleyrand was a veritable gourmet, the ideal patron for every passionate cook. Antonin felt truly appreciated: Each day, the plans of dinner were discussed for a full hour. He had his own vegetable garden, and water was brought to the kitchen by a hydraulic pump. For this luxury, Ferdinand of Spain had to pay the considerable sum of 200.000 francs (nobody said great dining in France was cheap).
The Spy with the Saucepan?
Talleyrand was the first benefactor of Antonin – and he was the one person, Antonin was always faithful to. It is even said that Antonin worked as a spy for Talleyrand, relaying information he overheard at stately dinner tables all over Europe, from the courts of St Petersburg and Austria to the house of the financial élite, the Rothschilds. Biographer Ian Kelly however sees no proof of the Chef turning spy. Personally, I like the idea of Antonin the spy as a plot for a novel.
Who was Antonin Carême?
It 's one of the much-loved stories of the gourmet world that the first celebrity chef was born to a poor family and at the age of 10 left to fight for himself in revolutionary Paris. In search of a job to survive, Antonin knocked at the first door he came across: the door of a simple tavern. He was at once employed as a kitchen help. Antonin had talent for cooking. Aged 17, he was apprenticed to Sylvain Bailly, the greatest pâtissier of the day. There, he soon excelled with his elaborate architectural pastry pieces. As Bailly's catered to high society balls and state banquets, Monsieur Talleyrand noticed and tasted Antonin's work and employed Antonin. He continued to learn under Talleyrand's chef, and eventually outshone his teacher. Antonin cooked for many important occasions, among them Napoleon's wedding in 1810 (he was, however, never Napoleon's chef as some sources claim) and the feast held for the First Bourbon Restoration in April 1814.
An English Adventure
Many of the dignitaries Antonin cooked for tried to win him over. However, Antonin refused every offer – until Jean Baptiste Watier (founder of the "Watier's" club in London) visited him. He persuaded Antonin to work for the Prince of Wales. A fantastic salary of 2,000 pound (compared to 80-120 pound a good cook usually earned at that time) helped to lure the most famous French chef away. Antonin worked at Carlton House in London and the Royal Pavilion in Brighton from 1816 to 1818.
For Antonin's arrival in England, the Prince Regent spent 6,000 pounds on kitchen equipment for the Royal Pavilion. The kitchens became part of the Prince's tour of the house for his guests. The modern improvements for bringing cooking to perfection, such as a steam table to keep dishes hot for serving, where proudly shown.
Antonin adored the lavishly exotic architecture of the Royal Pavilion and was very impressed by the Gothic Conservatory of Carlton House, in which splendour some of his banquets were served. He also approved that the Royal Table always being served à la française (serving all dishes of a meal at the same time), not à la russe (dishes are brought sequentially and served individually; the style we know today).
However sophisticated equipment and kitchen were, Antonin's stay in England was not a happy one (you will find out why in a minute). He returned to France in 1818 – though even he had to admit that the quality of the beef in London was much higher than in Paris, as he jotted in his menu journal.
Make Antonin Carême a character of your novel
Antonin Carême is great to use as a minor character in your novel, if you would like to include aspects of the art of cooking or the life downstairs to your story. However, Antonin would work only in the most noble or rich houses. Here are some more facts about him:
General information:
He was handsome and of slight build. His hair – with a retreating hairline at the temples – was cut in Byronic manner.
He was not easy to get along with: ambitious, narcissistic, egoistic and never confident of the love or esteem of others.
He was a perfectionist and distrusted everybody, especially the footmen.
He was charming when he chose to.
He was self-educated in reading, writing and drawing. He had a strong interest in architecture; he transformed ideas from architectural pictures into monumental table pieces made of food.
He abolished the use of heavy spices and opted for new seasonings such as salt, pepper, parsley, thyme and bay leaf. He abolished the presence of fish and meat on the same plate. He used meat to garnish meat, and fish to garnish fish.
He endorsed cold buffets.
He had the ability to simplify menus and methods, which was important in a time of occasional shortage of ingredients due to revolution or war. Also, political and social change did not stop at the hearth: With the abolishment of the nobility in France, menus became more bourgeois.
In England:
The English climate depressed him.
He was homesick.
He broke with the kitchen tradition that everyone downstairs profited from the leftovers of the banquets. He sold the leftovers – as did other top chefs – and kept the money for himself.
Envious of the Prince Regent's partiality for Antonin, his fellow cooks treated the French chef badly; it is said there was a whispering campaign against him.
He did not speak English, but had no need to: Most of the staff were French or French speaking Germans.
He discovered sea-kale as a new ingredient for his cooking.
He felt uncomfortable about the Prince's affairs with Lady Hertford and Lady Conyngham, which he could not help but to notice from close
Related articles
Find more posts from "The Writer's Travel Guide"-Series here: https://regency-explorer.net/tag/writers-travel-guide/
A Time Traveller's Adventure: At the Opening of Norfolk House
Gossip Guide to the Kingdom of Naples: Inside the Palace of Caserta
"The Origin of Now-Series": https://regency-explorer.net/tag/the-origin-of-now/
Smuggling Moonshine – Whisky in the 18th century
Sources
www.trivia-library.com/a/biography-of-famous-chefs-and-marc-Antonin-careme-part-1.htm
web.archive.org/web/20080316204016
www.geocities.com/napavalley/6454/chefs_careme.html
www.cooksinfo.com/marie-Antonin-careme
Kelly, Ian: Cooking For Kings, The Life of Antonin Carême, The First Celebrity Chef; Walker & Company, 2003.
Article by Anna M. Thane, author of the novel
"Von tadellosem Ruf" (http://amzn.to/2TXvrez)