In this post:

An English House as an Italian Palace
A Gentleman Egyptologist
The Dangers of "Not Being in the Petticoat-Line"
Kingston Lacy is located 3.5 miles from Wimborne Minster, Dorset. From the 17th to the late 20th century it was the family seat of the Bankes family. The Bankes were leading gentry. Their wealth was founded in land and in owning a graphite mine (1).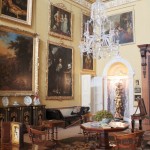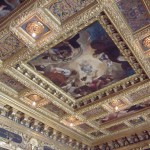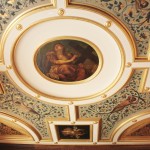 Kingston Lacy is lavishly decorated and famous for its collection of fine art and antiquities. It owes much of its splendor to William John Bankes (1786 – 1855) and his friend, the architect Charles Barry: They worked hard to make Kingston Lacy resemble an Italian Palace. They imported Carrara marble for the staircase, planned and executed designs for new and lavish interiors, built a loggia on the east side and an elegant terrace on the south side. Poor William John Banks could not enjoy his Italian Palace. Due to a scandal, he had to flee the country to save his life …

Who was William John Bankes?
William John Bankes (1786 – 1855) grew up at Kingston Lacy. He was the second of five children and as that not supposed to inherit the family seat. But his elder brother was lost at sea in a shipwreck in 1806, and so William became heir to the house and its estates (1). Two aspects are special about William as a person of the Regency period.
1. The gentleman egyptologist
William was a scholar, an adventurous traveler and a collector. He didn't stop at doing the Grand Tour on the continent. He continued to Egypt, Nubia, and the Sinai, with a number of hired artists in his wake to record almost one hundred different archaeological sites. William himself drew about 1,500 detailed sketches and notes of inscriptions and monuments. By this he made a significant contribution to nascent Egyptology (2). In Philae/Egypt, William made a glorious discovery: A fallen obelisk, 6.7 m high and weighing about 5,440 kilos. The so called Philae obelisk was transported to Kingston Lacy in 1820 and erected in the park (3). The foundation ceremony was performed by no one less than the Duke of Wellington (a friend of the family).
Back in England, William continued to study the history of Egypt. He even had contact with the French scholar Jean-François Champollion. However, this was only an intermezzo, partly because of the rivalry between the French and the English and partly because William accused Champollion of having taken advantage of William's research to decipher the Rosetta Stone, but keeping the fame for himself (3).
2. A gentleman not in the petticoat-line
William was gay. As a student at Trinity College in Cambridge in 1805, he met George Gordon Byron and introduced him to homosexual practices. Byron called William "the father of all mischiefs" (4), and he and William were life-long friends. Being gay in Regency England could be very dangerous. In those days, homosexuality was considered a crime to be punished by death. William managed to hide his sexual orientation from the public for nearly 50 years. But then, he was arrested twice, first in 1833 – without evidence and with Wellington speaking up for him in court, he was set free – and then in 1841, when he had the misfortune to be caught in flagranti. On that fatal day in 1841, William tried to pass himself off as an unemployed servant called Harris and even to bribe the authority. But in the end, all he could do to avoid death penalty was to flee the country. He lived first in France and then in Italy. William died in Venice in 1855 (2).
Make William John Bankes a character of your novel
William John Banks is great to use as a minor character in your novel, as he was rich, adventurous, quick-witted and a favourite of the polite society. Here are some more facts about him:
In 1806, being only 20 years old, he had an income of £8,000 a year (over £350,000 in modern terms) (3).
He had auburn, curled hair, an angular face and a small mouth.
He had an easy charm and was highly intelligent, but he was also loquacious, touchy, and arrogant (5). Further character traits were a dangerous temper, a penchant for risk and a lack of self-restraint (1).
Among his many talents were fluency in Italian, copying ancient inscriptions and an excellent understanding of architecture and epigraphy. One of his main hobby-horses was the history and culture of Egypt and the deciphering of ancient hieroglyphs (2).
He proposed to Miss Annabella Milbanke in 1812. However, she refused him. Byron burst out laughing when William told him about his unsuccessful proposal. Miss Milbanke, however, refused Byron in 1812, too (5).
If you want to be historically correct about William's whereabouts in the Regency period, check the dates of his travels carefully before employing him for a scene: He began his travels in 1813, spending some time in Portugal and Spain until 1814. Between 1815 and 1819 he explored Egypt, Nubia and the Sinai (6).
During the Napoleonic Wars, he was informally attached to the Duke of Wellington's camp (we remember: The Duke was a friend of the family). William also took advantage of the turmoil created by war to acquire works of art at prices well below their normal value (3). He also was very interested in discovering the new talents of the Spanish art scene rather than favouring the popular masters (7).
With regards to politics, William was a Tory. He opposed the Catholic emancipation and the reform of the electoral system (3). In 1810, he joined his father in Parliament until 1812. After his years of travel he represented various boroughs. He stayed in politics until 1834 (1).
In the early 1820s, he helped Lady Caroline Lamb writing the novel "Ada Reis" (2).
Until the 1830ies, Kingston Lacy actually was called Kingston Hall. William renamed it, replacing "Hall" by "Lacy", the family name of the medieval tenants of the original estate.
You'd like to visit more destinations?
Follow me to a palace-turned-golden-cage in France, to a tragical battle field in Germany, to the home of a radical thinker in Somerset and to the majestic family seat of one the most charming men of the Regency era.
Notes and sources
(1) http://www.cosmopolis.ch/english/cosmo31/egypt_nubia_bankes.htm
(2) http://www.historyofparliamentonline.org/volume/1820-1832/member/bankes-william-1786-1855
(3) http://www.egyptianlondon.co.uk/page48.html#Bankes
(4) Anne Sebba: The Exiled Collector, John Murray; 2005
(5) Fiona MacCarthy: Byron, Life and Legend, Faber & Faber; 2006
(6) Dr Patricia Usick: Adventures in Egypt and Nubia, the Travels of William John Bankes (1786-1855), David Brown Book Co; 2002
(7) http://thesouthofengland.blogspot.de/2010/08/kingston-lacy-and-story-of-its-exiled.html
http://www.nationaltrust.org.uk/kingston-lacy/history/