In this post:
Early Weight Watchers
The secret knowlegde of the Weighing Book
Dieting with Lord Byron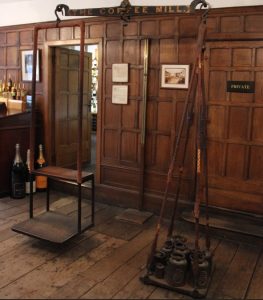 A softly rounded, plumb, curvaceous and voluptuous body was considered healthy and beautiful for most of the 18th century. Nevertheless, with the rise of the ideals of ancient Greek in fashion and design, the athletic body of an Olympian shifted into focus. Fashionable skin-tight pantaloons revealed every muscle of the male leg, the perfectly-cut coat looked best on broad shoulders. To create a specific volume, men wore padded under-structures round the shoulders and calves, and a corset helped to accentuate a man's waist.
The well-proportioned male body became an object of fashion and health. But how to measure the body weight? Bathroom scales were not yet around, not even for the rich. People had to pay to be weighed at the doctors. Thus, it came in handy for High Society men of London that a wine shop started offering the service to its customers for free in 1765. Actually, weighing became extremely fashionable. Continue reading →