It's a truth universally acknowledged that a man in regimentals strongly appeals to the fair sex. When he is also famous, his favour with the ladies rises. However, it is his income that makes him a desirable husband, as the novels of Jane Austen point out.
How would national icon Arthur Wellesley, the Duke of Wellington, have fared on the marriage market? Was he as sought after as Jane Austen's Mr. Darcy – or even more popular? Find out here – and don't miss the video at the end of the post!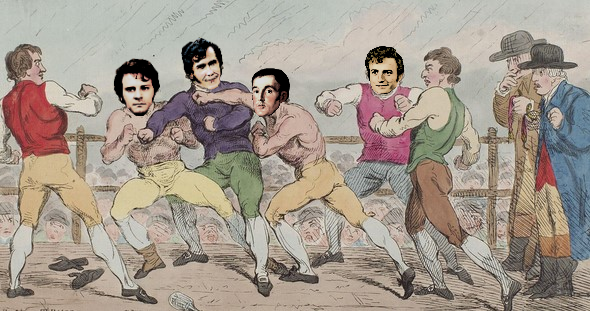 The young blade (1787 – 1793)
Young Arthur Wellesley has a private income of £125 a year. In one of his first positions as aide-de-camp to the Lord Lieutenant of Ireland, he additionally makes 10 shillings a day. His total income is thus about £328.
Score: Zero
On the marriage market, Arthur fares slightly better than George Wickham (about £200 per annum). However, he would not be able to support a wife and children. No father in his right mind would give the hand of his daughter to such a suitor.
Consequently, the family of Kitty Pakenham, the girl Arthur loves, rejects his suit.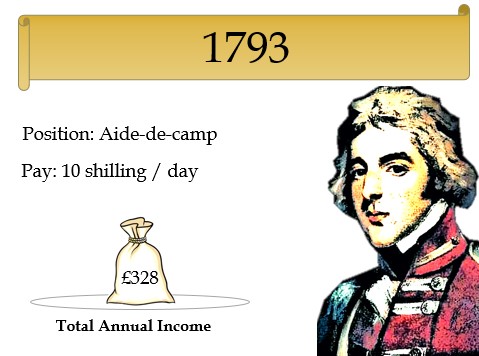 The adventurer (1796 – 1805)
Arthur, now a colonel, sets sail for Calcutta with his regiment in 1796. He is appointed governor of Seringapatam and Mysore. He also wins a decisive victory over the Maratha Confederacy at the Battle of Assaye.
On 10 March 1805 he sails home. He is now a major-general as well as 'Sir Arthur', as he had been knighted in 1804. By now, he has accumulated a fortune of £42,000.
Score: Desirable to ladies with more modest ambitions
A fortune of £42,000 is enough to give Arthur financial independence. Wisely invested, he should be worth about £2,000 a year – 'a competence', as Jane Austen's Marianne Dashwood (Sense and Sensitivity) would call it. Messrs. Bingley and Darcy of Pride & Prejudice are, however, much more sought after by the ladies.
Arthur renews his proposal to Kitty Pakenham. Her family is now happy to accept it.
The careerist (1805 – 1808)
In 1807, Arthur becomes Privy Council of Ireland. In 1808, as Chief Secretary for Ireland, he makes £6,566 per annum.
Score: Mr. Bingley with £5,000 per year is no match
Wellington develops a reputation as a womanizer.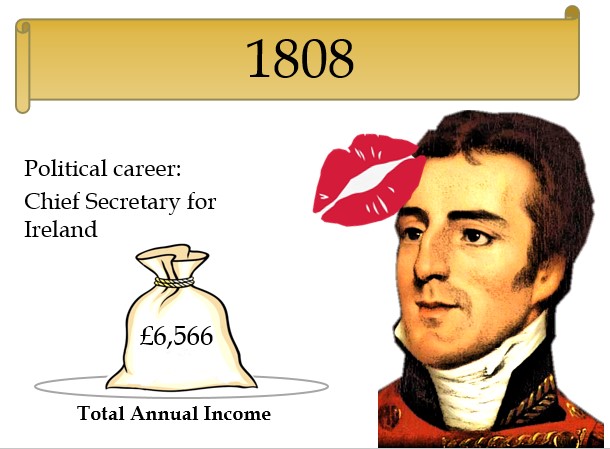 Towards fame (1808 – 1813)
In 1808, Arthur leaves Britain for the Iberian Peninsula to participate in the war against French forces. With his successful campaign, money begins to flow in:
Winning the Battle of Talavera in 1809: a pension of £2,000.
Winning the Battle of Ciudad Rodrigo in 1812: an additional pension of £2,000 and an estate at Soto Roma, near Granada.
Liberating Madrid: a gift of £10,000.
Winning the Battle of Salamanca: a grant of £100.000 by the Parliament to purchase land.
Score: Who cares for Mr. Darcy?
A suitor with only £10,000 per year is to be pitied!
In Spain, Arthur is in great danger of being smothered by the crowds of women who adore the liberator. They aspire to the honour of not only seeing, but also kissing him.
Immortal stardom (1814 – 1815)
For the Treaty of Paris, Arthur – now the Duke of Wellington – receives an annuity of ؚ£10,000 plus a grant of £400,000 for the purchase of an estate.
Wellington goes on to command the Battle at Waterloo in 1815. When he returns to Britain victorious, he is a hero. The nation presents him with an estate in Hampshire and a fortune of £400,000.
Score: Celebrity!
High Society ladies desperately try to attract Wellington's attention. Being seen flirting with him adds to their consequence. But ladies beware: Too much flirting with Wellington can backfire! Newspapers and gossipmongers see crim.con between Wellington and leading society ladies more often than is probable.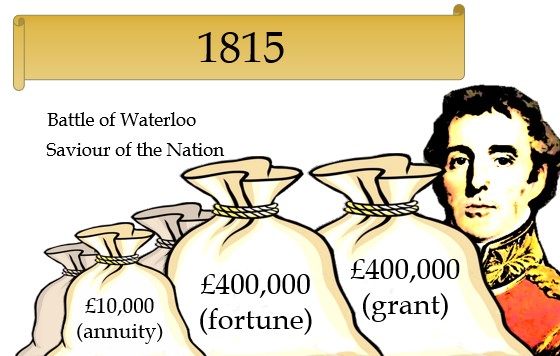 The statesman (1828 – 1847)
Wellington serves as Prime Minister from 1828 to 1830 and again for 2 months in the winter of 1834. He is splendidly rich: The emoluments of his different offices, and the interests of his several Parliamentary grants sum out to an income of about £43,000 per annum in money. Additionally, there are his permanent estates in land.
Nevertheless, upon Wellington becoming Prime Minister in 1828, Lord Dudley observes:
"He (…) goes to work just as if he had his fortune and his reputation still to make, just as if there had been no India, no Spain, no Waterloo."
Score: Out of reach
After the death of his wife in 1831, Wellington remains a widower. He is, however, an intimate friend of Angela Burdett-Coutts, at her times the richest women in the world after Queen Victoria. All sorts of reports are rife of his intention to marry her. Instead, it is Miss Burdett-Coutts who proposes to him in 1847. Wellington kindly refuses her, as he believes he is too old for the 32-year old lady.
Enjoy the video here
Related posts:
Sources
James Heldman: How Wealthy is Mr. Darcy – Really? Pounds and Dollars in the World of Pride and Prejudice (http://www.jasna.org/persuasions/printed/number12/heldman.htm)
Patrick Delaforce: Wellington the Beau: The Life and Loves of the Duke of Wellington; Leo Cooper Ltd, 2012
(1) Arthur Wellesley, Duke of Wellington, From A Compendium of Irish Biography, 1878; http://www.libraryireland.com/biography/ArthurWellesleyDukeofWellington.php
Wellesley, Sir Arthur (1769-1852), Published in The History of Parliament: the House of Commons 1790-1820, ed. R. Thorne, 1986 (http://www.historyofparliamentonline.org/volume/1790-1820/member/wellesley-sir-arthur-1769-1852)
Arthur Wellesley, Duke of Wellington: Maxims and opinions of Field-Marshal, His Grace, the Duke of Wellington; London, 1845 (https://books.google.de/books?id=mz2gAAAAMAAJ )
Article by Anna M. Thane, author of the novel
"Von tadellosem Ruf" (http://amzn.to/2TXvrez)