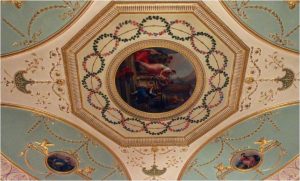 The young man was an upper-middle class Scotsman, a second son, and he had left university prematurely. But he possessed genius and ambition, a convenient wealth of 900 pounds a year, and some hands-on experience gained at his family's architectural practice. Thus, he was well equipped to embark on a journey to the Continent in the company of an Earl's brother in 1754. Yet, Robert Adam, aged 26, was not to know that this journey would be the key to making him the most sought-after architect of his time.
The year 2017 marks the 225th anniversary of the death of the famous Scottish architect Robert Adam (3 July 1728 – 3 March 1792). This post is dedicated to the aesthetics of his unique neo-classical style. I have compiled a selection of photos of Adam's works, from ceilings to chimney-pieces. You are very welcome to enjoy the delicate and the decadent, and the weird and the wonderful.
Adam's designs influenced architecture and design in England and on the Continent from the 1760ies to the 1770ies. His style was formed by ancient Roman and Greek art which he studied while travelling on the Continent from 1754 – 1758. In Italy, he absorbed the 'principles of the grand' and made them his own. His tutor Charles-Louis Clérisseau, himself an architect and artist, inspired Robert with his free manner of drawing, and helped him to develop his sketching skills as well as his visions for his new style.
Adam was a man with big dreams, and he understood that he would need to find the clients for his glamorous style among the English establishment. Luckily, he had had the chance of doing the Grand Tour with a younger brother of the Earl of Hopetoun, the Honourable Charles Hope-Weir.
Travelling with a man of rank should open many doors to him and provid an indispensible network of wealthy acquaintances, Robert Adam thought. Accordingly, he metamorphosed himself into a fashionable figure, spending lavishly on velvet suits, fine lace and exquisite embroidered waistcoats in Brussels, Paris and Lyon.
The stage was set for success.
1. The marvel above
Robert Adam was especially feted for his delicately patterned ceilings featuring low relief ornaments and strong colours. Typical colours used by Adam were pea green, sky blue, lemon, lilac, bright pink and red-brown terracotta.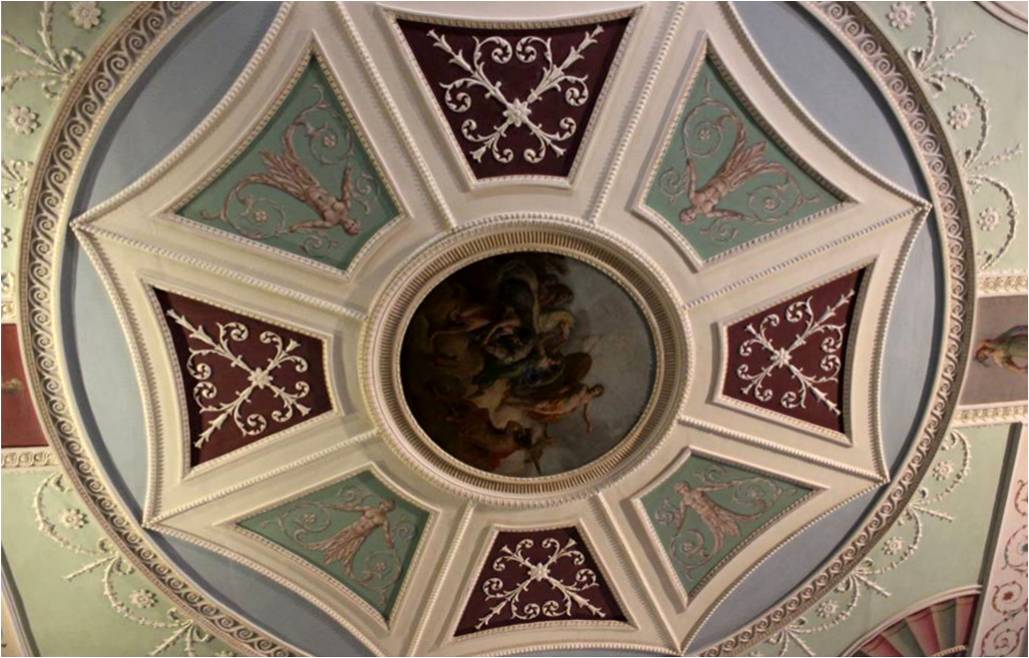 Photo above: Ceiling of the Drawing room of 5 Royal Terrace, Adelphi, London, home of the actor David Garrick. Adam designed the ceiling in about 1771. The painting was executed by Antonio Zucchi, who frequently worked for Adam. The Italian painter came with Adam to England in 1766.
Adam cooperated with a large team of draughtsmen, and many of them were foreign artists, among them the renowned architect and painter Joseph Bonomi, and the decorative artist Michael Angelo Pergolesi.
2. Fragile and delicate
Robert Adam fell in love with the style of antiquity only a week after he had first arrived in Rome in 1755. He immediately understood its potential if he would sell the new style that was forming in his mind to the rich and sophisticated. He spent his Grand Tour in Italy studying and drawing antiques, and he stored a stock of motifs that would give him an advantage over even the most sought-after architects of the 1750ies.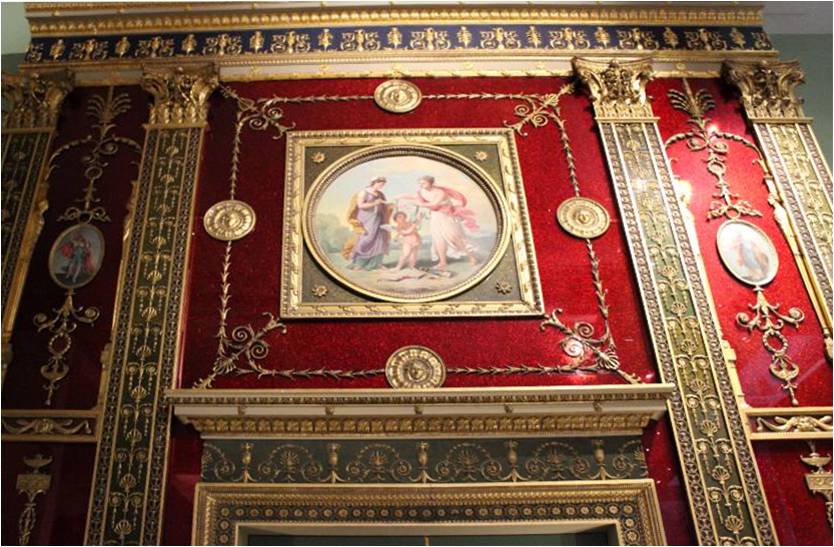 Photo above: Part of the glass Drawing Room of the Duke and Duchess of Northumberland in their London residence, Northumberland House. The design is based on ancient Roman interior decoration. The glass is backed with coloured pigments and metal shavings.
3. By special request only
Robert Adam usually did not design furniture for his interiors, but would do so if a client specifically requested it. Furniture designed by Adam himself always gave an extra touch of novelty and variety to a room.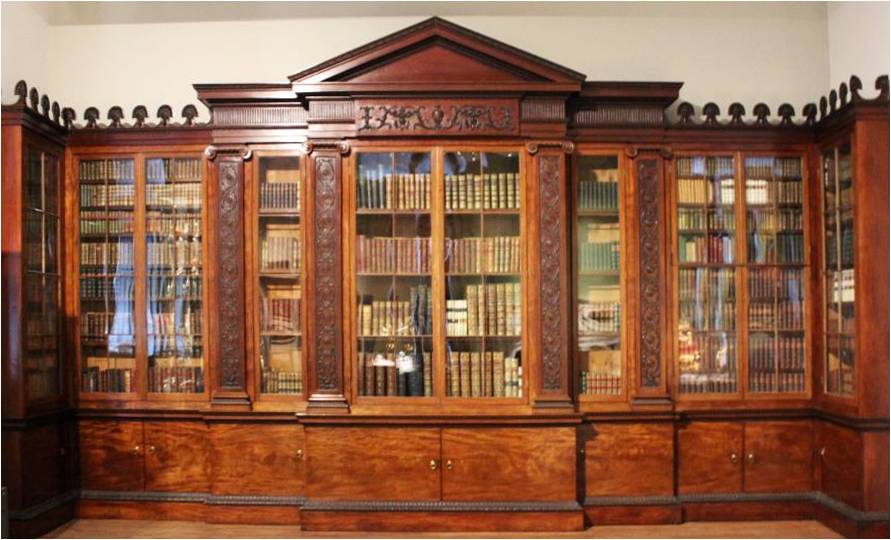 Photo above: Bookcase designed by Adam around 1763 for the 6th Earl of Coventry's library at Croome Court. It features many elements from ancient Greece, such as pilasters of the Ionic order. The cresting on top of the bookcase is a copy from the Choragic Monument of Lysikrates, near the Acropolis of Athens.
4. Enchanting mirror
Robert Adam advocated a 'grand' style, and a large mirror was a must to achieve the glamorous look of his interiors. Mirrors in their glittering gilded and carved frames also provided 'movement' to a room. The oval shape and delicate ornament of the pier glass are typical for Adam's neo-classical style.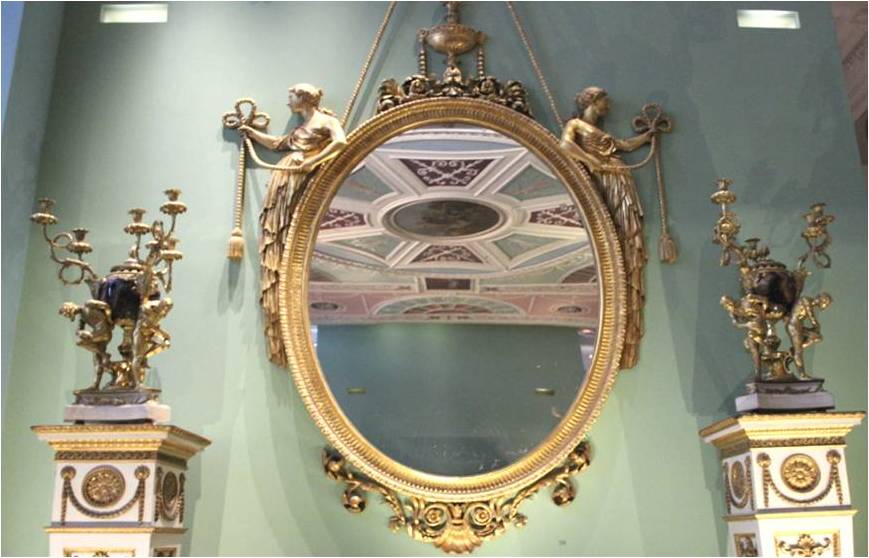 Adams designed the pier glass above around 1770-1771.
5. The most stylish fireplace
Robert Adam preferably took on (re)designing the whole room instead of doing things by half-measures or making 'decorative repairs'. By doing so, he made sure the room was arranged with propriety and skill, integrated formerly disparate elements, and achieved symmetry and balance. Thus, Adam even paid special attention to the chimney piece, and he is also known to have designed matching grates. By the way: There also are Robert-Adam-keyhole covers, -doorframes, -inkstands and -work bags for ladies.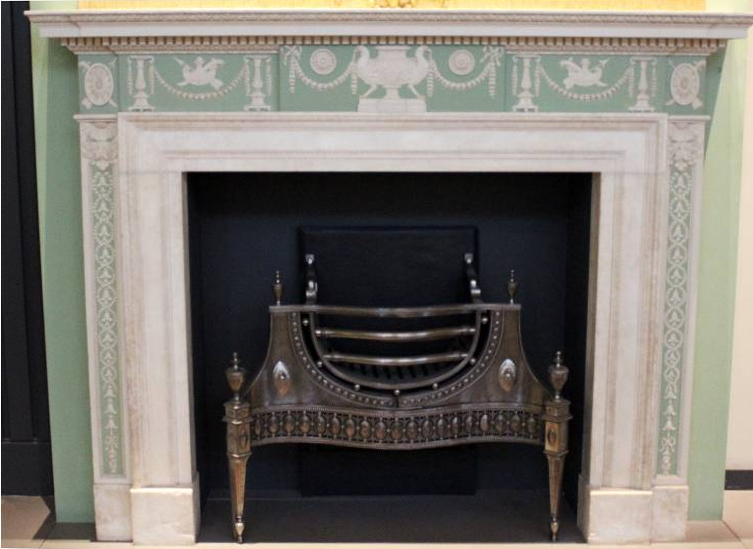 The chimneypiece on the photo is from ca. 1771.
6. A bed for a (drama) king
Apart from houses, rooms, and furniture, Adam also designed textiles. The state bed at Osterley Park has hangings, coverlets and a bedcarpet designed by him.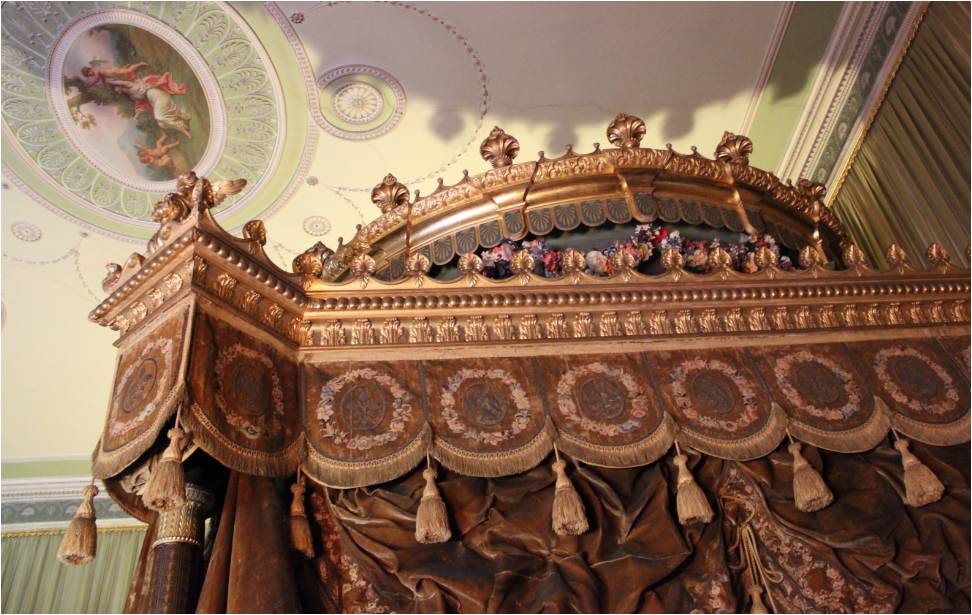 If the bed (above) looks a little bit theatrical, that is because the dome of the bed echoes Adam's own design for George III.'s canopied box at the Italian Theatre in Haymarket, London.
7. Clever concealments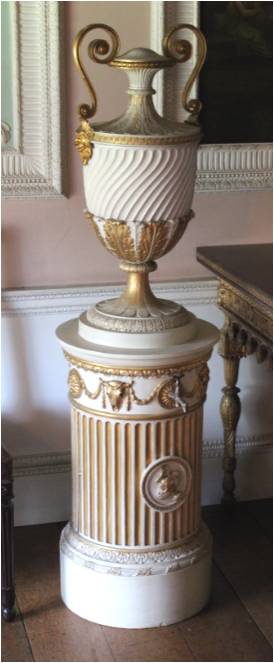 In the Eating Room of Osterley Park, there are two round fluted pedestals flanking a sidetable. They are surmounted by carved vases. Vases and pedestals are more than decorative elements. The vases hold water. The round bases have a different use: One holds a pail, and the other a chamberpot. 'Elegant and practical' was Robert Adam's motto. He designed these pieces around 1767.
Related posts
Sources
Roderick Graham: Arbiter of Elegance; Birlinn, 2009
Eileen Harris: The Country Houses of Robert Adam; Aurum Press, 2007
Eileen Harris: Osterley Park; National Trust, 1994
Photos
V&A Museum, Cromwell Rd, Knightsbridge, London SW7 2RL, UK
Osterley Park, Jersey Rd, Isleworth TW7 4RB, UK

Article by Anna M. Thane, author of the novel
"Von tadellosem Ruf" (http://amzn.to/2TXvrez)