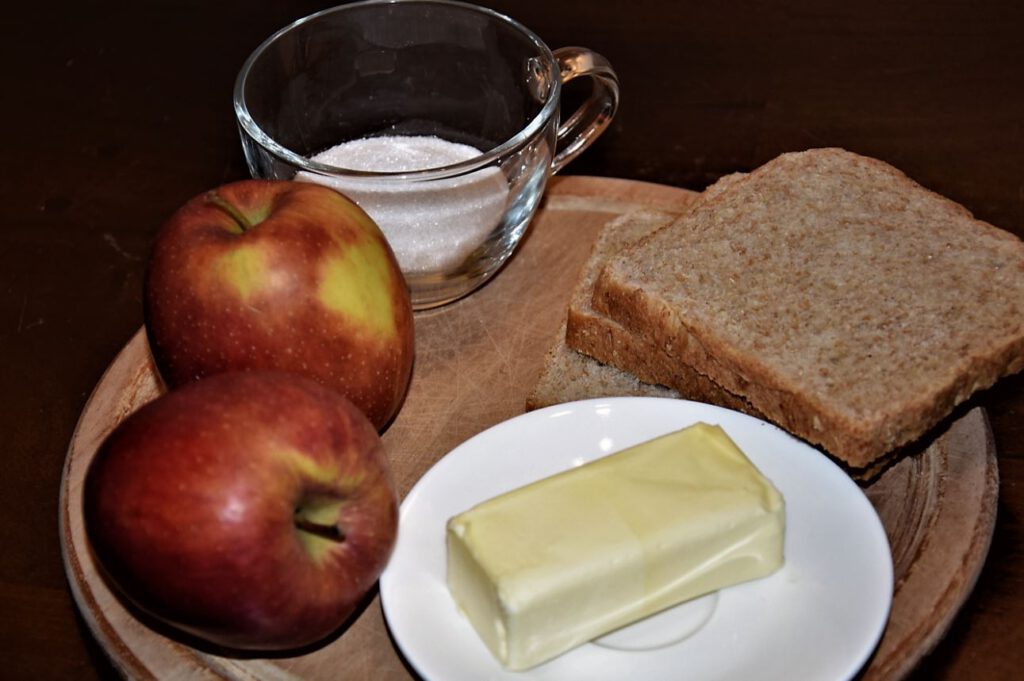 Recent research shook food historians and the community of 18th-century enthusiasts alike: The beloved British dessert, Apple Charlotte, was not invented by the famous chef Marie-Antoine Carême! Credit for the sweet creation made of apples, white bread, butter, and sugar was given to a certain John Mollard. – But who was he?
Mr. Mollard was a leading chef and had run a number of prestigious restaurants catering to high-quality customers in the period from the 1780s to 1830. However, it is doubtful that he did indeed invent the Apple Charlotte.
British magazines reported in 2020/2021 that the recipe for Apple Charlotte was not the brainchild of a French genius, but a British one: It allegedly first appeared in the 1802 edition of John Mollard's Art of cookery made easy and refined, comprising ample directions for preparing every article requisite for furnishing the tables of the nobleman, gentleman, and the tradesman.
Thus, it was concluded, the dessert, once by some believed to be named after the princess Charlotte Carême had cooked for, was most likely named after King George III's wife, Charlotte.
The Battle of the cookbook authors: Who came out with Apple Charlotte first?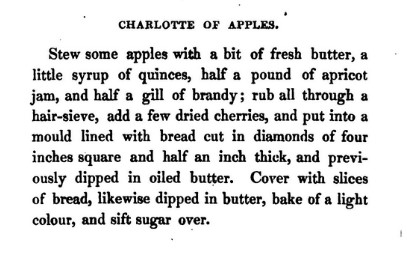 Alas, if you take the trouble to browse the 1802 edition of Mollard's book at gutenberg.org or archives.org, you will be disappointed: There is no recipe for Apple Charlotte in this book.
As Food historian Adam Balic found out, the first mention of Apple Charlotte in a British cookbook seems to be in John Simpson's A Complete System of Cookery, on a Plan Entirely New published in 1806. This was closely followed by a recipe in Maria Rundell's A New System of Cookery (1807).
There also is a French version of the recipe, "Charlotte de pommes", in André Viard's Le Cuisinier Impérial (published in 1806). It is believed that Monsieur Viard (17??-1834) was not only chef de cuisine to the French diplomat Louis Philippe, Comte de Ségur, but also a rival of Marie-Antoine Carême.

Nevertheless, let's go back to John Mollard.
What's a pulpton? A closer look at a possible predecessor of the Apple Charlotte
Something like a predecessor to Apple Charlotte crops up in the 1802 edition of Mollard's cookbook. It was called Pulpton of Apple.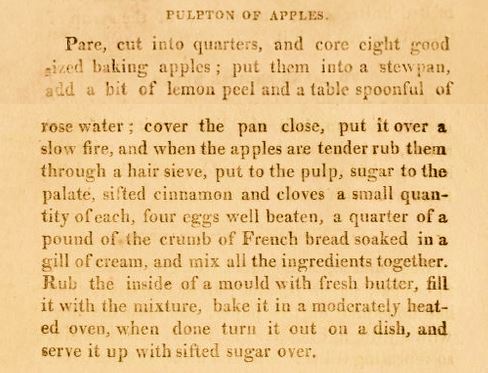 I was intrigued: The recipe (see picture on the left) sounds apple-charlotte-ish enough to me.
What if this possible predecessor, the Pulpton of Apples, had been around for decades?
Having no proper idea was exactly a pulpton was in those days, I did some research. From the informed website of "Old Foodie" (http://www.theoldfoodie.com), I learned it was "a baked dish made with meat or fruit".
And it had not been invented by Mr. Mollard at all. The credit of having first published the recipe goes to a lady: Hannah Glasse (1708 – 1770). The recipe is in her The Art of Cookery, made plain and easy, published in 1747.
Of female cooks and queens

This means the dessert probably was a national favourite decades before John Mollard went into action. And the genius behind the beloved British dessert – may well have been a woman.
Unfortunately for those with a romantic turn of mind, the pu(l)pton of apples from 1747 has nothing to do with King George III's wife, Charlotte: the royal wedding took place in 1761 …

Let's have a slice of sweet and soft Apple Charlotte to get over the shock.
Related articles
Sources
John Simpson's "A Complete System of Cookery, on a Plan Entirely New", 1806
André Viard's "Le Cuisinier Impérial", 1806
Maria Rundell: A New System of Cookery", 1807
John Mollard's Art of cookery made easy and refined, comprising ample directions for preparing every article requisite for furnishing the tables of the nobleman, gentleman, and the tradesman, 1802
John Mollard's Art of cookery made easy and refined, comprising ample directions for preparing every article requisite for furnishing the tables of the nobleman, gentleman, and the tradesman, 1808
John Mollard's Art of cookery made easy and refined, comprising ample directions for preparing every article requisite for furnishing the tables of the nobleman, gentleman, and the tradesman, 1836
Adam Balic: Apple Charlotte, at: The Art and Mystery of food (https://adambalic.typepad.com/the_art_and_mystery_of_fo/)
A. Carême: Le patissier royal parisien, 1815
A. Carême: French cookery: comprising L'art de la cuisine francaise, Le patissier royal, Le cuisinier parisien, 1836
Hannah Glasse (By a Lady): The art of cookery, made plain and easy: which far exceeds any thing of the kind ever yet published, 1747
The Old Foodie: Johnny Appleseed, at: The Old Foodie (http://www.theoldfoodie.com/2010/09/johnny-appleseed.html)
The Old Foodie: Puptons and Pulpatoons, at: The Old Foodie (http://www.theoldfoodie.com/2010/09/puptons-and-pulpatoons.html)
Sheilah Kaufman: Upper Crusts:Fabulous Ways to Use Bread: Delectable Recipes for Appetizers, Soups, Salads, Main Courses, Desserts and More; 2007
Article by Anna M. Thane, author of the novel
"Von tadellosem Ruf" (http://amzn.to/2TXvrez)