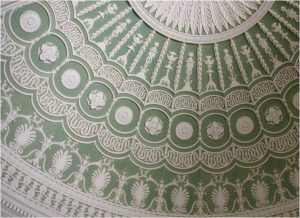 When budding star-architect Robert Adam returned from his Grand Tour in 1758, he needed to find clients for the glamorous style he had developed in Italy. He knew that only the very rich would be able to pay for the grandeur he designed. Thus, he and his brothers settled close to High Society. They set up their home first at St. James's Place, then at Lower Grosvenor Street in London. It was most important for Robert to be regarded as a gentleman architect rather than a professional architect, as he feared that being the latter would lower his status to a mere craftsmen. Robert displayed the many sketches he had made in Italy in his home, while the drawing office was located at New Bond Street, 'invisible' for his clients.
It was difficult for the ambitious Adam brothers to find their first commissions. Aristocrats who hadn't mind Robert's company abroad in Italy weren't willing to socialise with him in snobbish London. Eventually, two women were instrumental in starting the Adam brothers' career.
His sister Helen managed to bring Robert to the attention of Sir Nathaniel Curzon and Lady Indores, whom Robert had met in Spalatro, Italy, introduced him to Edwin Lascelles of Harewood House and Mrs Francis Boscawen of Hatchlands Park.
The first commission: Kedleston Hall
Sir Nathaniel Curzon's Kedleston Hall became Robert's first major project. Sir Nathaniel was rich and had ambitious plans for this house. James Paine and Matthew Brettingham had already handed in plans for a building that rivalled the marvellous Holkham Hall. Robert, by contrast, was only commissioned in 1758 to design the deer park and pleasure grounds. However, while Robert built follies in the park, he managed to show Sir Nathaniel his designs for the house. They were brilliant and more daring than those of Paine and Brettingham. Having recognized their quality, Sir Nathaniel put the young, unknown architect in charge of remodelling his home.
Robert's work at Kedleston Hall marked him out as a brilliantly innovative architect. Sir Nathanial paid 22,508 pounds for his building project. What did Sir Nathaniel get for this spectacular sum?
A majestic view of the house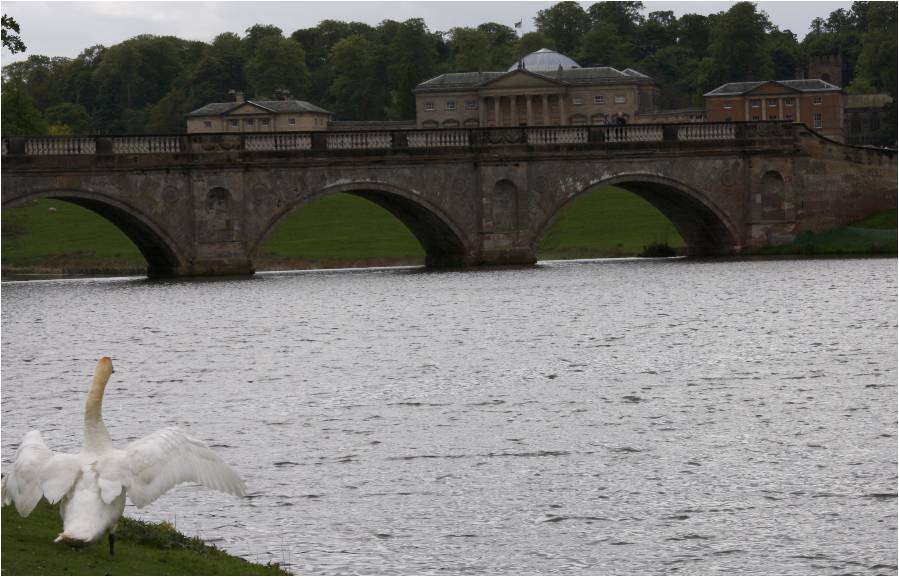 This is the majestic view of Kedleston Home. Robert Adam had the small stream on the estate widened so that it could be spanned by a magnificent triple arched bridge.
A sweeping entrance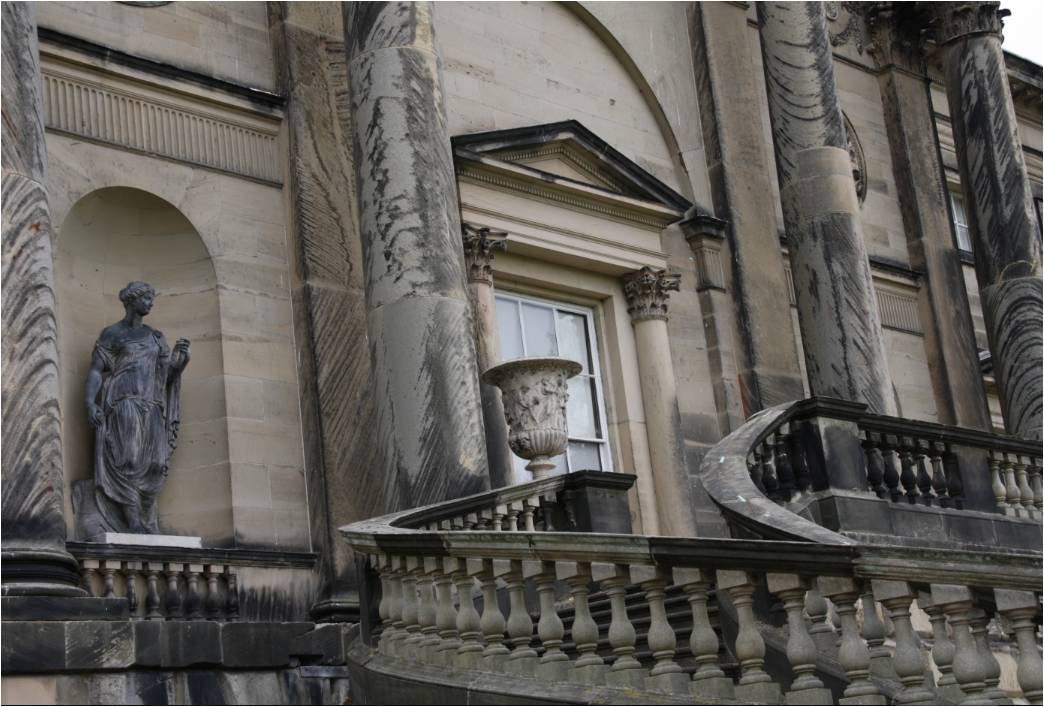 Robert modelled the portico on the Arch of Constantine in Rome. He also created sweeping curved steps to the front door – a dazzling sight.
Elegant and practical rooms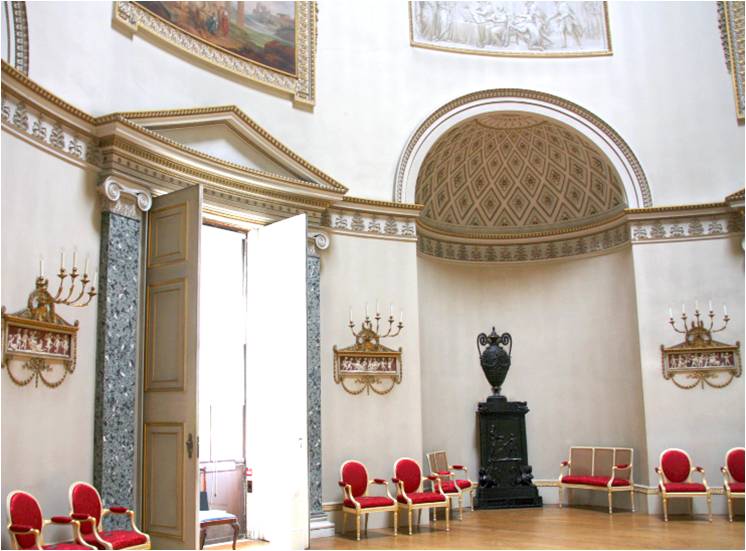 Robert designed many rooms of Kedleston Hall. One of the most striking is the Circular Room. It has Romans bas-reliefs and Roman vases on pedestals. The vases are actually a hot-air outlet for an early version of central heating that Robert had devised. "Elegant and practical" was one of the Adam brothers' mottos.
Roman roots for a dome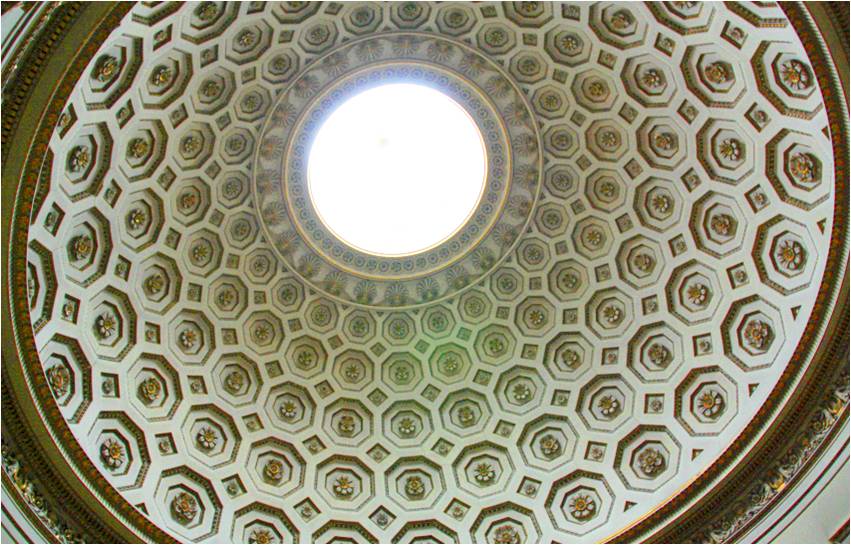 Robert designed the dome of the Circular Saloon based on the Pantheon in Rome. He wasn't too serious about copying antiquity. He chose from Roman and Greek designs whatever was most suitable for a project. Thus, the dome inspired by the Pantheon spans a room inspired by the temples of the Forum Romanum.
20 alabaster columns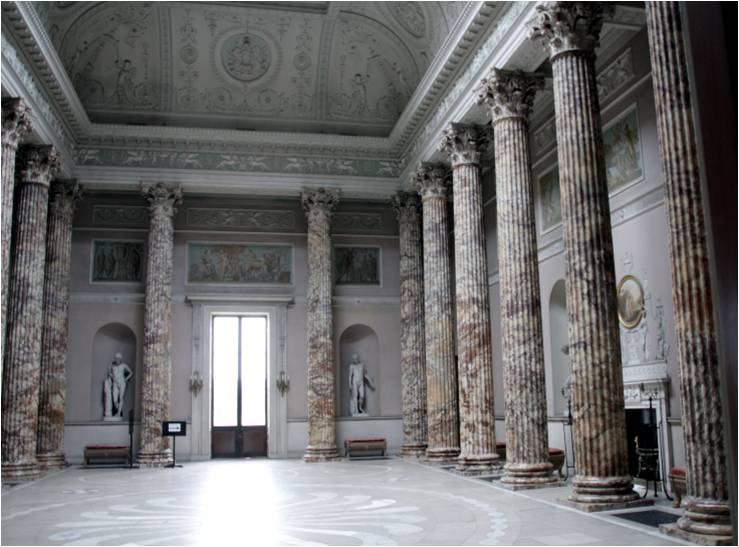 The Marble Hall is modelled after a Roman atrium. It features 16 columns and 4 half columns of red-brown alabaster. A collection of classical statues is displayed in the niches. This lavish design took several years to be completed as even wealthy Sir Nathanial couldn't pay for the grandeur at once.
Remodelling Kedleston Hall made Robert a sought-after architect. In 1759 he was commissioned to work at the Duke of Northumberland's Syon House. After that, Adam's career was made: Being considered the most innovative architect of Britain, he could choose his clients.
Related topics
7 Objects of Beauty: A Tribute to Robert Adam
The World at Home: Furniture Fashion in the Romantic Age
Sources
The National Trust: Kedleston Hall, 1999
Eileen Harris: The Country Houses of Robert Adam; Aurum Press, 2007
Graham, Roderick: Arbiter of Elegance; Birlinn, 2009
Photos taken at Kedleston Hall, Derby DE22 5JH, UK
Article by Anna M. Thane, author of the novel
"Von tadellosem Ruf" (http://amzn.to/2TXvrez)