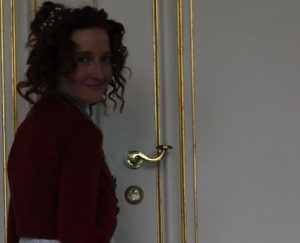 Dancing at a historical ball in a perfect Regency period-setting: my dream of heaven came true a couple of days ago at the Grand Jane Austen Ball in Ansbach/Germany.
I have selected some photos of the event for you. Follow me to a splendid night in 'Regency-Wonderland'.
A royal location: The orangery of Ansbach Residence
The beautiful palace was the home of Caroline of Ansbach, wife of King George II. Lovely and sophisticated Caroline was a much sought-after bride. She could choose a husband among the highest ranking suitors, but rejected Joseph I. (sovereign of the Holy Roman Empire), Charles XII of Sweden, and Frederick William I of Prussia. In 1705, Georg Augustus, third-in-line to the British throne, visited Ansbach incognito to inspect beautiful but picky Caroline. The young lady was not fooled by his disguise. However, she liked the prince very much and thus gave her hand in marriage to George. Caroline permanently moved to England in 1714.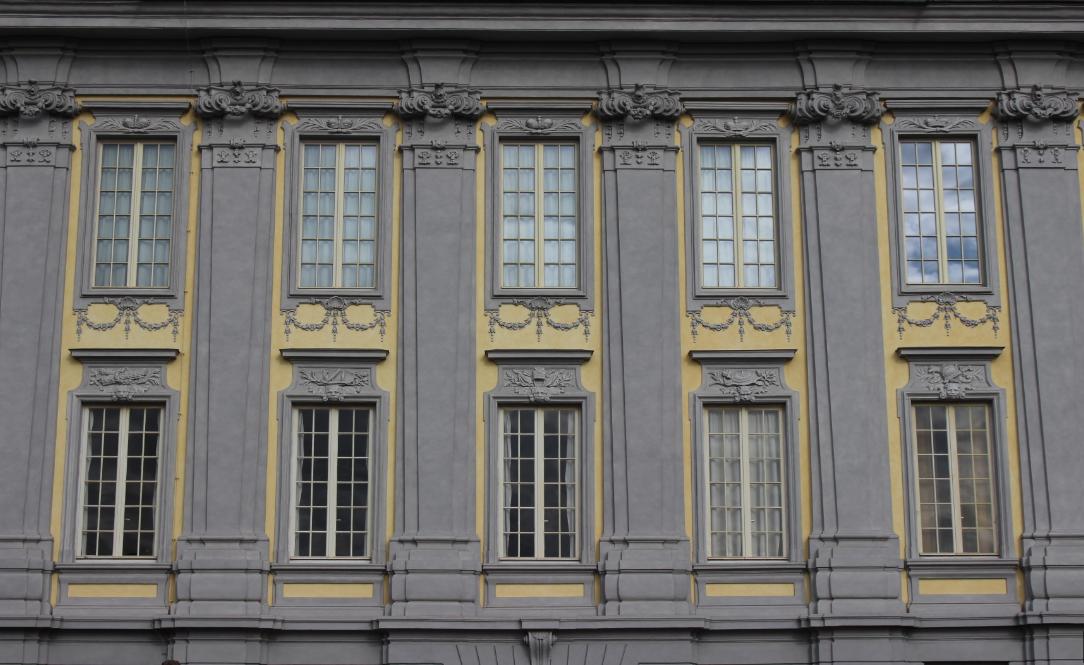 To have a look inside Ansbach Residence, click here.
The ball took place at the orangery of the residence. It was built in the first half of the 18th century. The Blue Salon is a very appropriate setting for a ball set in the Regency period.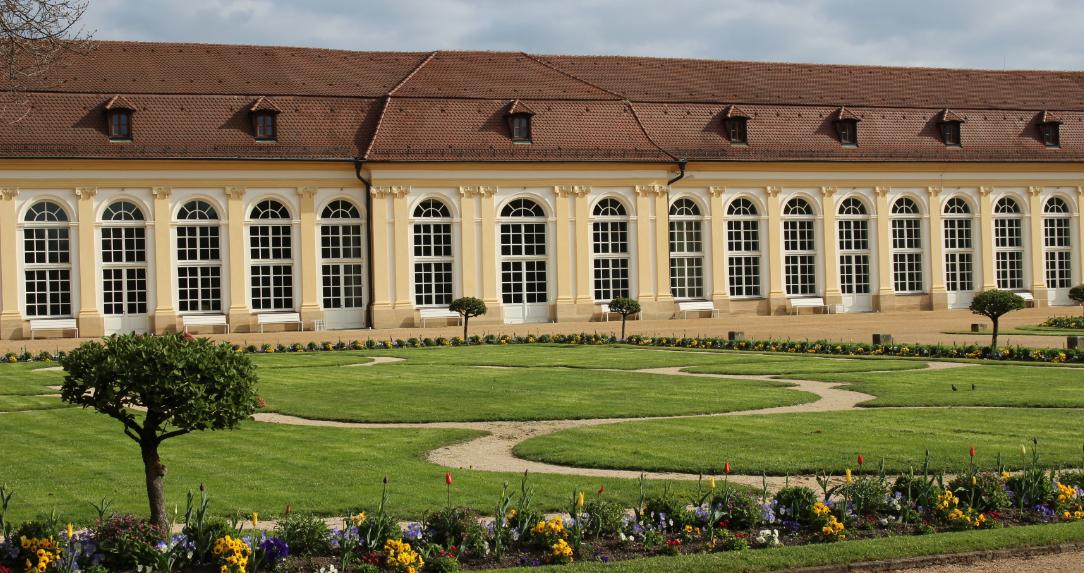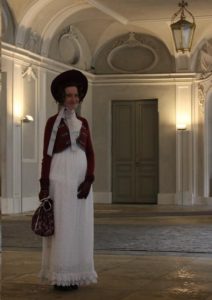 Before the ball, we were offered a visit to the residence – dressed in style. A unique opportunity! For the occasion, I chose a simple Regency-style dress, in the fashion of the year 1815/16: A white cotton gown and a red spence with military ornaments. Find out here how it was made.
A Splendid Night in Regency-Wonderland
And now we are ready for our personal Jane-Austen-at-the-ball experience.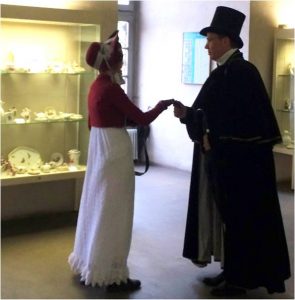 We might meet a gentleman who will sweep us off our feet.
The splendour of the Blue Saloon of the orangery surely took my breath away.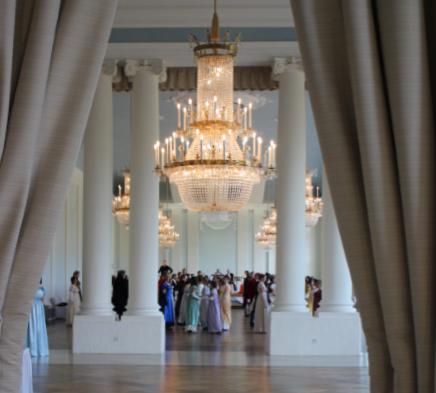 The Pemberley Players, crème-de-la-crème of Regency music, strike up.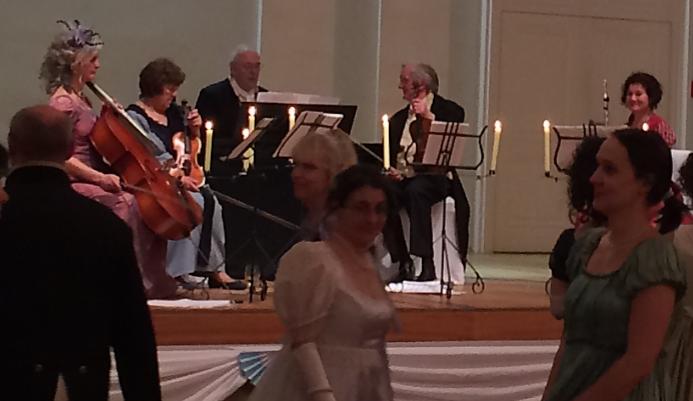 Graceful dancers in gorgeous Regency attire.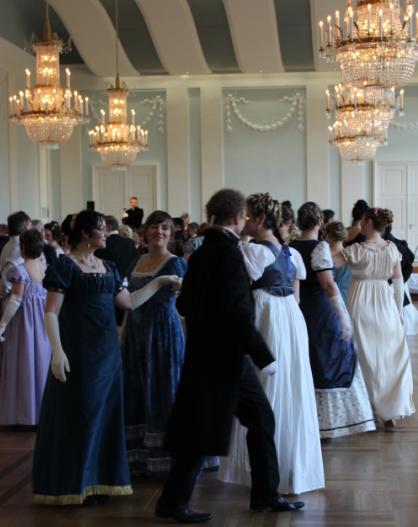 Historical dancing obviously makes happy.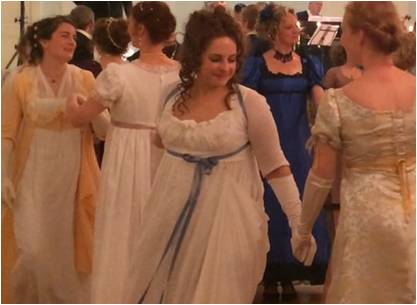 A brilliant ball, lasting until 1 o' clock in the morning. A truely great and inspiring experience.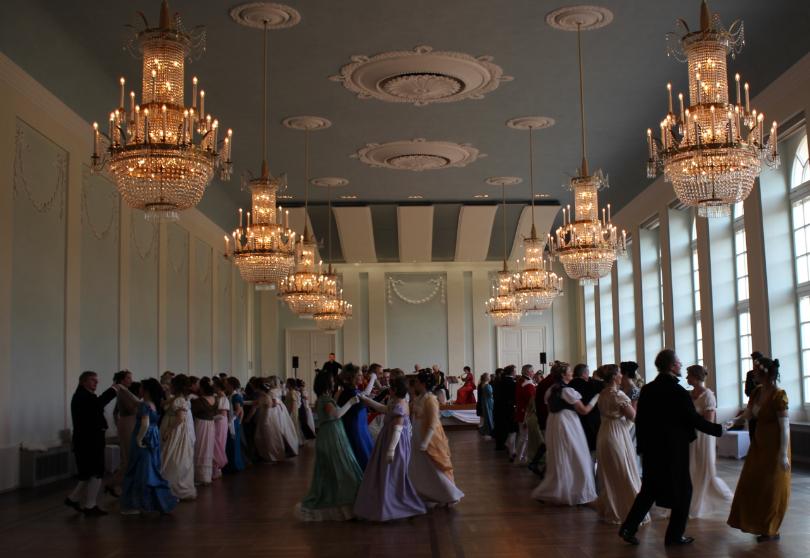 Related posts