On 14 December 1833 in Ansbach, a small town in Bavaria, a young man staggers home with a deep wound in his left breast. He states that he was lured to the Court Garden where a stranger stabbed him while giving him a small bag. The young man is known as Kasper Hauser, a local celebrity of his time, and also a mysterious youth of unknown origin.
A policeman searches the Court Garden. He finds a purse containing a note in mirror writing indicating in riddled form the attacker's identity. He finds neither the weapon involved nor any other helpful evidence. Kasper Hauser dies of his wound three days later.
The death of Kasper Hauser in 1833 is a one of the most famed-famous unsolved cases of criminology. Until today, we don't know for sure whether the young man was murdered or died by inflicting himself a wound with a knife that penetrated much deeper than he had intended. Until today, we don't even know who Kasper Hauser was: an imposter, a hereditary prince, an innocent boy?
The story of Kaspar Hauser, a 'feral child', who claimed to have lived in isolation and captivity, has all ingredients of a novel of Mrs. Radcliffe: political intrigue, espionage, and conspiracy theories. But what has the English aristocrat, Philip Henry Lord Stanhope, 4. Earl Stanhope (1781-1855), to do with the young man, his secret and his death?
The mysterious boy: Kasper Hauser
A boy calling himself Kaspar Hauser appeared in Nuremberg/Bavaria in 1828. He claimed that he had been raised in total isolation in a dark room, and to know nothing about his identity. He carried with him a message by an anonymous author. It stated that the boy was given into the anonymous author's custody as an infant on 7 October 1812, had been instructed in reading, writing and religion as good as possible, and that the boy would now like to be a cavalryman 'as his father was'. Being an orphan and appearing to be intellectually impaired, the 16-year old boy was formally adopted by the town of Nuremberg, and money was donated for his upkeep and education.
In October 1829 Kaspar received a severe gash on the forehead and claimed that he had been attacked by a mysterious man in black. This led to various rumours that he might be of princely parentage, but also to suspicions that he was an impostor. Kaspar's claims sparked much debate and controversy throughout Europe. Newspapers were keen to report theories about the boy, the most popular being those linking him to the Grand Ducal House of Baden, and suggesting his birth had been hidden as part of royal intrigue. Kaspar became a celebrity, went out with a body guard, and was even introduced at Court.
Conspiracy theories
According to a popular theory of the time, Kaspar was the hereditary prince of Baden.
The Prince of Baden was born 29 September 1812, and died 16 October 1812. His parents were Charles, Grand Duke of Baden and Stéphanie de Beauharnais, adopted daughter of Napoleon. So far the facts.
It was alleged that the hereditary prince of Baden was switched with a dying baby and subsequently surfaced 16 years later as Kaspar Hauser in Nuremberg. The driving force behind the affair was believed to be the Countess of Hochberg, the step-mother of Charles, Grand Duke of Baden. Her motive would have been to secure the succession for her sons. Thus, when Kasper died in 1833 it was claimed he was murdered, because of his being the hereditary prince of Baden.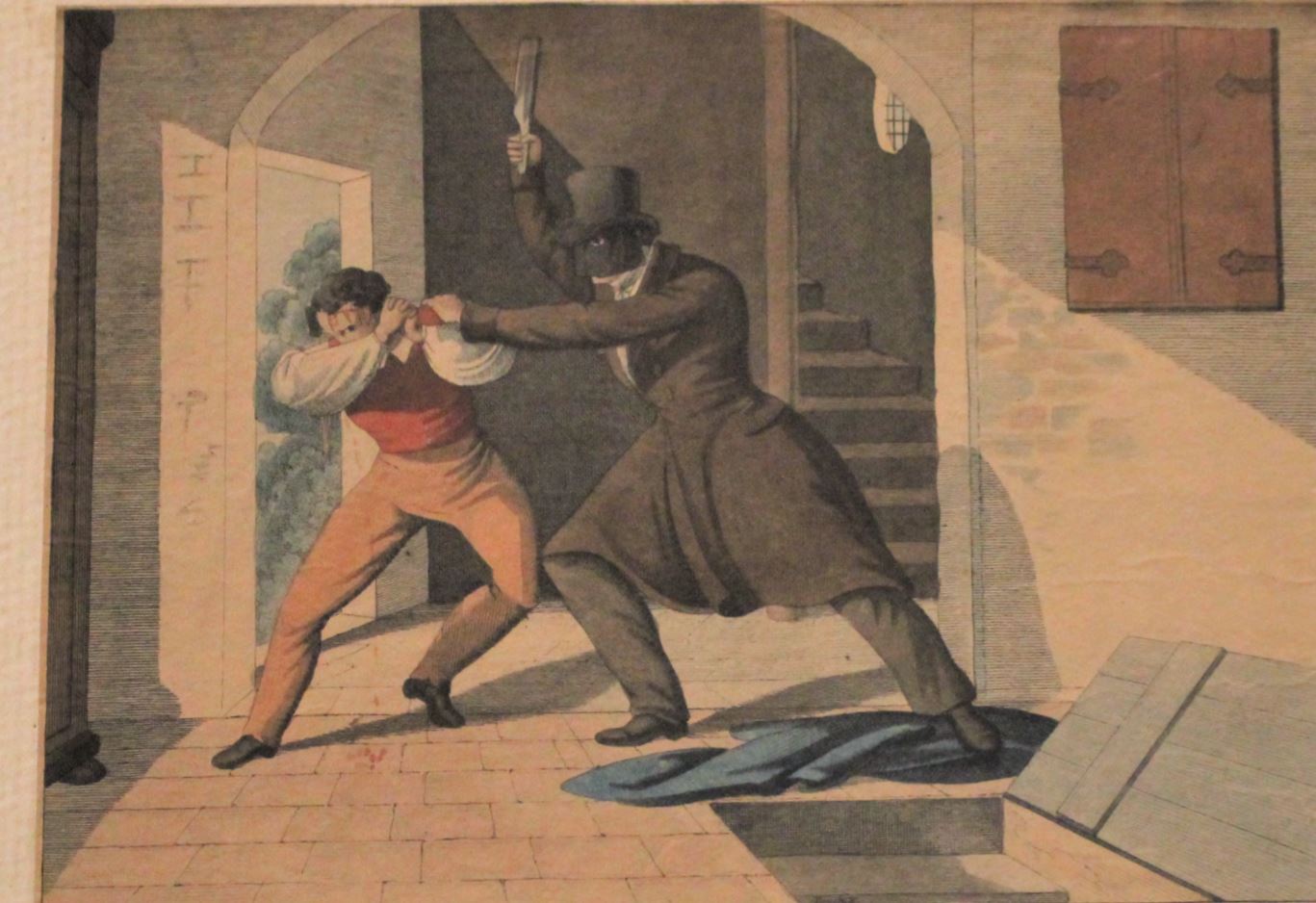 The mysterious role of Lord Stanhope
Early years
Philipp Henry Stanhope spent a difficult childhood under an eccentric father, a cold mother and strict tutors. His life was utterly miserable, and when the situation became too much to bear, flight from home seemed the only way out. His half-sister, Lady Hester (who had managed to escape from the stifling atmosphere of her home earlier) arranged Stanhope's flight. She was help by William Pitt, the Prime Minister (and her uncle), Sir Francis Burdett, a radical politician, and Francis Jackson, a member of the diplomatic service. Stanhope successfully escaped in 1801. He travelled to Germany where he studied at the university of Erlangen. He became fluent in German quickly. As he liked the fast and easy life, he was soon heavily in debt. Meanwhile, as his father was on the brink of bankruptcy, Stanhopes prospects of a handsome inheritance dwindled.
Becoming a political agent
Lady Hester persuaded Pitt to assist her half-brother in finding his place in life. Stanhope was not showing much interest in his studies, or any other sign of remarkable gift, but he was adept in learning languages, had impeccable manners and a talent to make himself agreeable. Additionally, his vivid reports of life in Germany impressed Jackson (member of the diplomatic service). He suggested that Stanhope could be employed as a political agent.
When Stanhope returned to England in 1803, had quarreled with his family and was disowned by his father, the Prime Minister sought him a position with a convenient income and no responsibilities. After a modest political career, Stanhope accepted an invitation to undertake a political mission to Sicily in 1812. There, Ferdinand IV and Marie Caroline had been driven out of Naples. The kingdom was now ruled by Napoleon's brother-in-law, Murat. In his 16-months-stay in Sicily Stanhope established a close relationship with Queen Marie Caroline. Having proved his worth as a political agent, being fluent in German, and loving all things German, Stanhope was sent to Dresden to keep a close watch on developments in Saxony. His next missions brought him – among other places – to Vienna where he befriended Metternich's diplomat Friedrich von Gentz, and, in 1821 he was presented to the Grand Duchess Stéphanie (Napoleon's step-daughter Stéphanie de Beauharnais). Stanhope also met his old friend the Count of Artois (later the French King Charles X) in 1822, and was introduced to Metternich in 1825. He kept travelling and extended his circle of influential contacts.
A secret mission?
By this time rumours had long been around about a hereditary prince being kept imprisoned in the south of Germany. The source of the rumour seems to have been the French newspaper Moniteur. It reported on 5 November 1816 that a message in a bottle had been found in the Rhine, the note inside the bottle hinting to the imprisoned hereditary prince.
Some authors on the subject of Kaspar Hauser draw their conclusions: Analysing the number and destinations of Stanhope's numerous trips on the Continent, they suggest that Stanhope had but one mission: Finding the lost prince, the son of Grand Duchess Stéphanie. They point out that Stanhope spent much time in Germany from 1816 bis 1834, especially in the areas of Bavaria and Baden – where, according to the rumours, the prince had to be.
Some authors also stress that Stanhope starts seeing Napoleon's adoptive daughter Stéphanie after Napoleon's death in 1821, Stéphanie being a possible rallying point for Bonapartists. Stanhope also met his old friend the Count of Artois (later Charles X) in 1822. Thus, it is believed that Stanhope – and also London, Paris and Vienna – had a strong interest in clearing the rumours about the hereditary prince with Napoleonic connections – and that it was Stanhope's role to find out all about it. It is also noted that Stanhope – known as an admirer of all things German, hardly travelled after Kaspar Hauser's death, and very rarely to Germany. However, in 1850 Stanhope received a visit by Stéphanie de Beauharnais at his home England. We do not know what they talked about.
Lord Stanhope and Kasper Hauser
Stanhope first met Hauser in 1831. He seemingly felt a strong affection for the youth. He endowed him generously: a tailor was ordered to make him an elegant jacket and waistcoat with long white trousers in the latest Parisian style. Then, there were two pairs of boots, a music box, another waistcoat, painting materials, two prayer books and 100 guilders pocket money. He also paid for inquiries to clarify Kasper's origin.
Stanhope became Kasper's guardian in December 1831, and he transferred the boy from Nuremberg to Ansbach, to the care of a schoolmaster. A couple of weeks later Stanhope returned to England, promising Kasper that he would take him to England soon. He continued to communicate by letter with his ward, payed for his living expenses and also kept in contact with the officials examining the identity of the young man. His inquiries, however, didn't lead to any result. Stanhope letters to Kasper became less affectionate. In his tracts about the case of Kasper Hauser, Stanhope writes that he came to believe the boy was a fraudster.
Today, only a minority of authors believe that Stanhope was actively involved in the death of Kaspar, i.e. that he had commissioned his murderer. In the 1830ies, however, Stanhope was accused by many people of contriving Kasper's death because the young man was the hereditary prince of Baden. It is more likely that the appearance of Stanhope in Nuremberg involuntarily triggered the events that led to Kaspar's death.
The mysterious death of Kaspar Hauser
We don't know exactly what happened on 14 December 1833 in Ansbach Court Garden. Had Kaspar been lured here? Had there been a stranger who stabbed him while giving him a bag? The bag, a small purse, was found at the alleged crime scene. It contained a pencilled note in mirror writing. The message reads, in German:
Hauser will be able to tell you quite precisely how I look and from where I am. To save Hauser the effort, I want to tell you myself from where I come _ _ . I come from from _ _ _ the Bavarian border _ _ On the river _ _ _ _ _ I will even tell you the name: M. L. Ö.
The note contained one spelling error and one grammatical error, both of which were typical for Kaspar. The note itself was folded in a specific triangular form, exactly the way Kaspar used to fold his letters.
Kasper's reports about the incident became inconsistent during the last days of his life. The Ansbach court of enquiry began to suspect that he had stabbed himself, and invented the tale about being attacked. Forensic doctors agreed that the wound could indeed be self-inflicted. Maybe Kaspar stabbed himself more deeply than planned. His motive might have been to revive public interest in his story, or to convince Stanhope to fulfill his promise to take him to England.
Who was Kasper Hauser?
The case of Kasper Hauser inspires scholars and authors until today. In 2016, three books were published in Germany, each explaining the young man's true identity – though each author came up with a different theory: Kaspar was either an illegitimate son of Napoleon Bonaparte, the son of reverend Wolfgang Hechenberger from Tirol, or the son of the priest Joseph Hausner and the noblewomen Maria Margaretha Freifrau von Hackledt.
Kaspar Hauser might have been a prince or a swindler, innocent or mendacious, the victim of a monstrous crimes or a publicity-hungry egotist. To me it seems likely that he became entangled in a political intrigue to find out about the forces that might be interested in challenging the ruling royal court in France. We will, however, probably never know the truth.
Sources
Markgrafenmuseum Ansbach, Kaspar-Hauser-Platz 1, 91522 Ansbach / Germany
Philip Henry Stanhope, Earl: Tracts relating to Caspar Hauser; published 1836 https://archive.org/details/bub_gb_tXokPSxMtd0C
Martin Kitchen: Kaspar Hauser: Europe's Child; https://epdf.tips/kaspar-hauser-europes-child.html
Johannes Mayer: Lord Stanhope. Der Gegenspieler Kaspar Hausers; Urachhaus, 1988
Terry Boardman: Warum der Engländer Lord Stanhope?, Vortrag bei der Kaspar Hauser Festspiele, Ansbach, Deutschland, 4.8.2018
Josef Heindl: Der Erbprinz vom Unschlittplatz: auf den Spuren von Kaspar Hauser; Eggenfelden : 2016 Josef Heindl
Peter Vornehm: Wuchs Kaspar Hauser im Schloss Wanghausen auf? Ging er in Burghausen zur Schule?; Geschichtliches aus dem Landkreis Altötting in den Bänden "Oettinger Land" (Band 32), Oettinger Heimatland e.V., 2016
Günter Hesse: Kaspar Hauser, das Kind von Europa, der Sohn des Pfarrers und Botanikers Wolfgang Hechenberger aus Tirol, spricht Latein. Und kommt aus M.L.Ö.!; Deutsche Literaturgesellschaft, 2016
Related posts
What Would Have Been Your Role at the Congress of Vienna 1814/1815?
Writer's Travel Guide: The British Tourist and Napoleonic Milan
Writer's Travel Guide: The British and the Grand Tour to the Kingdom of Naples and Sicily (Part 1)
Gossip Guide to the Kingdom of Naples: Inside the Palace of Caserta
A Writer's Travel Guide: Inside Napoleon's and Marie-Louise's Home in Compiègne
Article by Anna M. Thane, author of the novel
"Von tadellosem Ruf" (http://amzn.to/2TXvrez)