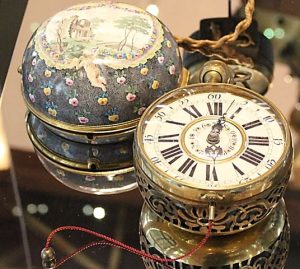 Coach clocks were, in principle, enlarged pocket watches with a diameter of 9 to 12 cm. However, a clock to take with you on a journey by carriage had to provide some special features. First of all, it had to be robust against the bumps of the road. That's why coach clocks were kept in padded protective cases made of copper or brass, often covered with fine leather. The metalwork of the case was done in delicate broken ornaments to allow the sound of the mechanism to penetrate.
Coach clocks provided various functions important to the traveller: They displayed the date, had an alarm function, and a repeater that audibly chimed the hours and often minutes at the press of a button. The repeater allowed the time to be determined in the dark. More elaborate carriage clocks also indicated the phases of the moon.
Coach clocks were also called saddle clocks or officer clocks, as they also were used when travelling by horse.
Here are some photos of coach clocks of the 18th century:
Related articles
Object of Interest: The Columbian Printing Press
Travelling in the 18th century? Don't forget your passport!
The Origin of Now, Part 4
The Poor Man's Son Who Usurped the British Market of Optical Lenses
The Origin of Now: Part I
Captain Stanhope's Invention: A Carriage for 'The Ton'
Fashion Meets Scientific Progress: The "Spy Fan"
Sources
Mathematisch-Physikalischer Salon, Zwinger, 01067 Dresden, Germany
Royal Greenwich Observatory, Blackheath Ave, London SE10 8XJ, UK
Museo nazionale della scienza e della tecnologia Leonardo da Vinci, Via San Vittore, 21, 20123 Milano, Italy
Article by Anna M. Thane, author of the novel
"Von tadellosem Ruf" (http://amzn.to/2TXvrez)