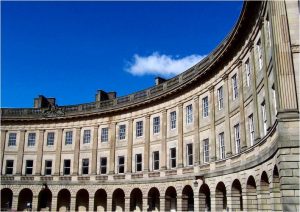 In the series "The Origin of Now" I so far have mainly presented scientific developments. But the series also presents ideas and concepts developed during the Romantic Age that can still be found in our everyday life. Thus this post explores the origin of a concept that we take for granted today: The modern hotel.
A big dream
The Dukes of Devonshire were rich and influential. They had made their fortune with copper mines. Their family seat Chatsworth House marks their wealth and exquisite taste. William Cavendish, 5th Duke of Devonshire (aloof husband of famous Georgiana Spencer) had big dreams: His idea was to turn the hamlet of Buxton, located near Chatsworth, into a rival spa town to illustrious Bath. To do so, William decided to invest a large share of the profits from the copper mines.
A task with a challenge
William didn't have to start from the scratch. Buxton, blessed with warm mineral water springs, had been a destination for aristocratic travellers since Tudor times (Mary Queen of Scots took the waters here between 1573 and 1584). Yet, Buxton's population counted only about 200 persons, and the bleak surrounding of cragged rocks, black heaths, and long steep hills wasn't exactly a prime asset. Additionally, due to the harsh Derbyshire climate, construction work could only take place from May to October. During the winter month any unfinished building had to be packed in straw to protect it from snow and frost.
But William was committed to his project, whatever the difficulties. He commissioned no less an ally than John Carr (1723–1807). In the 1780ies, Carr was already a prolific architect. His works included designs for the finest estates of the country such as Harewood House, Newby Hall and Raby Castle. Besides, he had built numerous public buildings, churches and bridges. Thus, developing a hamlet into a spa town seemed to be an appropriate task. A task that also included a special challenge: Building a large, elegant hotel looking like the famous Royal Crescent, a row of 30 elegant terraced houses in Bath. It should offer accommodation for 200 guests and their servants.
The First Modern Hotel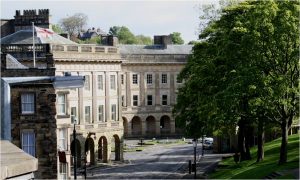 Though the Crescent Hotel was supposed to be an imitation of the Royal Crescent, the project wasn't simply about copying. As a matter of fact, Carr created something of his own: an early example of multifunctional architecture. The Buxton Crescent featured not only regular guest rooms. There were also lodging houses for the very wealthy, an assembly room, shops, a post office, hair and wig dressers, spa facilities, and an octagonal set of stables. In short: It was the first modern hotel.
"I never saw anything so magnificent as the Crescent", wrote William's wife, Georgiana, Duchess of Devonshire, "though it must half ruin us, my spirit makes me delight in the Dukes' doing it."
It took nine years and £63,212, 1s, 8d (about £55,200,000 today) to complete the building. Finally, in 1788, the assembly room held its first ball. During this season, about 340 members of High Society danced in the beautifully decorated room with its celestial blue walls, Adam-style ceiling and large chandeliers. Those who preferred gaming to dancing could do so in the adjacent card room.
Georgian Buxton today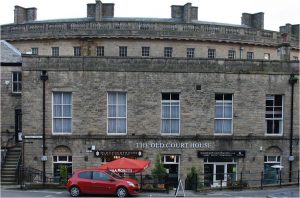 Buxton and the Crescent Hotel prospered as a fashionable spa for many decades. While the hotel closed in the mid-1930s, Buxton continues to be one of most popular tourist destinations in the Peak District. Many of the buildings the Duke of Devonshire commissioned or had rebuilt are still in use: You can enjoy tea time at The Square No 6 (built from 1803-06), have a glass of wine at the Old Court House (1803-1806) or visit St. John's Church (1811). John Carr's stable block for the Crescent Hotel is today's Devonshire Royal Hospital. The Crescent Hotel itself is under restoration, and it will take a while before you can stay there again in style.
From the Origin of Now Series:
Sources
Jewitt, Arthur: The History of Buxton: and Visitor's Guide to the Curiosities of the Peak; London, 1811.
"The Crescent", at: https://www.historicengland.org.uk/listing/the-list/list-entry/1257876
Buxton Local History Society: "A Brief History of Buxton", at: http://www.buxtonhistory.org.uk/history_2.html
"Crescent History, The Crescent, Buxton, Background to its development", at: http://www.buxtongroup.co.uk/crescent_history.html
"Georgian Construction / 21st Century Restoration" at: http://buxtoncrescent.com/2016/11/25/carr-v-vinci/