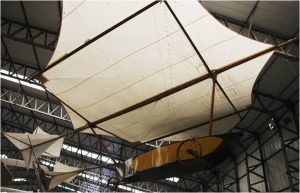 This series is dedicated to inventions, ideas and concepts developed during the Romantic Age that shaped our modern world. With the second scientific revolution, a series of breakthroughs in science led to the idea that scientific progress could make life better and easier. Inventive individuals set out to pursue new ideas (also see part 1 and part 2 of this series). One of them was Sir George Cayley (1773-1857). Follow me back to the 1790ies to find out how his dream of flying laid the foundation of today's aviation.
The Man Who Understood Why Airplanes Fly
Sir George Cayley sketched his first flying machine aged 19, in 1792.
He was inspired by Leonardo da Vinci. Unlike the Renaissance genius, George had the time, the wealth and the improved scientific knowledge of the world at his hands to advance flying machines from a mere sketch to a working device. How did he do it?
1. Inspired by nature
In the 18th century, most people believed that flapping wings, like those of a bird, were required in order to fly. Thus, a flying machine carrying humans would have to flap its wings to get lift and propulsion.
George studied the flying behaviour of crows and seagulls. He learned that Seagulls could get lift by gliding without flapping their wings and that forward propulsion was a different problem. So far, scientist believed that the propulsion system should generate both lift and forward motion at the same time. George came to realize that the propulsion system should generate thrust, but that the wings should be shaped so as to create lift.
George was also inspired by dolphins. In 1804, he designed a fuselage based on the streamlined body of the marine mammal (see picture on the right).
2. Secret experiments
George set about investigating lift scientifically. He built a machine that had a whirling arm to simulate the wing of a bird and also allowed the angle of attack to be varied. To do experiments with his model machine, he had to wait until his wife – strongly disapproving of experiments on flying! – went to stay for a couple of weeks with her mother. Then, George turned the staircase at this house, Brompton Hall, to a playground for aviation scientists. He found that a wing's best angle of attack was an incline of six degrees.
3. Designing the modern airplane
In 1799, George designed a glider that was basically in the form of a modern airplane:
'It had a fixed main wing, a fuselage, a cruciform tail unit with surfaces for vertical and horizontal control, a cockpit for the pilot, and a rudimentary means of propulsion that consisted of revolving vanes, a precursor to the propeller' (1).
He attempted to use gunpowder as engine fuel in 1807, but found it unreliable.
4. Identifying the forces of flight
Working with models of various kinds, George bit by bit identified the forces of flight and their relationship. 'By the middle of 1809, he had investigated the improved lifting capacities of cambered wings, the movement of the centre of pressure, longitudinal stability, and the concept of streamlining. He demonstrated the use of inclined, rigid wings to provide lift and roll stability, and the use of a rudder steering control. He even came to realize that an area of low pressure is formed above the wing.' (1).
5. Publishing new ideas
In 1810 he published his treatise 'On Aerial Navigation'. It stated that lift, propulsion and control were the three requisite elements to successful flight. Thus, Sir George Cayley is credited as being the first man to have understood and stated why an airplane would fly.
6. From model machines to full size wonder
Finally, George went from model machines to a full-size gliding machine that was able to carry a man. He called it a 'governable parachute' and built it along the lines of his 1799 design. He tested it in 1849 with a 10-year old boy aboard. It made at least one short flight, and boy and flying machine survived. George had become the first man to build a successful human-carrying glider.
7. Successful testing phase
The honour of becoming the world's first test pilot goes to George's coachman, John Appleby. In 1853, he took place in the cockpit from where he could steer the rudder. Farm workers pulled the glider down a slope until it rose into the air. It flew 275 meters.
John Appleby wasn't too pleased with the experience. "I wish to give notice", he said after having crash landed. "I was hired to drive, not to fly."
8. Passing on the torch
Sir George Cayley's research on aviation and his dream of flying inspired many fellow inventors, including William S. Henson and John Stringfellow (who designed a large passenger-carrying steam-powered monoplane), and the famous Wright brothers. Sir George Cayley is thus called 'The Father of Aviation'.
Related posts
Sources
(1) http://www.ctie.monash.edu.au/hargrave/cayley.html
Ackroyd, J. A. D.: Sir George Cayley: The Invention of the Aeroplane near Scarborough at the Time of Trafalgar; Journal of Aeronautical History, Paper No. 2011/ 6; L
http://www.ba-education.com/for/science/cayley.html
http://www.flyingmachines.org/cayl.html
Read Sir George Cayley's work online: 'On Aerial Navigation' in: A Journal of Natural Philosophy, Chemistry and the Arts, published in 1810.
Article by Anna M. Thane, author of the novel
"Von tadellosem Ruf" (http://amzn.to/2TXvrez)