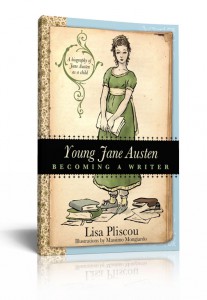 I am delighted to have Lisa Pliscou, acclaimed author of both fiction and nonfiction, as guest writer at Regency Explorer. In her newest book, Young Jane Austen: Becoming a Writer, Lisa highlights Jane Austen's creative development as a child and teenager. It's a treat for me to present Lisa's insightful post about a rather unknown aspect of Jane Austen's life:
Jane Austen's "Secret" Brother
As I was making my way through a stack of Jane Austen biographies — what began as pure enjoyment and ultimately became research for my Young Jane Austen: Becoming a Writer — I was surprised to see that occasionally, an author would tally Jane's siblings and end up with six.
The correct number, of course, is seven; altogether there were eight Austen children, beginning with James and ending with Charles. Jane's older brother George, somehow, slipped between the cracks.
And why? Because he was the "defective" Austen child.
Aside from this one key characteristic, almost nothing is known about George Austen. As mysterious as Jane Austen's appearance is, there are, at least, two verifiable images to date; there are none of George. We have no idea as to what he looked like, what he sounded like, how he behaved on a day-to-day basis, who he loved or what he loved. For some biographers, it seems, he may as well have never existed — a pitiable footnote in the otherwise exhaustively exhumed and analyzed Austen lore.
Born in 1766, the second baby, George early suffered from what his parents described as "fits." As with so many other aspects of Jane's life, her brother's ailment, or ailments, cannot be definitively identified.
He was "mentally defective," says Park Honan, and "probably a deaf-mute." George Holbert Tucker describes him as both "mentally abnormal" and "mentally retarded." Joan Klingel Ray mentions his "illness" and says that he was epileptic. Claire Tomalin wonders if he had cerebral palsy.
Paula Byrne, in her discussion of George's "special needs" in The Real Jane Austen, says that he was "mentally incapacitated," "epileptic and possibly deaf"; she also comments upon a "spectacular streak of madness" that afflicted Jane Austen's maternal line, seeming to leave open the question as to whether George was 'mad' as well, as opposed to having purely physical handicaps.
Apparently, like his other siblings, George was sent as an infant to board with a village family nearby. However, unlike them, he remained there. It's unclear how great a role he played in the everyday life of his own family over the next several years.
In the 2007 film Becoming Jane, George is — in an appealing portrayal — shown as an adult, an integrated family member, capable of communicating through sign language and sensitive to the interactions of those around him.
The reality is more likely that George ultimately became, to Jane at least, a shadowy figure. When Jane was three years old, George, thirteen, was put into the care of a family eight miles away — a significant distance from the Austen home in Steventon. He would join his uncle Thomas, the younger brother of Mrs. Austen, an even more elusive figure, said variously across the centuries to be an "imbecile," an "idiot," and "handicapped." No letters, no records, exist to indicate how often, if at all, Thomas and George were visited by their family.
In writing Young Jane Austen, I was mindful of Jane's own experience in being 'farmed out' as a baby, and wondered what kind of impact it could have had on her. It's thought that she may have gotten to know George quite well during this interval.
At around the same time that George was sent permanently away, other major events within the family were occurring: Jane's oldest brother, James, left to attend Oxford University, fifty miles away, and Edward, eleven, was whisked away on a long journey with wealthy older cousins.
What was George's departure from Steventon like? Unlike James or Edward, he could not, realistically, anticipate the pleasures of travel, education, advancement, independence. He was going to be placed into the care of strangers. Was he aware of this, lucidly or dimly? Did he set off in innocent excitement, or with reluctance or fear?
We have no way of knowing. Nor can we know if Jane was present as he began his journey, or her own feelings about it. So in the narrative I speculate, as if through Jane's puzzled perspective:
"And George, who had fits, who could neither speak nor hear, would never, Mama said, reach the age of reason, and so he was sent to live with a kind family who would take care of him, in a village far away. Mama said they must be rational and they must accept."
As I remark in the annotated section of Young Jane Austen, it's to be hoped this family was kind. Here again, we have no idea how they treated these two handicapped inmates. Debate continues to rage as to whether Mr. and Mrs. Austen were callous, even cruel, in sending George away. Some condemn them outright. Others point out that within the context of the time, their actions were perfectly normal, even solicitous: many people who were categorized as "mad," "imbecile," or otherwise 'defective' were consigned to asylums where they generally lived in deplorable conditions.
For me, with my focus on young Jane, the lingering question is that of how she experienced George's removal. How was it explained to her? Was it explained? Was she left with an enduring impression that powerless children could be similarly removed at any time, as she had been as an infant?
As it happened, four years later, at the age of seven, Jane herself was sent away again — to the faraway little school of a distant relative. It was there, in fact, that she nearly ended her short life in a severe bout of a dangerous, highly contagious illness, thereby nearly rendering her exile a permanent one.
However, unlike her "secret" brother, Jane was allowed to come home. For a while.
---
Lisa Pliscou writes for both children and adults. Her work has been praised by the Wall Street Journal, the Los Angeles Times, the Chicago Sun-Times, Publishers Weekly, Booklist, the Associated Press, VOYA, The Horn Book, and other media.
Young Jane Austen: Becoming a Writer is her eighth book, and coming next spring is a new edition of her first novel, Higher Education, which was praised by David Foster Wallace, Betsy Byars, Tara Altebrando, and others. Coming in 2017 is a picture book, Jane Austen, the Girl Who Wrote, to be published by Henry Holt and illustrated by Jen Corace.
Visit Lisa's blog about creativity, inspiration and Jane Austen at http://lisapliscou.com/category/blog/