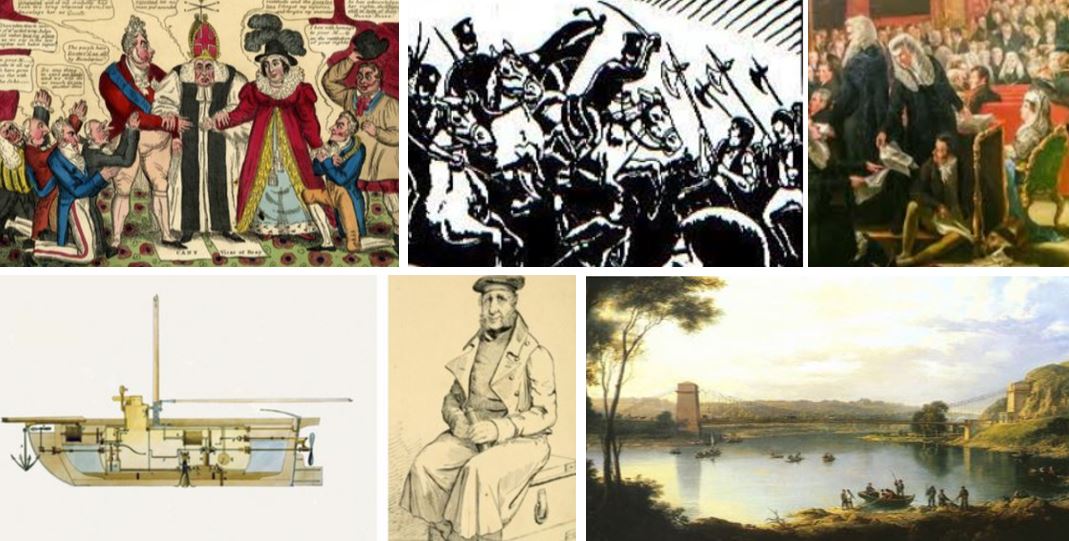 A secret submarine plot, death in the Royal family, and the Queen's trial are events of a year marked by political unrest and economic depression.
After the Napoleonic Wars the economy was still down, and important reforms had been delayed over the wars. The fear of Napoleon's influence was still tangible, with rumours about his possible escape from St. Helena becoming stronger by the end of the year. Additionally, the monarchy was in a crisis, shaken by death and scandal.
Which political, scientific, social, and literary events and anniversaries are of interest to Regency Enthusiasts in 2020? Have a look at my list of 20 events of 1820 here:
January 23, 1820: Death in the Royal Family
Prince Edward Augustus, Duke of Kent and Strathearn, died of pneumonia. He was the father of the future Queen Victoria (at that time only 8-months old).
January 29, 1820: The king is dead! Long live the king!
George III. died after years of suffering from an illness we today believe to have been be the blood disease porphyria.
His reign was marked by a series of military conflicts in Europe, Africa, the Americas, and Asia. Early in his reign, Great Britain defeated France in the Seven Years' War, becoming the dominant European power in North America and India. Many of Britain's American colonies were lost in the American War of Independence (1775–1783). Further wars against revolutionary and Napoleonic France from 1793 concluded in the defeat of Napoleon at the Battle of Waterloo in 1815. During most of his reign, King George III opposed the abolitionist movement.
The King's severe illness led to the establishment of a Regency in 1811 with George, Prince of Wales, ruling as Prince Regent.
George IV. ascended the throne on the death of his father George III. The former Prince Regent was by now 57 years old, obese and possibly addicted to laudanum. He also was afflicted with his estranged wife Caroline, who would become Queen of England unless George would find a way to divorce her. George IV.'s ascension to the throne ended the so-called Regency Period (1811-1820).
January 30, 1820: Exploring the Antarctic mainland
Captain Edward Bransfield landed on Trinity Peninsula, the northernmost point of the Antarctic mainland. Previously Captain Cook on his 1773 exploration was the furthest south any man had ever travelled, but he failed to see Antarctica. It is rather likely that two days before Bransfield landed on Trinity Peninsula, a Russian expedition lead by Fabian Gottlieb von Bellingshausen caught sight of an icy shoreline now known to have been part of East Antarctica. Therefore, Bellingshausen is credited with being the first explorer to see the land of Antarctica in 1820. Nevertheless, Edward Bransfield became famous: Bransfield Island, Bransfield Strait, Bransfield Trough, Bransfield Rocks and Mount Bransfield were all named in his honour.
February 23, 1820: Cato Street Conspiracy
The Cato Street Conspiracy was an attempt to murder Prime Minister Lord Liverpool and all British cabinet ministers. The conspirators planned to assassinate the cabinet at a dinner, then seize key buildings, overthrow the government and establish a "Committee of Public Safety" to oversee a radical revolution. The police had an informer inside the group of conspirators: George Edwards, right hand to group leader Arthur Thistlewood. The plotters were arrested on February 23, one policeman was killed. Five conspirators were later executed, and five others were transported to Australia. The conspirators' motifs were anger at the Six Acts (aimed at suppressing any meetings for the purpose of radical reform), the Peterloo Massacre, the economic depression and the political repression of the time. The name Cato Street Conspiracy comes from the meeting place of the plotters in London. The conspirators called themselves the Spencean Philanthropists.
March 10, 1820: Astronomical Society of London founded
The Astronomical Society of London was founded to support astronomical research. Most members were 'gentleman astronomers' rather than professionals. Founding members included Charles Babbage and John Herschel. William Herschel was the first president. The society was named Royal Astronomical Society in 1831.
April 1, 1820: "Radical War"
The Radical War was a week of strikes and unrest in Scotland caused by economic depression and the political repression of reforms. The radicals demanded electoral reforms. Their main leaders were John Baird, James Wilson and Andrew Hardie. Actions included strikes of about 60,000 workers in weaving communities all over central Scotland, raiding foundries and forges to make pikes, carrying out military drills and a march on Carron to take up weapons. The government crushed the unrest with the help of the army. A total of 88 men were charged with treason, the three leaders were executed, and 20 other radicals were sentenced to penal transportation.
April 1820: Yorkshire West Riding Revolt
An uprising was planned by working class radicals. It included strikes and meetings in Grange Moore near Huddersfield, Sheffield, Halifax, Mirfield and Dewsbury. Main gaols of the radicals were universal suffrage, annual elections and an end to the Corn Laws.
April 7, 1820: Happy 50th birthday, William Wordsworth
William Wordsworth was a poet who, with Samuel Taylor Coleridge, helped to launch the Romantic Age in English literature with their joint publication "Lyrical Ballads". By 1820, he was enjoying considerable success.
April 11, 1820: Happy 50th birthday, George Canning
George Canning held many positions. In 1820 he was President of the Board of Control. Canning would resign from office in 1820, in opposition to the treatment of Queen Caroline, estranged wife of the new King George IV. Public opinion strongly supported the Queen and thereby Canning was strengthened. He would serve as Prime Minister in 1827 for the final 118 days of his life.
Canning was Foreign Secretary from 1807–1809. He was the dominant figure in the cabinet and directed the seizure of the Danish fleet in 1807 to assure Britain's naval supremacy over Napoleon. In 1809, he was wounded in a duel with Lord Castlereagh.
June 5, 1820: The Queen returns
Caroline of Brunswick, the estranged wife of King George IV, returns to England after six years abroad in Italy to assert her position as queen. She was popular with the British populace, who sympathised with her and despised George IV. for his immoral behaviour. George IV. attempted to divorce his wife. Caroline quickly became a figurehead for the growing radical movement that demanded political reform, and allied with radical campaigners such as William Cobbett for as long as they were helpful for her cause.
June 7, 1820: Happy 50th birthday, Prime Minister
Robert Jenkinson, 2nd Earl of Liverpool, was Prime Minister from 1812-27. He was the first British Prime Minister to regularly wear long trousers instead of knee breeches. He also became the first Prime Minister to adopt a short haircut instead of long hair tied in a queue. He was also the longest-serving Prime Minister of the 19th century. As Prime Minister, Liverpool called for repressive measures to maintain order after the Peterloo Massacre of 1819. Thus, his government imposed the repressive Six Acts legislation which limited, among other things, free speech and the right to gather for peaceful demonstration. In 1820, as a result of these measures, Liverpool and other cabinet ministers were targeted for assassination. They escaped harm when the Cato Street conspiracy was foiled. Lord Liverpool argued for the abolition of the slave trade at the Congress of Vienna, and at home he supported the repeal of the Combination Laws banning workers from combining into trade unions in 1824.
June 19, 1820: World traveller and international scientist died
Joseph Banks, naturalist and botanist, made his name on an expedition to Newfoundland and Labrador in 1766. Then, he took part in Captain James Cook's first great voyage (1768–1771), visiting Brazil, Tahiti, New Zealand, and Australia. In 1772, he explored the Isle of Wight, the Hebrides, Iceland, and the Orkney Islands. He is credited for bringing 30,000 plant specimens home with him from all this travels; amongst them, he discovered 1,400. In 1778, he was elected president of the Royal Society (he held this position until his death). Banks was a major supporter of the internationalisation of science, by keeping open the lines of communication with continental scientists during the Napoleonic Wars, and in introducing the British people to the wonders of the wider world. Banks advocated British settlement in New South Wales and colonisation of Australia, as well as the establishment of Botany Bay as a place for the reception of convicts, and advised the British government on all Australian matters. He was the leading founder of the African Association (dedicated to the exploration of West Africa) and a member of the Society of Dilettanti.
July 5, 1820: The King's move to get divorced begins
King George IV. introduced the Pains and Penalties Bill to Parliament on July 5. The bill's aim was "to deprive Her Majesty Queen Caroline Amelia Elizabeth of the Title, Prerogatives, Rights, Privileges, and Exemptions of Queen Consort of this Realm; and to dissolve the Marriage between His Majesty and the said Caroline Amelia Elizabeth". The bill charged that Caroline had committed adultery in Italy.
July 8, 1820: Happy 50th birthday to a modern woman
Mary Ann McCracken, Irish businesswoman and radical humanitarian, engaged herself in the politics of the time and many social issues, such as poverty and slavery. Mary Ann McCracken led the Women's Abolitionary Committee in Belfast during the height of the anti-slavery movement. At the age of 88, she was still to be seen in Belfast docks, handing out anti-slavery leaflets to those boarding ships bound for the United States, where slavery was still practised. Additionally, she was dedicated to the poor of Belfast. She established the "Ladies Committee" of the" Belfast Charitable Society" and chaired it from 1832 – 1855. As a business professional, she managed a muslin business in Belfast, which pioneered the production of patterned and checked muslin.
July 26, 1820: Union Chain Bridge opened with hundreds of spectators
The bridge spans the River Tweed between Horncliffe and Fishwick, and thus connects England and Scotland. In 1820 it was the longest wrought iron suspension bridge in the world with a span of 137 m, and the first vehicular bridge of its type in the United Kingdom. The bridge was designed by Captain Samuel Brown, a Royal Navy officer. He had seen the need for an improvement on the hemp ropes used on ships, and employed blacksmiths to create experimental wrought iron chains. Brown took out a patent in 1816 for a method of manufacturing chains, followed by a patent titled "Construction of a Bridge by the Formation and Uniting of its Component Parts" in July 1817. Building the Union Chain Bridge began in August 1819. On the opening day, Captain Brown tested the bridge in a curricle towing twelve carts. Then, a crowd of about 700 spectators crossed the bridge successfully.
August to November 1820: Queen Caroline's trial led to public tension
The debate on the Pains and Penalties Bill was effectively a public trial of the Queen, during which the government could call witnesses against her who could be cross-examined by her own legal advisors. The trial opened on 17 August 1820. Scandals stories showered on the public. The defence opened on 3 October. The vote was held on 6 November 1820, being 123–95 in favour of the bill. On 10 November, a final reading of the bill and a further vote was held. The bill passed by 108–99. As the vote was considered to be very close and public tensions very high Prime Minister Lord Liverpool declared the withdrawal of the bill. Londoners celebrated in the streets; windows of government supporters were smashed, and the offices of newspapers that had supported the King were set on fire.
October 15, 1820: Happy 50th birthday to an authoress of truly horrid novels
Novelist Eleanor Sleath came to fame with her debut novel "The Orphan of the Rhine". The gothic novel was listed as one of the seven "horrid novels" by Jane Austen in her novel "Northanger Abbey". Eleanor Sleath wrote 6 gothic novels, each modelled after her role model Ann Radcliffe. Her work features mysterious monks, ruined castles, last-minute rescues, etc and includes titles such as "The Nocturnal Minstrel; or the Spirit of the Woods" and "Pyrenean Banditti". Read her masterpiece here: http://gutenberg.net.au/ebooks06/0606561h.html
November 1820: Did a British criminal launch a submarine to free Napoleon from St. Helena?
By the end of 1820, rumours of Napoleon's escape from St Helena became stronger. On November 20, The Times reported that the rumours were so strong in Paris that they had produced "a fall of half per cent in French stock". Some rumours were about a plot by Tom Johnson, a famed adventurer and criminal. He allegedly hatched a plan to rescue Napoleon from exile with a submarine. Historian Emilio Ocampo has researched the rumours and wrote in Napoleonica; La Revue 2011/2 (N° 11) : "British naval historian Tom Pocock suggests that at the end of 1820, Johnstone's submarine was actually launched and was intercepted while sailing down the Thames. The painter Walter Greaves (1846-1930) remembered a story told by his father, who was the owner of a boatyard at Chelsea: My father said there was a mysterious boat that was intended to go under water… for the purpose of getting Napoleon off the island of St. Helena. So, on one dark night in November [1820], she proceeded down the river (not being able to sink as the water was not deep enough). Anyhow, she managed to get below London Bridge. The officers boarding her, Capt. Johnson [sic] in the meantime threatened to shoot them. But they paid no attention to his threats, seized her and, taking her to Blackwall, destroyed her."
Meanwhile, what are some of our favourite persons of the Regency Period doing in 1820?
Napoleon living, in exile on St. Helena, on 20th January 1820 shot Count Bertrand's goat because it ate his plants. Napoleon actually was allowed to own and use a gun while in captivity, but it was a simple fowling piece. Napoleon apparently used it to shoot chickens for amusement.
The Duke of Wellington took part at the funeral of George III. walking besides the royal coffin. He had recently been appointed Governor of Plymouth. On February 19 he was appointed Colonel in Chief of the Rifle Brigade.
Lord Byron, at that year in Ravenna / Italy, became entangled in a politically motivated assassination in December 1820: "I open my letter to tell you a fact which will show the state of this country better than I can. The commandant of the troops is now lying dead in my house." (Byron in a letter, 9.12.1820). Read all about it here: http://regency-explorer.net/byron-murder-carbonari/
Beau Brummell lived in French exile in Calais. He was sinking fast in both spirits and finances. He pinned some hope to his former friend the Prince Regent becoming King – but in vain. In August, Beau Brummell lost one of his best benefactors when the Duchess of York died.
Lady Caroline Lamb, just being back to Almack's in 1819 after her scandalous novel "Glenarvon" had catapulted her out-off polite society in 1816, worked one her third novel, "Ada Reis".
William John Bankes, back from his travels to Egypt, Nubia, and the Sinai since 1819, had the large Philae obelisk he had discovered transported to his estate Kingston Lacy. Besides, in the early 1820s, he helped Lady Caroline Lamb writing the novel "Ada Reis". Read all about William John Bankes here: http://regency-explorer.net/%EF%BB%BFwriters-travel-guide-kingston-lacy/
Walter Scott was created 1st baronet of Abbotsford for conducting a successful search for the 'lost' Crown Jewels ("Honours of Scotland") in Edinburgh Castle. As an author, he had a productive year publishing "Ivanhoe", "The Abbot", and "The Monastery". Read more about the book releases of 1820 here.
Sources
• www.wikipedia.com
• http://www.unionbridgefriends.com/history/
• https://www.cairn.info/revue-napoleonica-la-revue-2011-2-page-11.htm#
• Smout, T. C. (1985), A history of the Scottish people 1560-1830, London: Fontana,
• Mac a'Ghobhainn, Seumas; Ellis, Peter Berresford (2001), The Scottish insurrection of 1820, Edinburgh: John Donald
Article by Anna M. Thane, author of the novel
"Von tadellosem Ruf" (http://amzn.to/2TXvrez)