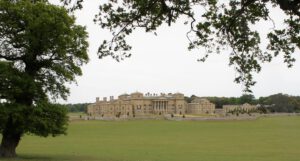 In this post:
– The amorous entanglement of a handsome young Englishman in France
– It's tricky to inherit!
– A gentleman as agricultural reformer
Holkham Hall is located two miles west of Wells-next-the-Sea in Norfolk. It is one of the most splendid houses in England.
It will easily take half a day to see everything. You will be impressed by the amazing marble hall: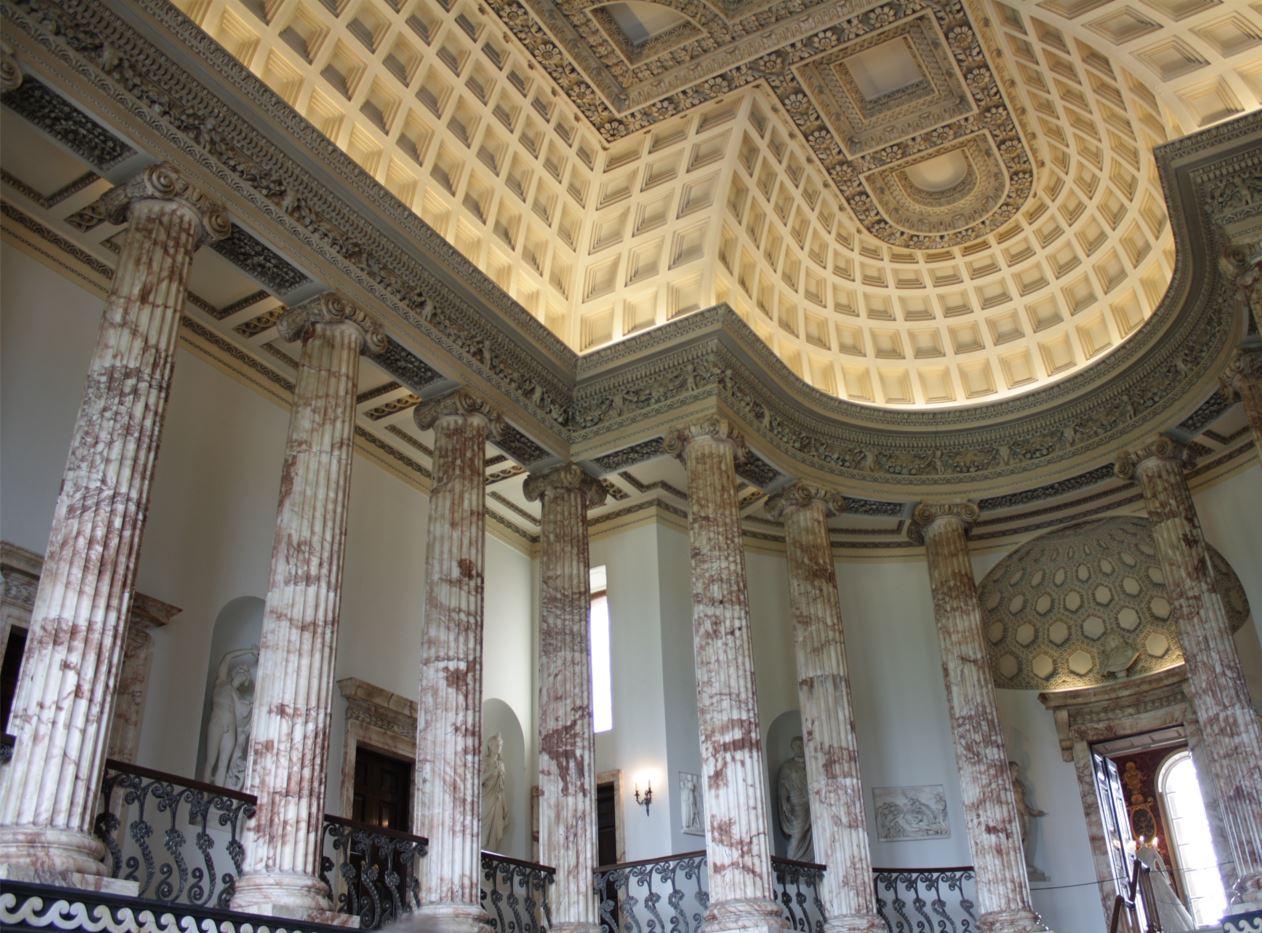 Make sure to talk to the guides in the rooms. They have some really good anecdotes to tell.
The interior of Holkham Hall has remained mostly unchanged since the Regency era. Here is a picture of the beautiful library: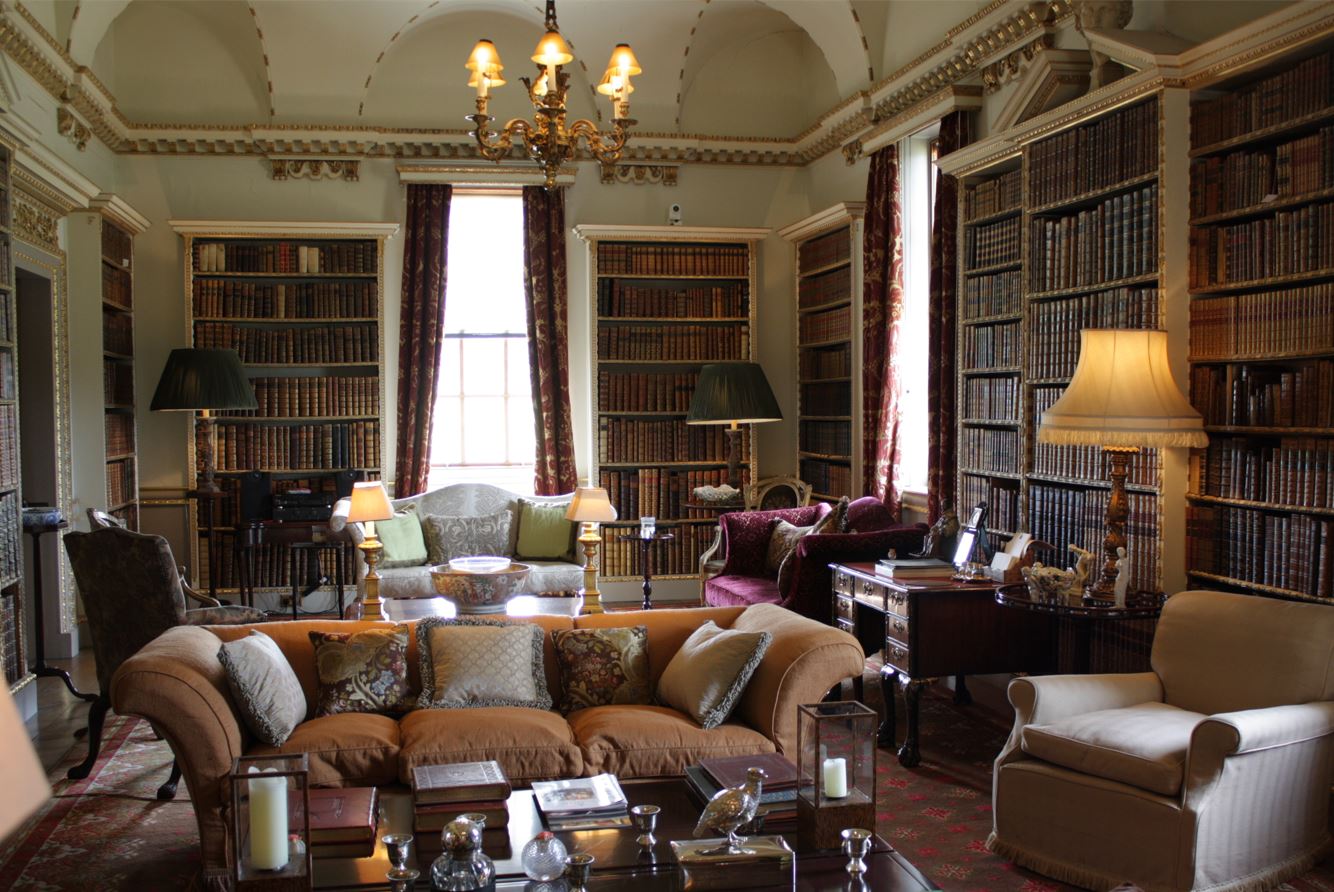 You should also visit the Bygones Museum and the History of Farming Exhibition, because they are special to the place and related to one of its most famous owners, Thomas William Coke, and his love for agriculture.
Who was Thomas Coke?
Thomas William Coke was handsome, tall, with dark brown hair and a strong nose. When travelling the continent as a young man and staying at the European courts, he was known as "Le Bel Anglais". Once, he accompanied the bride of Charles Edward Stuart to Rome. Charles Edward used to be called Bonnie Prince Charlie, but the bonny times were long over, so the young lady fell in love – not with the Stuart pretender, but with Thomas Coke. She even had his portrait painted. It is today on display at Holkham Hall showing  Thomas dressed in a silver-gray and rosy fancy-dress. I prefer his portrait  painted by Gainsborough. He is wearing leather breeches and looks every inch the hero of a novel. You can see it in the South Dining Room.
Americans with an interest in the history of their country will know Thomas Coke as a supporter of the American colonists during the American Revolutionary War.
So, handsome Thomas was a Whig politician, but he was not the builder of Holkham Hall. Holkham Hall was built – or at least completed – by redoubtable Lady Margaret, the dowager Countess of Leicester. When Thomas, her great-nephew and future heir of Holkham Hall, visited the place for the first time in 1771, she provided a frosty greeting and made him feel uncomfortable.
When Thomas inherited Holkham Hall, he soon had a hand in the estate. He turned towards agriculture and livestock breeding. Thomas had learned the love for agriculture from his father, a country gentleman. At Holkham, Thomas found the perfect playground. Supported by his agent and tenants, he eventually became one of the leading agricultural reformers of his time.
Make Thomas Coke a character of your novel
Thomas Coke is a great historic person to use as a minor character in your novel. Here are some more facts about him:
Thomas Coke established regular agricultural shows at Holkham Hall. He was ebullient character and liked to share his knowledge.
Hunting was one of Thomas's favourite pastimes. He was a good shot until old age.
Though being a member of the Whigs, Thomas Coke mingled with some radical politicians. He was an outspoken critic of the king.
He had a knack for agriculture, but not for money or other fields of estate management.
He refused the title of Earl offered to him from Whigs and Tories several times, before finally accepting it at the age of 83.
Don't forget: Since Thomas was born in 1754, he would be 57 years old when the Regency officially began.
Notes and sources
All information about Thomas Coke was taken from: Wade Martins, Susanna: Coke of Norfolk (1754-1842): A Biography. Boydell & Brewer Inc., 2010.
For other people and places of the Regency era see here.