Many readers of Regency novels are fascinated by driving a carriage: It's partly romantic, partly adventurous and in our accelerated times comfortingly nostalgic. Most people of the Regency period would shake their heads at such attitudes. To them, driving a carriage was mainly a means of transport and not even a convenient one: Stage coaches were crammed with passengers, accidents happened frequently, and to become sick in a carriage wasn't unusual.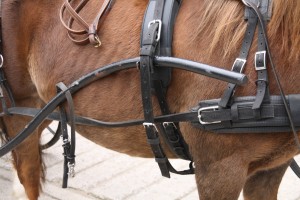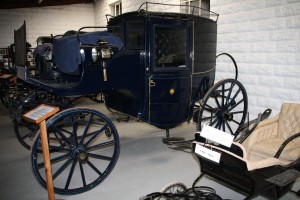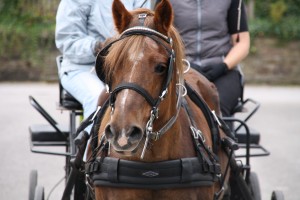 To find out how travelling in a coach felt like 200 years ago, you can visit the museum of travel and traffic, "Deutsches Museum Verkehrszentrum", if you happen to come to Munich, Germany. There is a simulator of a historical coach waiting in Hall II. Climb in and experience the Regency period.
If you are really serious about researching carriages and carriage driving in the Regency period, there is a more hands-on option.

In my post "5 Methods of Research for Historical Writers" I wrote about the advantages of first-hand experience, e.g. by taking part in courses in historical dance, fencing – or coach driving.
I am not overly courageous when it comes to sports, but I too fall for the romantic and adventurous aspect of driving a carriage. So when I went to England last year, I was determined to take a course in carriage driving. As the English are fond of horses and carriage driving, I easily found farms and stables offering driving lessons (see "sources" at the end of the post for addresses). I booked two lessons at the Red House Stables & Carriage Museum in Matlock, Derbyshire.
The Red House Stables is a great place to go to for any Regency Enthusiast as they have one of the best collections of original horse-drawn vehicles and equipment in Britain. And: you can see the original carriage used in the TV series Pride & Prejudice with Colin Firth and Jennifer Ehle (click here to read more about it).
How to drive a carriage
You do not become a noted whip after one or two lessons in carriage driving. Nevertheless, you get an idea about how it is done and how difficult it is for the heroine to "drive to the inch" or for the hero to nonchalantly handle "a four-in-hand". Don't forget that there is more to driving a carriage then just handling the reins: fixing the harness, understanding the interaction between horse and carriage, driving safety, and the health of the horse.
How to hold the reins
I was quite surprised that you hold the reins in your left hand only – even when driving four horses. Finding myself holding those lean leather strings, I was relieved I had to handle only one kind and patient pony. But with merely the reins bridging the rather long gap between the pony and me, I wondered how stirring the whole thing could ever work.
This is a photo of me holding the reins: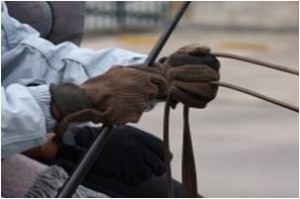 The left rein is lightly trapped between the thumb and index
fingers and the right rein is between middle and ring fingers.
The idea is to hold the reins at chest level about half an arm's
length in front of your body and to keep your hand as vertical
as possible.
The right hand holds the whip.
How to turn
My first lesson was to bear left and right and to turn left and right. This is done by a movement of the left hand. It is an amazingly small movement, but the horse understands.
To bear to the left, you extend your index finger along the underside of the left rein and tip the hand back. Bring your hand slightly towards your chest to engage the bit with your reins.
To bear right, you extend the knuckle of your middle finger forward on top of the right rein. Tip the hand forward. Again, bring your hand slightly towards your chest to engage the bit with your reins.
If you need to turn right or left, you use your right hand as well: Reach your right hand well in front of your left, grasp the right rein between your index and middle finger, give a gentle tug on the rein and bring the rein towards the left hand.
For turning right, reach your right hand well in front of your left, grasp the right rein between your ring and middle finger, give a gentle tug on the rein and bring the rein towards the left hand.
Once I could do this, my trainer took me to a municipal park. What a treat! It was a lovely autumn day and it didn't take much to image myself being in Hyde Park in 1813. Still, there was some learning to be done:
How to trot and how to stop
Carriage drivers use differing tones and words to indicate the type of speed they want the horse to do:
A high "trot-trot" makes the horse trot.
You use a high "trot on" to keep it going on.
Uttering a calm and gentle "good boy" every now and then keeps the horse attentive.
When you say the word "stand" in a low tone the horse stops.
Two lessons of carriage driving flew by. I enjoyed the experience very much and recommend it to every Regency enthusiast. It was a great inside view into a traditional form of transport. I feel very confident now when writing scenes involving carriage drives. The experience also inspired many ideas for new scenes.
To learn more about the aspects of carriage driving, continue reading at "Regency Redingote", a unique site featuring historical snippets of Regency England. There are several informative articles on carriage driving and horses, such as "Matching a Team — Color is Only the Beginning" and "The Acquisition and Handling of a Matched Team" .
Read more about my first-hand experiences of the Regency period here and here.
Sources:
Tips how to drive a carriage:
http://www.coachmansdelight.com
List of carriage driving instructors in UK:
http://www.britishdrivingsociety.co.uk/contacts/LHHI%20details/LHHI_details.htm
Address of Red House Stables & Carriage Museum:
Old Road, Darley Dale, Matlock, Derbyshire, DE4 2ER, phone +44 1629 733583