Regency Enthusiasts travelling in England shouldn't miss the Red House Stables & Carriage Museum, one of the best collections of original horse-drawn vehicles and equipment in Britain. You can even see the original carriage used in the TV series "Pride & Prejudice" with Colin Firth and Jennifer Ehle.
The Carriage Museum is located in Matlock, Derbyshire. Jane Austen mentions the village in her novel "Pride and Prejudice". Many attractions in the area feature in the famous Jane Austen movies and TV productions. The Carriage Museum's collection includes one of the very few surviving Hansom Cabs, a Stage Coach, a Royal Mail Coach and numerous other private and commercial vehicles. There also are uniforms of coachmen and historical harnesses on display.
If you are a fan of the Jane Austen movies, don't miss this carriage:
These are photos of the carriage used in the TV series "Pride and Prejudice" with Colin Firth and Jennifer Ehle. It was used to transport Elizabeth Bennett and Mr and Mrs Gardiner as well as other family members throughout the series. The carriage is a "Five Glass Landau". The name refers to the extra three windows that allow more light into the vehicle. Usually, landau carriages had two windows.
Special Treasures
Here is one of my favourite pieces of the collection. It's a booster. What was it used for?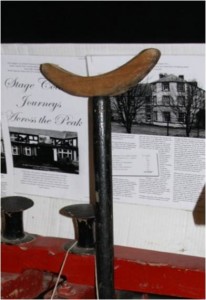 Some coaches and carriages were high up and the steps difficult to negotiate, especially for ladies wearing cumbersome skirts. As touching somebody's body was considered improper in the Regency era, the booster was employed to give extra assistance to climb up.
Sources
Red House Stables & Carriage Museum
Old Road, Darley Dale, Matlock, Derbyshire, DE4 2ER, phone +44 1629 733583