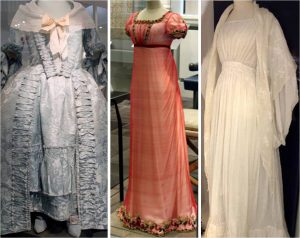 Women's gowns changed significantly throughout the Romantic Age. Until about 1780, France had been the 'Kingdom of fashion'. Everybody had copied French designs and styles. With the French Revolution and the rise of Napoleon to power, three things happened:
Aristocratic fashion with its excessive use of lace, brocade and silk fell out-of favour. Fashion adopted ideas of freedom, love of nature and early-democratic cultures such as Roman and Grecian antiquity.
French fashion leaders and their modistes fled from Paris to London. London became the new centre of fashion.
Napoleon's Continental System blocked England from its previous market places for cloth. England's search for new commercial partners led to the discovery of new fabrics for fashion. These allowed for new styles and cuts.
I have compiled a selection of photos of beautiful women's gowns of 1740 – 1825. Follow me to the world of ladies' fashion.
Aristocratic fashion (1740-1780)
This is the starting point: stunning gowns, expensive cloth, elaborate design. Fashion states the superiority and wealth of their owners: Those who wore such cloth were born to rule, not to work. However, paniers, hoops, corsets, and layers of fabric restricted their wearer's movements. When a lady walked or danced, she had to adjust her steps and posture to what her dress and underwear would allow.

Photos above from left to right:
A fabulous 1740ies mantua dress. It is the grandest style of a court gown with some drawbacks: To pass through a door, a lady had to go sideways.
A 1760ies gown with rich silver braides, layers of lace and lovely embroidery.
The back of a French-style 'sack-back gown' made of embroidered silk (1765-1770). The fabric was arranged in box pleats at the back. The pleats fell loose from the shoulder and often ended with a slight train. In the front, the gown was open, displaying a decorative stomacher and petticoat.
A playful and very femine robe à la française (1760 -1770), the epitome of a Rococo dress.
The influence of liberty (1785 – 1815)
With the ideas of democracy and freedom igniting Europe, fashion changed dramatically. As the style of the 'ancien regime' fell out of fashion, women adopted at first a style alluding to the country classes living close to nature. Later, a dress-style referring to Roman and Grecian togas, and thus to the early ideas of democracy, became fashioable. The fabric of choice was light cotton instead of heavy brocade and expensive silk. Gone were hoops, laces and corsets. As the waistline moved up and dresses clung loosely to the body, the female silhouette became lean and slender. The new dresses allowed women fast and free movement.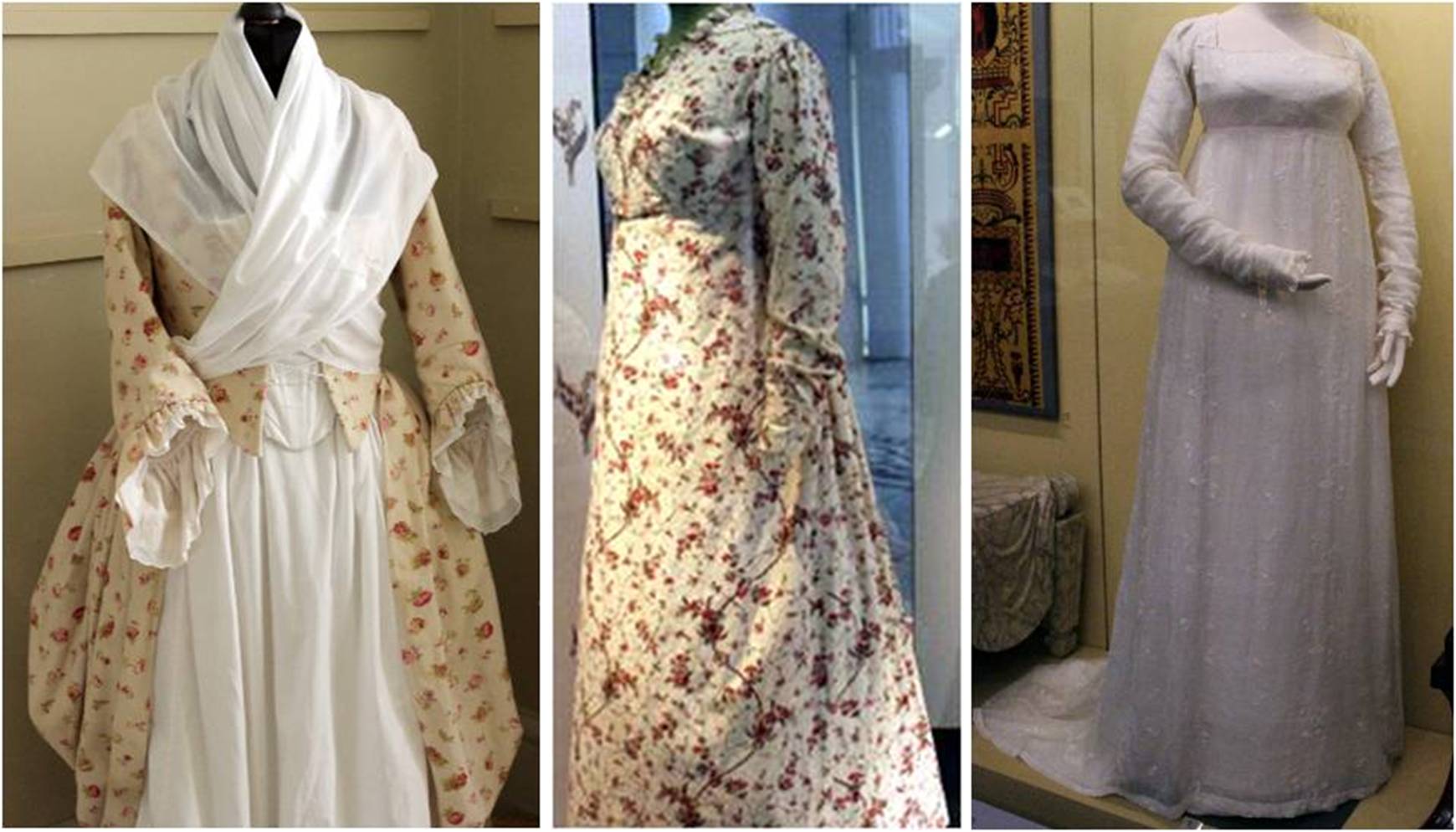 Photos above from left to right:
In the 1780ies, the robe à l'anglaise – English-style dress – was highly fashionable. It has an open robe consisting of a bodice cut in one piece with an overskirt that was parted to reveal a matching petticoat. It also featured a close-fitting back. The dress was often made of vibrant patterned cotton or chintz.
Typical cotton day dress from around 1800.
The Austenesque dress par excellence: white muslin gown with high waistline, ca. 1805. White muslin was worn as a dress for informal occasions, while silk was chosen for formal events.
Toward restauration (1815 – 1825)
The war with Napoleonic France ended in 1815 with the defeat of Napoleon at the Battle of Waterloo. The French King was restored to the throne. In England, republicanism and liberalism became negatively associated with the former enemy. Conservative ideas gained ground. Fashion reacted slightly: Though the female silhouette was still lean, the waistline moved down, décolletés moved up and the corset returned. Puff sleeves were en vogue, and lavish lace, braids and ornaments had a comeback.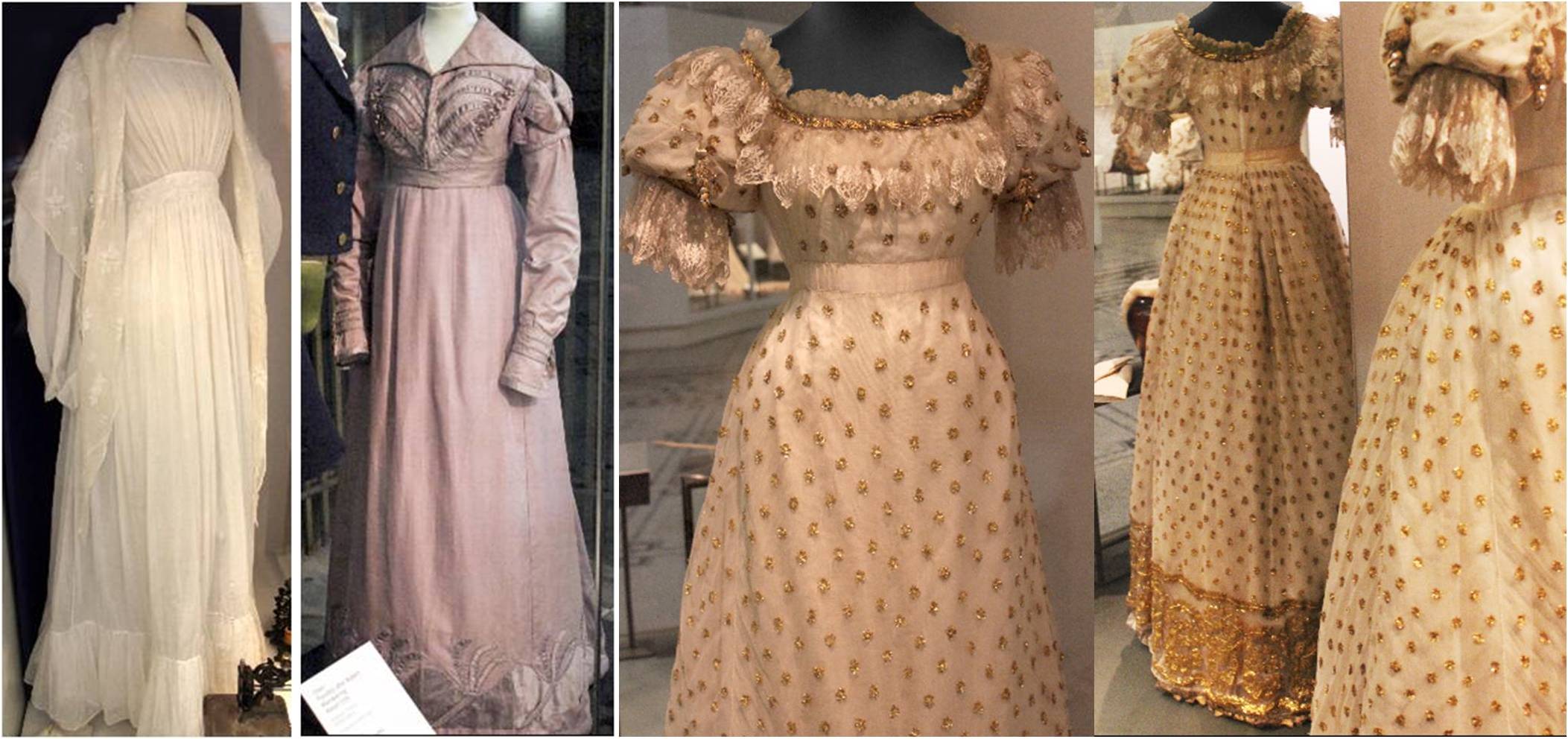 Photos above from left to right:
Beautiful cotton lawn dress (1825). Flounces (see bottom of the dress) became fashionable from 1820.
Walking dress and spencer with elaborate braids and puff sleeves, 1817-1820.
Gorgeous ball gown from 1825, lavishly decorated with gold threads and frills. Have a look at the rich embroiders at the hem.
Related posts
Sources
V & A Museum, Cromwell Rd, London SW7 2RL, UK
Fan Museum, 12 Crooms Hill, London SE10 8ER, UK
Science Museum, Exhibition Rd, London SW7 2DD, UK
Berrington Hall, Berrington, near Leominster HR6 0DW, UK
Osterley Park, Jersey Rd, Isleworth TW7 4RB, UK
Article by Anna M. Thane, author of the novel
"Von tadellosem Ruf" (http://amzn.to/2TXvrez)