The popular Christmas carol "Silent Night" (German: "Stille Nacht, heilige Nacht") is an Austrian carol from the years 1816 – 1818. The lyrics were written by Austrian assistant priest Josephus Franciscus Mohr, in the aftermath of the Napoleonic Wars. The music was composed in 1818 by Franz Xaver Gruber, an Austrian primary school teacher and church organist.
The carol was first performed on Christmas Eve of 1818. As the church organ had broken down, Gruber produced a melody with guitar arrangement for Mohr's lyrics. The two men sang "Stille Nacht" while Mohr played guitar and the choir repeated the last two lines of each verse.
A song becomes famous
"Silent Night" is one the most popular carols today, but it took the song several decades to become known in the world. Two travelling families of folk singers, the Strassers and the Rainers, included the tune in their repertoire from around Christmas 1819. Thus "Stille Nacht" was once performed for an audience that included Franz I of Austria and Alexander I of Russia. By the 1840s the song was well known in the German speaking countries, and allegedly a favourite of Frederick William IV of Prussia.
The first known performance of "Stille Nacht" in the United States took place in New York in 1839 – actually in German. It took some 24 years until an English version of the carol would be published. The "Silent Night" translation that is sung today in English is from either Jane Campbell or John Freeman Young. The English lyrics were published in 1863 — the year of Franz Gruber's death.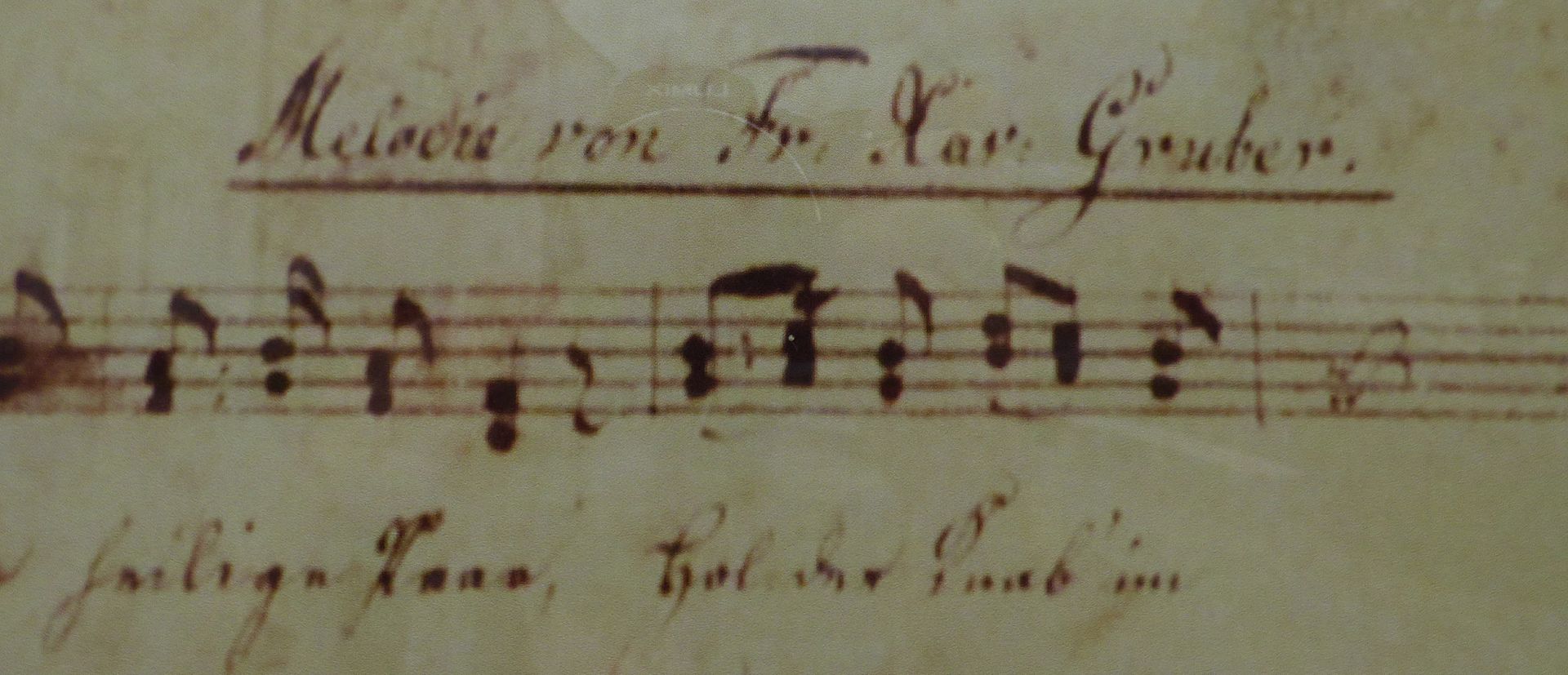 More about the creators of the carol
Mohr was a generous man who donated most of his salary to charity. He also created a fund for children from poor families to attend school, and he set up a system for the care of the elderly. He died in 1848, at the age of 55.
As a child, Gruber had shown a true gift for music, but his father vehemently opposed allowing the boy to take music lessons. A local school teacher gave Gruber free and secretive music lessons. Gruber received his first own instrument at the age of 11.  As a primary school teacher and church organist, he continued to compose additional arrangements of "Stille Nacht" as well as many other carols and masses, many of which are still in print and sung today in Austria.
Listen to a performance of the song in the style of 1818 here: https://www.youtube.com/watch?v=t_nYQzY9Ans
Here is a version from a sing-in in Philadelphia in 2018: https://youtu.be/ZTa2nUDMJYw
This one by the King's Singers is simply beautiful: https://www.youtube.com/watch?v=lLFUybscYvs
Sources
Stille Nacht / Silent Night: The True Story
Howard Culbertson, "The story behind the classic Christmas Carol "Silent Night"