Falconry is sooo Henry VIII, right? It is difficult to imagine any self-respecting Regency dandy with a bird of prey on his fist. It might ruin his perfectly cut jacket!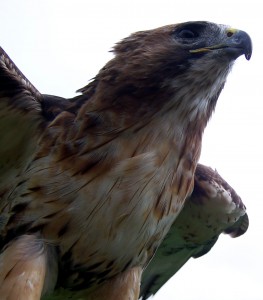 For sure, the noble art of falconry was not a typical sport in the Regency period. It had suffered in popularity ever since the Puritans had frowned upon it in the 17th century. Furthermore, modern weaponry had made it easier to hunt birds and small mammals with a gun than with birds of prey. But falconry hadn't died out.
If you have watched the 2008 adaptation of "Sense and Sensibility", you will remember that Colonel Brandon was portrayed as a gentleman who practiced falconry. Even if this is not in accordance with Jane Austen's novel, scriptwriter Andrew Davies may have chosen to do so because it allowed him to show that Colonel Brandon was a gentleman able to tame the wild and passionate (i.e. Marianne). But it is also true that falconry was revived in the late 18th century. The sport owes its survival in the Romantic age to a handful of gentlemen. They were fascinating characters, if not to say famed-famous. One of them used to live in a place the avid Austen fan knows as "Rosings Park" in the mini-series "Lost in Austen".

In the Georgian age, falconry – or hawking – was practiced in England only by a small group of gentlemen, and ladies as well.
The Famous Five Who Saved Falconry through the Romantic Age
Let me introduce you to 5 gentlemen who were the key figures of the exclusive group of falconers:
Colonel Thomas Thornton
Colonel Thomas Thornton (1757–1823) was deeply devoted to sports, gambling, wine and women. He raced with hounds and horses, hunted, fished, and was very partial to falconry. In 1772, he founded the club The Confederate Hawks of Great Britain ('the Falconer's Club'). The club soon had about 60 members.
His love for sports and hawking took Colonel Thornton to France and Scotland, and he published several books about his sporting tours, one of them with Rev. Mr Martin. Later, they fell out with each other about the price the Colonel had to pay to Mr Martin for arranging his papers. Mr Martin sued the Colonel for perjury. The famous lawyer William Garrow had to sort things out, and the charge of perjury was dismissed.
The Colonel bought an estate at Allerton Mauleverer from the Duke of York in 1798 (some sources claim he won it at cards) and named it "Thornville Royal". It is today known as Allerton Castle (aka "Rosings Park" in the mini-series "Lost in Austen"). The Colonel turned the estate into a sporting and wildlife park, complete with hawk-houses. The temple of victory, which had been built by one of the previous owners, was used to exercise his peregrines. However, he had to sell Thornville Royal in 1805 to settle his finances. His financial situation became tight again a few years later, so he left England for good in 1815 to live in France. Interestingly, he was still able to hire Chateau de Chambord (not exactly a small castle), to purchase an estate at Pont-sur-Seine and to set himself up as Prince de Chambord and Marquis de Pont.
As the Colonel was such a flamboyant character, you will come across many stories about his love life. He was married several times, but the sources vary about the brides' names, and he had at least one illegitimate child.
George Walpole
George Walpole, 3rd Earl of Orford (1730–1791) was an extravagant and eccentric character, but nevertheless a celebrated falconer. Together with Colonel Thornton, he revived falconry in England and introduced the "Dutch School of Falconry" with professional falconers from Holland, such as Jan Daams (see below). Lord Orford was the manager of the Falconers' Club until his death. He spent about 100 pounds on each of his birds of prey per annum, and each hawk had an attendant to take care of it. Even more, the birds were occasionally sent to the continent as Walpole believed it to be of a more congenial atmosphere during the time of molting.
Robert Wilson
Colonel Robert Wilson (later 9th Lord Berners) (1761-1838) became President of the Confederate Hawks of Great Britain in 1814. He built Falconer's Lodge, a tower in an Arabian-Gothic style, on his estate Didlington Hall. From the tower, the club used to fly falcons at herons. Falconer's Lodge was the centre of falconry in England from 1814 – 1838. Colonel Wilson annually gave several flight shows with hawks at Newmarket.
Jan Daams
Jan Daams (1744 – 1829) was a Dutch falconer employed by Lord Orford (from 1772) and Colonel Wilson (from 1791). Daams influenced falconry in England for nearly 4 decades. His employment in England ended rather dramatically: Daams had been in Holland to procure hawks for Colonel Wilson in 1808 and was on his return trip to England, when he was arrested in the name of Louis Bonaparte, then king of Holland. Louis Bonaparte made Jan Daams reorganise the mews at Het Loo Palace. After Louis abdicated in 1810, Napoleon summoned Daams to take charge of the hawking establishment at Versailles. Daams had to work there until 1813.
Sir John Saunders Sebright
Sir John Saunders Sebright, 7th Baronet (1767 – 1846) published "Observations upon Hawking" in 1826. In this book, he described his methods of training birds for falconry. Sir John must have been a remarkably eccentric character, being described as a "quirky, opinionated, blunt, irascible man, fond of the sound of his own voice" and "clever, very vain, very odd, full of fancies and paradoxes". As a politician, he tended towards the Whigs, but liked to claim he was independent from any party. He supported religious toleration, parliamentary reform and the abolition of slavery, and one of his maxims was that no violence should ever be used to animals. Though he was kind to his animals, he treated his poor children violently, noted writer Maria Edgeworth on a visit to his home. Sir John employed the Dutch falconer Jan Peels, a pupil of Jan Daams.

As I feel irresistibly drawn to experience the Regency period, I tried falconry myself when I visited England last year. I will tell you about in one of the next posts, so drop by again.
Sources
The Gentleman's Magazine and Historical Chronicle. From January to June 1823, Volume XCIII, Part the First; by Sylvanus Urban, Gent.; London, printed by John Nichols and son.
The Monthly Magazine, Or, British Register, January to June, Vol XXG; London, Sherwood, Gelber and Piper: 1838.
The Sporting Magazine, or monthly calendar of the transaction of the turf, the chase and every other diversion interesting to the man of pleasure, enterprise and spirit, For October 1802; London, printed for J. Wheble.
Cox, Harding / Lascelles, Gerald: Coursing and Falconry; London, Longmans, Green, and CO.: 1892.
Stephen, Leslie / Lee, Sidney (Editors): Dictionary of National Biography, volume 56.djvu/314. The first edition was published in 63 volumes from 1885 through 1900 in London by Smith, Elder, and Co.
http://www.allertoncastle.co.uk/history.html
http://www.peregrinefund.org/colonel-thornton