Equipment
Brainwork
Sample Starter Kit
Little Extras
Result
Going to a ball set in Regency England is a great experience. There is however one minor problem: you can't go there wearing jeans. A ball gown it must be. But what if you don't know how to sew, are on a tight budget or hyperventilate at the sight of a costume pattern (I do)?
Here is your solution: Don't sew, but assemble your ball gown.
Equipment
You need:
Your cupboard: Browse it for anything that can be turned into a ball gown: a blouse, a dress, a skirt, a scarf, something made of lace, …  You will be surprised about how much you can use.
Ribbons for decorating gift wraps. There are always some leftovers from last year's Christmas.
Your toolbox for creative odds and ends, alternatively a shop for creative supply
A flea market
Brainwork

Before you rush into action, think about what matters in ball gown fashion in 1820:
The gowns have a high waist.
A train is the dernier cri (the longer, the better).
You always wear gloves at a ball.
Shoes for a ball were made of satin or silk.
A head-dress of feathers is a sign of wealth and taste.
No hooped skirt, please.
As you will use modern clothes and some odds and ends, there is only a small chance that your ball gown will win the "Most Historically Correct Regency Costume Award". But it will be correct enough to embarrass neither you nor the other participants. Plus: you won't have to spend a lot of money on it. Plus: you won't have to sew (not much, at least).
Sample Starter Kit
This is my starter kit for assembling a ball gown: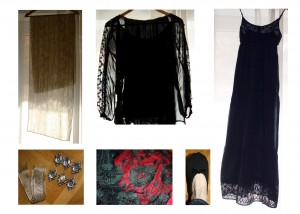 A long cotton beach dress.
A gold-coloured scarf from I-don't-now-when.
A layered blouse with lace sleeves (summer sale).
Christmas ribbon and fake decorative gems.
Black lace (found at sale in the textile department. Big hit!).
Cheap cotton slippers (supermarket).
By itself, none of the pieces seem to fit for a ball gown. But used wisely, it won't turn out too badly.
Going "in Character"
Once you have made up your mind about your ball gown, it's time to think about the character that matches the outfit. We are taking about a little bit of role play here. The character you create for yourself should:
fit to your gown,
fit to your age,
allow you to be active and enjoy the event. You'd better not choose to be a governess. Governesses don't get much fun at a ball.
My Starter Kit inspired me to become a fabulous rich, eccentric widow with a special taste for travelling to exotic countries.
If you want to do the role play perfectly, you can create a biography for your character. You can read here what to consider, and here is a free download for handling the character's data.
The Little Extras
Once I had done a rough fashion sketch and decided for the role to adopt at the ball, I bought some extras for the finishing touch:
A fake diamond necklace (flea market)
Three large white feathers (shop for creative supply)
Gloves (shop for fancy dress costumes)
Fan (internet shop)
The head dress is best made of 2 – 3 feathers. One feather looks rather lonely (and slightly insipid), whereas 2 or 3 feathers provide grandeur. Carefully stitch the feathers together with a transparent thread. Twist your hair into a knot at the back of your head. Then simply put the feathers in the back of knot. They will stay put in long, thick hair without any additional clips.
As mentioned above, shoes for a ball were made of satin or silk. On the photo below, you see a step-by-step instruction on how to turn dowdy cotton slippers into cute ball slippers. Ifixed the ribbons and the fake gems with a transparent thread.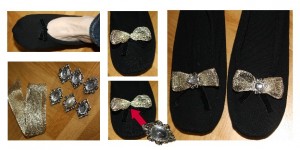 Bringing It All Together
There is no getting around some sewing when you finally bring your equipment together. In our sample, the train and the golden ribbons have to be fixed to the gown. I am notoriously bad with needle and thread, but I was very lucky: My best friend kindly agreed to do this for me. It was a huge relief (I made the shoes, though!).
My friend's task was not easy, as I had asked her to fix the train and the golden ribbons in a way that still allows me to put on the gown without help. She came up with a clever solution: First, she sewed the ribbon to the collar of the blouse. Then, she fixed the black lace in gentle pleats to the back of the blouse's collar.  Finding the Christmas ribbons to be rather delicate, she stitched them on black seam tape and fixed black elastic tape and a button. As a result, the golden ribbons at my arms and my chest are not fixed at the gown at all. I simply apply them after I have put on the gown. As the ribbons are custom-made, they stay in place.
As an extra, my friend also made a cute reticule from the leftover lace and a discarded shirt of her husband's.
The Result
Voilà, my ball gown for a 1820's ball: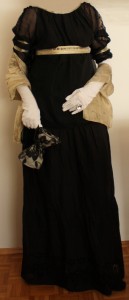 As you see, you neither need a large budget nor have to be a accomplished needle woman to make yourself a nice ball gown.
Enjoy assembling your own ball gown and be ready for your great ball room experience!
Anna M. Thane
Read more about Old English Country Dance and going to a ball in the Regency period here and here.
Visit the exhibtion An Empire-style ball gown based on 21st century clothes.
Go to the main page of the Museum of Creativity.
Go to the blog.