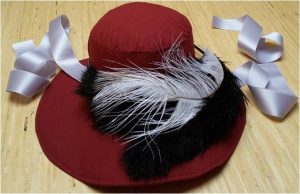 I have a great treat waiting for me this year: "Picnic with Emma", a historical dance. The theme is of course based on "Emma", the novel by Jane Austen, published in 1815. It refers to the picnic at Box Hill that heroine Emma attends with her friends and neighbours:
"They had a very fine day for Box Hill … Nothing was wanting but to be happy when they got there. Seven miles were travelled in expectation of enjoyment, and every body had a burst of admiration on first arriving."
Picnics first evolved in early nineteenth century Britain. They were regarded as a fashionable social entertainment, and each participant contributed a share of the provisions, to be enjoyed together.
Though a picnic was the pleasurable pursuit of the leisured people, it means that the participants were dressed for an outdoor activity not for an elaborate indoors assembly as a ball. Ladies would wear walking dresses and gentlemen would be seen in riding habits.
No ball gowns for the historical dance! Bad news for my red lace empire-style dress: It will have to stay at home. So I need a new costume, fitting the period and an Austenque picnic. Making one will be fun!
 What to wear for a picnic in 1815?
At the turn of century, the slim silhouette with long skirts and a short Spencer jacket was predominant in women's fashion. The fabric of choice was light cotton. After the Battle of Waterloo, military ornaments became fashionable.
When being outside, wearing a hat was indispensible as it would prevent the teint from being tanned by the sun. A fair complexion was considered ladylike, whereas a suntanned skin was the mark of the lower classes that worked outside. A bonnet made of cotton and straw would be a fashionable headwear around 1815.
Getting ready for the year 1815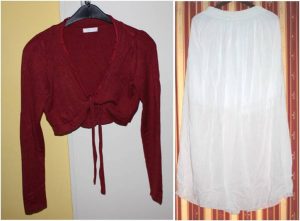 I can't spend much money on lavish textiles, so I usually assemble the dress from my wardrobe and only add some extras for the historical touch.
Searching wardrobe and cupboards brought to light a white underskirt, and a red jersey bolero long out of fashion.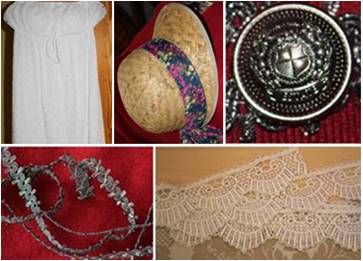 Thus, I still needed to buy a cotton dress, a straw hat shaped like a bonnet, and lace, braids, buttons and red cloth.
Transforming all components into a credible walking dress would involve some sewing. The problem is: I can't sew at all. So I called my friend Lucia, wonder woman with sewing machine. Together, we took on the challenge of making me fit for an Austenesque picnic.
Visit the latest exhibition at the Museum of Creativity to see how Lucia turned modern clothes into a 1815 walking dress. Click here to directly enter "How to Dress for a Picnic with Emma".

Related topics