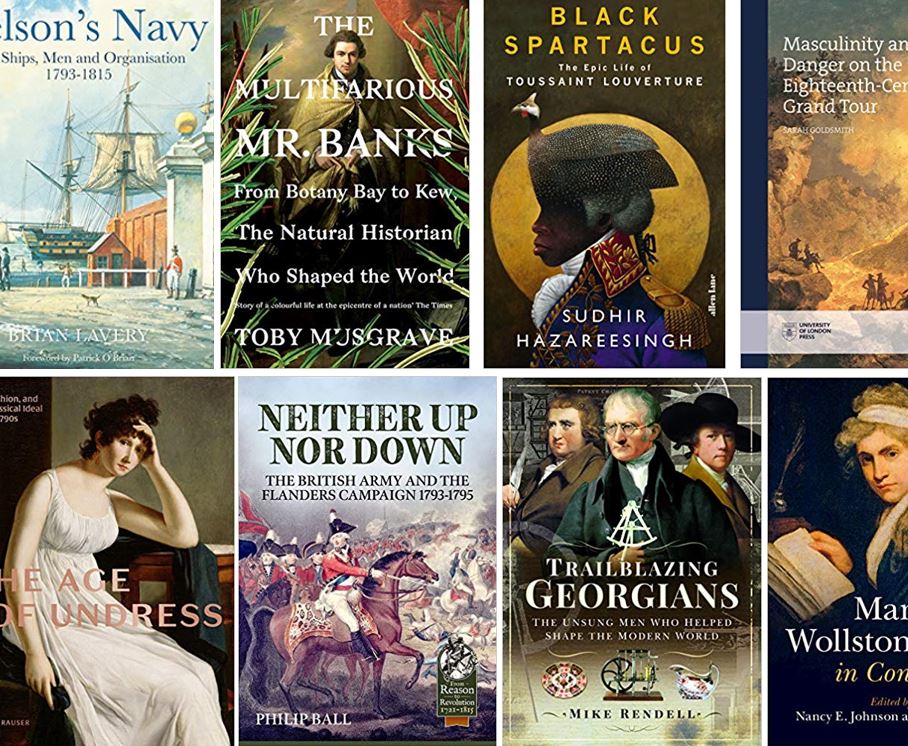 The year 2020 brings anniversaries of iconic persons of the Regency period. We will, e.g., remember the 200th anniversary of the death of the scientist Jospeh Banks and the 250th anniversary of the birth of the poet William Wordsworth. Accordingly, publishers will regale us with new biographies. But there is more to look forward to in 2020. Have a look at the non-fictions books about the Georgian Age already scheduled for 2020:
A New World Begins: The History of the French Revolution (Jan 2020) by Jeremy D. Popkin
Jane Austen: Inspiring Lives (Jan 2020) by Lauren Nixon
Nelson's Navy: The Ships, Men and Organisation, 1793 – 1815 (Jan 2020) by Brian Lavery
Technology in the Industrial Revolution (New Approaches to the History of Science and Medicine) (Jan 2020) by Barbara Hahn
The Politics of Hunger: Protest, Poverty and Policy in England, C. 1750-C. 1840 (Jan 2020) by Carl Griffin
Forbidden Wife: The Life and Trials of Lady Augusta Murray (Feb 2020) by Julia Abel Smith
Neither Up Nor Down: The British Army and the Campaign in Flanders 1793-95 (From Reason to Revolution) (Feb 2020) by Philip Ball
Mary Wollstonecraft in Context (Literature in Context) (Feb 2020) by Nancy E. Johnson, Paul Keen
The Age of Undress: Art, Fashion, and the Classical Ideal in the 1790s (Mar 2020) by Amelia Rauser
Unfelt (Mar 2020) by James Noggle
Black Spartacus: The Epic Life of Toussaint Louverture (Apr 2020) by Sudhir Hazareesingh
A Pocket Dictionary of the Vulgar Tongue (Apr 2020) by Captain Francis Grose, Steve Mockus
Radical Wordsworth: The Poet Who Changed the World (Apr 2020) by Jonathan Bate
The Multifarious Mr. Banks: From Botany Bay to Kew, The Natural Historian Who Shaped the World (Apr 2020) by Toby Musgrave
Planting the World: Joseph Banks and his Collectors: An Adventurous History of Botany (May 2020) by Jordan Goodman
British Art and the East India Company (Worlds of the East India Company) (May 2020) by Geoff Quilley
The Closet: The Eighteenth-Century Architecture of Intimacy (Jun 2020) by Danielle Bobke
Masculinity and Danger on the Eighteenth-Century Grand Tour (New Historical Perspectives) (Jul 2020) by Sarah Goldsmith
George II (Penguin Monarchs): Not Just a British Monarch (Sep 2020) by Norman Davies
Maria Edgeworth (Sep 2020) by Clíona Ó Gallchoir

Do you want to be up-to date about new non-fiction book releases about the Georgian Age? Check out my monthly list here: http://regency-explorer.net/new-releases/.