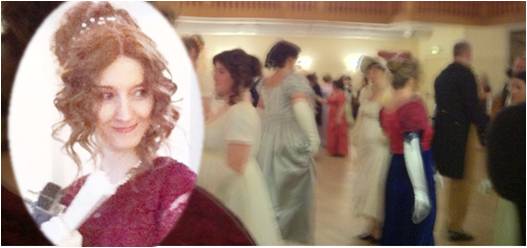 Dear Regency Enthusiast
Schedule you Regency year 2017! There are plenty of events related to the Regency period and the Georgian Age to enjoy. I have compiled a selection of 28 events, from architecture to theatre, announced in Europe, Australia, Canada and the USA.
As this year marks the 200th anniversary of Jane Austen's death, Janeites will be especially busy. I have created an extra list for you for a quick and easy overview. 
13 Events about the Regency Period and the Georgian Age
Exhibition: Enlightened Princesses: Caroline, Augusta, Charlotte, and the Shaping of the Modern World
February 2 – April 30, 2017
Yale Center for British Art, 1080 Chapel Street, New Haven, Connecticut
http://britishart.yale.edu/exhibitions/enlightened-princesses-caroline-augusta-charlotte-and-shaping-modern-world
Conference: Writing Art: Women Writers as Art Critics in the Long Eighteenth Century
25 February 2017
Chawton House Library, Chawton, Alton, Hampshire, GU34 1SJ, UK
http://www.chawtonhouse.org/?conferences_seminars=writing-art-women-writers-as-art-critics-in-the-long-eighteenth-century
David Garrick: Book Collector (Display)
Until 26 February 2017
Victoria & Albert Museum, Cromwell Road, South Kensington, London, SW7 2RL, UK
http://www.vam.ac.uk/blog/tales-archives/new-display-opens-david-garrick-book-collector
Robert Adam's London
Until 11 March 2017
Sir John Soane's Museum, 13 Lincoln's Inn Fields, London, WC2A 3BP, UK
http://www.soane.org/whats-on
Exhibition: Constable and Brighton
8 April 2017 to 8 October 2017
Brighton Museum, Royal Pavilion Gardens, Brighton, UK
http://brightonmuseums.org.uk/brighton/exhibitions-displays/coming-soon/constable-and-brighton/
Emma Hamilton: Seduction and Celebrity at National Maritime Museum
Until 17 April 2017
National Maritime Museum, Romney Road, Greenwich, London, SE10 9NF, UK
http://www.rmg.co.uk/see-do/emma-hamilton-seduction-and-celebrity
Exhibition: Visions of the Royal Pavilion Estate
14 March 2017 to 3 Sept 2017
Prints & Drawings Gallery, Royal Pavilion Gardens, Brighton, UK
http://brightonmuseums.org.uk/brighton/exhibitions-displays/coming-soon/visions-of-the-royal-pavilion-estate/
Grand Regency Ball
(meet me there)
22 April 2017
Ansbach /Germany
http://www.jane-austen-dances.de/austen-1e.html
Empire-Regency-Ball
6 May 2017
Schloss Friedrichsfelde, Berlin / Germany
https://earlydance.org/node/15682/delta/0
Exhibition: Enlightened Princesses: Caroline, Augusta, Charlotte, and the Shaping of the Modern World
June 22 to November 12, 2017
Kensington Palace, Kensington Gardens, London W8 4PX, London, UK
Grand Napoleonic Ball and Weekend in Florence
9 June – 11 June 2017
Florence / Italy
http://www.florencecostumes.com/up-coming-events.php
Historical weekend at the Battlefield of Waterloo
17 June – 18 June 2017
1410 Waterloo, Belgium
http://www.opt.be/informations/events-waterloo-historical-weekend-at-the-battlefield-of-waterloo/en/E/59820.html
Dance & Music Summer School
6 July – 13 August 2017
Stonyhurst College, Clitheroe, Lancashire, BB7 9PZ, UK
http://historicaldance.org.uk/summerschool/year2017
The Stamford Georgian Festival
21 September – 24 September 2017
Stamford, UK
http://www.stamfordgeorgianfestival.co.uk/
16 Events related to Jane Austen
Theatre: Mr Darcy Loses the Plot
January to March 2017
A light-hearted re-writing of Pride and Prejudice. Jane Austen sits writing her novel when the door squeaks and a visitor approaches: It's Mr Darcy. He starts to embroider his own storyline …
Where: Touring the UK
http://www.lipservicetheatre.co.uk/home
Pride and Prejudice Ball
25 March 2017
The Fairmont Hotel Macdonald, 10065 100 St NW, Edmonton, AB T5J 0N6, Canada
https://www.eventbrite.ca/e/pride-and-prejudice-ball-regency-tickets-28994290704
Talk/Lecture: Rethinking Sanditon: An Afternoon with Austen's Last Work
11 March 2017
Chawton House Library, Chawton, Alton, Hampshire, GU34 1SJ, UK
http://www.chawtonhouse.org/?page_id=58492
 Talk/Lecture: 'Such classic and humanizing amusements': private theatricals in Jane Austen's world (Gillian Russell)
16 March 2017
Chawton House Library, Chawton, Alton, Hampshire, GU34 1SJ, UK
http://www.chawtonhouse.org/?page_id=58492
Conference: Jane Austen & the Arts
23 March – 25 March 2017
State University of New York, 101 Broad St, Plattsburgh, NY 12901, USA
https://janeaustenandthearts.com/about/
Conference: Sanditon: 200 Years
29 March – 31 March 2017
Trinity College, Cambridge, UK
https://sanditon200years.wordpress.com/
Jane Austen Festival Australia
21 April – 23 April 2017
Albert Hall, Canberra, Australia
http://janeaustenfestival.com/
Jane Austen Regency Week
15 – 25 June 2017
in Alton & Chawton, Hampshire, UK
http://www.janeaustenregencyweek.co.uk/
Exhibition: Jane Austen by the Sea
17 June 2017 to 8 January 2018
Prince Regent Gallery, 4/5 Pavilion Buildings, Brighton, UK
http://brightonmuseums.org.uk/royalpavilion/whattosee/jane-austen-by-the-sea/
Talk/Lecture: Comic Muse: How Jane Austen loved the theatre and why she works in Hollywood (Paula Byrne)
21 June 2017
Chawton House Library, Chawton, Alton, Hampshire, GU34 1SJ, UK
http://www.chawtonhouse.org/?page_id=58492
Workshop: Jane Austen in Chawton
7 July 2017
Chawton House Library, Chawton, Alton, Hampshire, GU34 1SJ, UK
http://www.chawtonhouse.org/?conferences_seminars=jane-austen-in-chawton
Conference: Reputations, Legacies, Futures: Jane Austen, Germaine de Staël and their contemporaries, 1817-2017
13 – 15 July 2017
Chawton House Library, Chawton, Alton, Hampshire, GU34 1SJ, UK
http://www.chawtonhouse.org/?conferences_seminars=reputations-legacies-futures-jane-austen-germaine-de-stael-and-their-contemporaries-1817-2017
The 9th Annual Jane Austen Festival, Louisville, Kentucky
14 July – 16 July 2017
Louisville, Kentucky, USA
http://jasnalouisville.com/2016-jane-austen-festival
The Grand Jane Austen Ball, 2017
28 July – 30th July 2017
Winchester, UK
http://www.hrd.org.uk/ball2017Winchester/savethedate.php
Fickle Fortunes: Jane Austen and Germaine de Staël
12 June – 24 September 2017
Chawton House Library, Chawton, Alton, Hampshire, GU34 1SJ, UK
http://www.chawtonhouse.org/?page_id=58458
The 17th Jane Austen Festival in Bath
8 September – 17 September 2017
Bath, UK
http://www.janeaustenfestivalbath.co.uk/other-information/2015-dates/