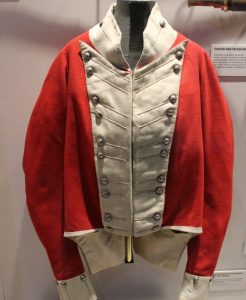 The uniform dress for the army became the norm in the mid-17th century. Styles and decoration depended on status and image of the troop, and the wearer of the uniform. In contrast to today's camouflage, uniforms of the 18th and 19th centuries displayed bright and contrasting colours. The idea was to make it easier to distinguish units in battle, and to enable commanders to spot their troops on battlefields that often were obscured by smoke from cannons.
Uniforms for lower ranks
In the 18th century, uniforms for the lower ranks were often mass-produced. Uniforms usually had standard sizes and designs to make it easier to replace them on campaign. In Britain, troops were equipped with new uniforms once a year.