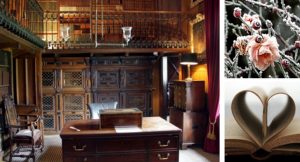 Have you bought all Christmas presents already? If not, the new non-fiction releases of December 2017 might help you to finalize this task. The perfect gift for the Jane Austen fan in your family might be The Language of Jane Austen by Joe Bray, and those partial to dance could well be interested in Theory and Practice in Eighteenth-Century Dance by Tilden Russell. And don't forget to get a gift for yourself.
New releases about the Romantic Age scheduled for December 2017
American Aristocrats: A Family, a Fortune, and the Making of American Capitalism by Harry S. Stout
British Romanticism, Climate Change, and the Anthropocene: Writing Tambora by David Higgins
Byron's Nature: A Romantic Vision of Cultural Ecology by J. Andrew Hubbell
Capital Punishment and the Criminal Corpse in Scotland, 1740–1834 (Palgrave Historical Studies in the Criminal Corpse and its Afterlife) by Rachel E. Bennett
Charles Dickens and His Publishers by Robert L. Patten
Compound Histories (Cultural Dynamics of Science) by Lissa Roberts and Simon Werrett
Edmund Burke as Historian: War, Order and Civilisation by Sora Sato
Essays in Eighteenth-Century English Literature (Princeton Series of Collected Essays) by Louis A. Landa
Fame and Fortune: Sir John Hill and London Life in the 1750s by Clare Brant and George Rousseau
George I (Penguin Monarchs): The Lucky King by Tim Blanning
Jane Austen's Geographies (Routledge Studies in Nineteenth Century Literature) by Robert Clark
Jane Austen and Masculinity (Transits: Literature, Thought & Culture, 1650-1850) by Michael Kramp
John Keats and the Medical Imagination (Palgrave Studies in Literature, Science and Medicine) by Nicholas Roe
Marking Time: Romanticism and Evolution by Joel Faflak
Napoleon at Dresden: The Battles of August 1813 by George Nafziger
Natter's Museum Britannicum: British gem collections and collectors of the mid-eighteenth century by John Boardman and Julia Kagan
Punishing the Criminal Corpse, 1700-1840: Aggravated Forms of the Death Penalty in England (Palgrave Historical Studies in the Criminal Corpse and its Afterlife) by Peter King
Reading Jane Austen (Reading Writers and their Work) by Jenny Davidson
Sentiments of a British-American Woman: Esther Deberdt Reed and the American Revolution by Owen S. Ireland
Tempesta: Stormy Music in the Eighteenth Century by Clive McClelland
The Eighteenth-Century Fortepiano Grand and Its Patrons: From Scarlatti to Beethoven by Eva Badura-Skoda
The Enlightened Mr. Parkinson: The Pioneering Life of a Forgotten Surgeon by Cherry Lewis
The Female Philosopher and Her Afterlives: Mary Wollstonecraft, the British Novel, and the Transformations of Feminism, 1796-1811 (Palgrave Studies in … Romanticism and Cultures of Print) by Deborah Weiss
The Invention of Northern Aesthetics in 18th-Century English Literature by Yvonne Bezrucka
The Language of Jane Austen (Language, Style and Literature) by Joe Bray
The Romantic Poetry Handbook (Wiley Blackwell Literature Handbooks) by Michael O′Neill and Madeleine Callaghan
Theory and Practice in Eighteenth-Century Dance: The German-French Connection (Studies in Seventeenth- and Eighteenth- Century Art and Culture) by Tilden Russell
The Strange Case of the Broad Street Pump: John Snow and the Mystery of Cholera by Sandra Hempel
Translating the World: Toward a New History of German Literature Around 1800 (Max Kade German-American Research Institute) by Birgit Tautz
Check the list of new releases in 2017 here.