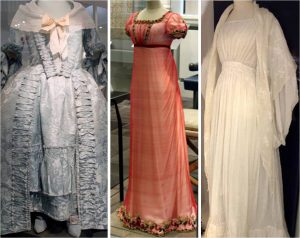 Women's gowns changed significantly throughout the Romantic Age. Until about 1780, France had been the 'Kingdom of fashion'. Everybody had copied French designs and styles. With the French Revolution and the rise of Napoleon to power, three things happened:
Aristocratic fashion with its excessive use of lace, brocade and silk fell out-of favour. Fashion adopted ideas of freedom, love of nature and early-democratic cultures such as Roman and Grecian antiquity.
French fashion leaders and their modistes fled from Paris to London. London became the new centre of fashion.
Napoleon's Continental System blocked England from its previous market places for cloth. England's search for new commercial partners led to the discovery of new fabrics for fashion. These allowed for new styles and cuts.
I have compiled a selection of photos of beautiful women's gowns of 1740 – 1825. Follow me to the world of ladies' fashion. Continue reading →