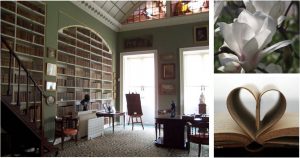 Each month at Regency Explorer, I provide Regency Enthusiasts with a summary of new non-fiction books about the Georgian Age. Waterloo and Jane Austen are prevalent topics this month, but if you are interested in fashion, poetry and science, read on, there might be new reads for you.
Which is your favourite new release of April? Choose from 39 titles:
Alexander Hamilton's Revolution: His Vital Role as Washington's Chief of Staff by Phillip Thomas Tucker
Beyond Bach: Music and Everyday Life in the Eighteenth Century by Andrew Talle
Brave as A Lion: The Life and Times of Field Marshal Hugh Gough, 1st Viscount Gough by Christopher Brice
Coulomb and the Evolution of Physics and Engineering in Eighteenth-Century France (Princeton Legacy Library) by C. Stewart Gillmor
Cul De SAC: Patrimony, Capitalism, and Slavery in French Saint-Domingue by Paul Cheney
Eighteenth-Century Women Artists: Their Trials, Tribulations and Triumphs by Caroline Chapman
Eyewitness Views: Making History in Eighteenth-Century Europe by Peter Hjorn Kerber
Far Distant Ships: The Blockade of Brest 1793-1815 (Reason to Revolution) by Quintin Barry
George Washington: A Man of Action (Word Portraits of America's Founders) by John P Kaminski
Gilded Interiors: Parisian Luxury and the Antique by Helen Jacobsen
Grouchy's Waterloo: The Battles of Ligny and Wavre by Andrew Field
House Style: Five Centuries of Fashion at Chatsworth, Home to the Devonshires by Duke of Devonshire, Countess of Burlington
Imperial Bayonets: Tactics of the Napoleonic Battery, Battalion and Brigade as Found in Contemporary Regulations by George Nafziger
Jane Austen : Biographie (French) by Catherine Rihoit
Jane Austen – The Life and Times of the Woman Behind the Books by Diana White
John Keats: Reimagining History by William A. Ulmer
Lighter than Air: Sophie Blanchard, the First Woman Pilot by Matthew Clark Smith, Matt Tavares
Literature, Electricity and Politics 1740-1840: 'Electrick Communication Every Where' (Palgrave Studies in Literature, Science and Medicine) by Mary Fairclough
Mad, Bad and Dangerous to Know: The Extraordinary Exploits of the British and European Aristocracy by Karl Shaw
Morpeth Electoral Correspondence, 1766-1776: The Struggle Between the "Sons of Liberty" and the Earl of Carlisle (Publications of the Surtees Society) by Joseph Fewster
Music in the London Theatre from Purcell to Handel by Colin Timms, Bruce Wood
Nederland onder Napoleon: Partijstrijd en natievorming tussen 1801-1813 (Dutch) by Bart Verheijen
Pauper Policies: Poor Law Practice in England, 1780-1850 by Samantha A Shave
Pliable Pupils and Sufficient Self-directors: Narratives of Female Education by Five British Women Writers, 1778-1814 by Barnita Bagchi
Reading the Eighteenth-Century Novel by David H. Richter
Resolution: Two Brothers. A Nation in Crisis. A World at War by David Rutland, Emma Ellis
Revolutionary Europe 1780-1850 by Jonathan Sperber
Romantic Norths: Anglo-Nordic Exchanges, 1770-1842 by Cian Duffy
Selected Letters by Horace Walpole, William Hadley, Stephen Clarke
Sound Knowledge: Music and Science in London, 1789-1851 by James Davies, Ellen Lockhart
Teenage Writings (Oxford World's Classics) by Jane Austen, Kathryn Sutherland, Freya Johnston
The Business of Satirical Prints in Late-Georgian England (Palgrave Studies in the History of the Media) by James Baker
The Enlightened Mr. Parkinson: The Pioneering Life of a Forgotten English Surgeon by Cherry Lewis
The New Map of Empire: How Britain Imagined America Before Independence by S. Max Edelson
The Power of Objects in Eighteenth-Century British America (Published for the Omohundro Institute of Early American History and Culture, Williamsburg, Virginia) by Jennifer van Horn
Waterloo: The Campaign of 1815: From Elba to Ligny and Quatre Bras Volume I by John Hussey
Waterloo Messenger: The Life of Henry Percy, Peninsular Soldier and French Prisoner of War by William Mahon
What Regency Women Did for Us by Rachel Knowles
1805 Austerlitz: Napoleon and the Destruction of the Third Coalition by Robert Goetz
Click here for a list of new-releases about the Georgian Age from April 2016 to April 2017.
My choice:
Eighteenth-Century Women Artists: Their Trials, Tribulations and Triumphs by Caroline Chapman
From the blurb:
"Caroline Chapman examines the careers and working lives of celebrated artists like Angelica Kauffman and Elisabeth Vigée Le Brun as well as the equally interesting work of artists who have now mostly been forgotten. In addition to discussing their varied artworks, Chapman considers artists' studios, the functioning of the print market, how art was sold, the role of patrons, and the rise of the lady amateur."
As an admirer of Angelica Kaufman's art, "Eighteenth-Century Women Artists: Their Trials, Tribulations and Triumphs" is a must-have for me. Additionally, it is intriguing to learn more about the way artists worked and how they sold their art in the 18th century.
Caroline Chapman's work includes: "John and Josephine: the Creation of the Bowes Museum", "Battles & Weapons: Exploring History Through Art" and "Elizabeth and Georgiana: The Two Loves of the Duke of Devonshire".