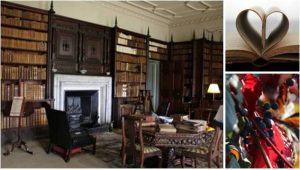 Would you love to learn more about Jane Austen's transatlantic sister ? Do you have a special interest in masculinity, militarism and eighteenth-century culture? Would you like to know which is Peter Ackroyd's latest work? Or can't you get enough of the birth of the Industrial Revolution during 1700 – 1825?
Here are the latest non-fiction releases for you, all scheduled for October:
After Marriage in the Long Eighteenth Century: Literature, Law and Society by Jenny DiPlacidi, Karl Leydecker
A History of Eighteenth-Century British Literature (Blackwell History of Literature) by John Richetti
Annotation in Eighteenth-Century Poetry (Studies in Text & Print Culture) by Michael Edson
A Revolution of Feeling: The Decade that Forged the Modern Mind by Rachel Hewitt
A Scot's Grey at Waterloo: The Remarkable Story of Sergeant William Clarke by Gareth Glover
Bristol from Below: Law, Authority and Protest in a Georgian City (28) (Studies in Early Modern Cultural, Political and Social History) by Steve Poole, Nicholas Rogers
Britain and Its Internal Others, 1750-1800: Under Rule of Law (Studies in Imperialism) by Dana Y Rabin
Britannia's Auxiliaries: Continental Europeans and the British Empire, 1740-1800 by Stephen Conway
Call of Empire: From the Highlands to Hindostan by Charles Baillie, Alexander Charles Baillie
Consumptive Chic by Carolyn A. Day
Edmund Burke as Historian: War, Order and Civilisation by Sora Sato
Edmund Spenser and the Eighteenth-Century Book: Volume 1 by Hazel Wilkinson
Eighteenth-Century Manners of Reading: Print Culture and Popular Instruction in the Anglophone Atlantic World by Eve TavorBannet
Freedom's Debtors: British Antislavery in Sierra Leone in the Age of Revolution (The Lewis Walpole Series in Eighteenth-Century Culture and History) by Padraic X. Scanlan
Jane Austen's Transatlantic Sister: The Life and Letters of Fanny Palmer Austen by Sheila Johnson Kindred
John Baskerville: Art and Industry in the Enlightenment (Eighteenth Century Worlds) by Caroline Archer-Parre, Malcolm Dick
Joseph Banks' Florilegium: Botanical Treasures from Cook's First Voyage by David Mabberley, Mel Gooding, Joe Studholme
Kinderstube des Kapitalismus: Monetaere Erziehung im 18. und 19. Jahrhundert (Veroeffentlichungendes Deutschen Historischen Instituts London) (German) by Sandra Ma
Masculinity, Militarism and Eighteenth-Century Culture, 1689–1815 by Julia Banister
Napoléon intime : Les trésors de la collection Bruno Ledoux (French) by Xavier Aiolfi
Napoleon's Paper Kingdom: The Life and Death of Westphalia, 1807-1813 by Sam A. Mustafa
Queens of Georgian Britain by Catherine Curzon
Reading Austen in America by Juliette Wells
Revolution: The History of England from the Battle of the Boyne to the Battle of Waterloo: 4 by Peter Ackroyd
Romantic Childhood, Romantic Heirs: Reproduction and Retrospection, 1820 – 1850 (Palgrave Studies in the Enlightenment, Romanticism and the Cultures of Print) by Beatrice Turner
Sporting Cultures, 1650-1850 by Daniel O'Quinn, Alexis Tadie
Unearthing the Past to Forge the Future: Colin Mackenzie, the Early Colonial State, and the Comprehensive Survey of India (Studies in British and Imperial History) by Tobias Wolffhardt
The Conversation Piece: Making Modern Art in 18th-Century Britain by Kate Retford
The Enchanted World of German Romantic Prints, 1770-1850 by John Ittmann, Warren Breckman, Mitchell B. Frank, CorduliaGrewe, Catriona MacLeod
The History of British Industry: The Birth of the Industrial Revolution 1700 – 1825 by Peter Pugh
The Improvement of Humanity: Education and the French Revolution (Princeton Legacy Library) by R. R. Palmer
The Language Question under Napoleon (War, Culture and Society, 1750-1850) by Stewart McCain
The Museum by the Park: 14 Queen Anne's Gate by Max Bryant
The Political Writings of Alexander Hamilton 2 Hardback Volume Set by Alexander Hamilton, Carson Holloway, Bradford P. Wilson
The Politics of Commercial Treaties in the Eighteenth Century: Balance of Power, Balance of Trade by Antonella Alimento, Koen Stapelbroek
The Publishing and Marketing of Illustrated Literature in Scotland, 1760-1825 (Studies in Text & Print Culture) by Sandro Jung
William Hunter and his Eighteenth-Century Cultural Worlds: The Anatomist and the Fine Arts (Routledge Research in Art History) by Helen McCormack
30-Second Napoleon: The 50 fundamentals of his life, strategies, and legacy, each explained in half a minute by Charles Esdaile
Find all selected non-fiction-releases about the Georgian Age of 2017 here.
My choice:
Napoleon's Paper Kingdom: The Life and Death of Westphalia, 1807-1813 by Sam Mustafa
Admittedly a personal choice, as I was born in Westphalia. The area has not been the subject of a comprehensive, professional historical analysis for more than a century with regards to the Napoleonic era. So I am curious to learn about the latest research. It sounds promising indeed:
The author shows how Westphalia became a proving ground for the allegedly liberating and modern concepts of the French Revolution, brought by foreign conquest and enforced by a powerful new centralized state. For six years, the inhabitants of Westphalia experienced fundamental and often jarring changes in almost every aspect of their lives. They witnessed a profound clash of French and German culture, as well as new ideas about law, nationality, and politics.